Real Madrid: Ramos' Salah foul a "masterstroke" says Chiellini
The Juventus defender described Sergio Ramos as the best in the world but also suggested he knew exactly what he was doing in the 2018 Champions League final.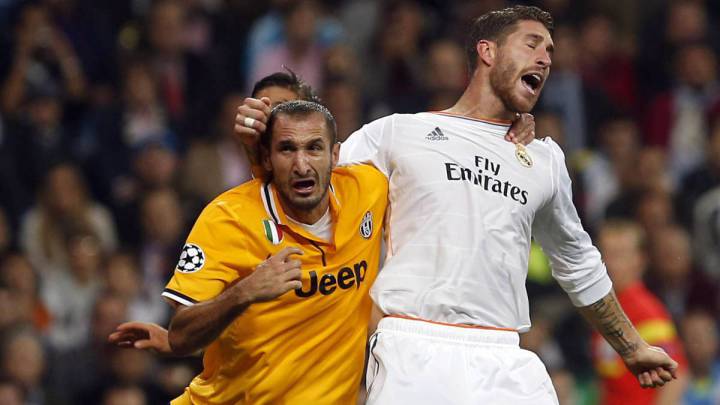 Giorgio Chiellini's autobiography has already caused a stir after the Juventus and Italy defender said Mario Balotelli was worthy of "a slap" and now the veteran reducer has turned his attention to Real Madrid captain Sergio Ramos, suggesting he knew exactly what he was doing when he floored Liverpool forward Mo Salah during the 2018 Champions League final.
Chiellini described Ramos as "the best defender in the world" and suggested that his tackle on Salah during the final in Kiev was not as innocent as Ramos would later claim. "What he did to Salah was a masterstroke," Chilleni wrote, adding that Ramos' penchant for a borderline red card tackle was part of his "devilish" style of play.
Chiellini: Ramos is "more of a striker than a defender"

"He, Sergio the master, has always said that it was unintentional but he was aware that falling in the way that he did, without loosening his grip on that hold, nine times out of 10 you can break your opponent's arm."
The indcident in question took place in the first half of the match between Real Madrid and Liverpoool, when Ramos and Salah were involved in a tangle. The Egyptian went down awkwardly under Ramos' attentions and dislocated his shoulder, knocking Liverpool's game plan off-balance. Gareth Bale would later inspire Madrid to a 3-1 victory and complete Zinedine Zidane's famous European treble.
Chiellini also spoke of Ramos' virtues as a defender. "You could say he's impulsive and not very tactically aware, that he is responsible for conceding eight or 10 goals a season and if I'm pulled up for two or three I'd be slaughtered. He's a very technical player, more of a striker than a defender, the complete opposite of me. Without him, Madrid turn into a team without a defence. Without him, Varane, Marcelo and Carvajal look like kids playing for the reserve team."