Coronavirus summer 17 May: Nigeria, South Africa, Uganda, Ghana... cases, deaths and news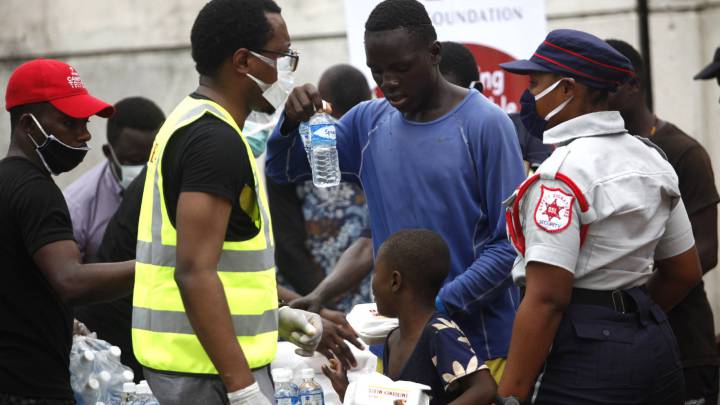 Coronavirus live Africa updates: cases, deaths and news - 17/18 May

Africa Covid-19 update: 01:30 WAT on Monday 18 May (02:30 CEST)
According to the latest figures published by Johns Hopkins University, 4,710,614 cases have been detected worldwide, with 315,023 deaths and 1,732,344 people now recovered.
Nigeria: 5,959 cases / 182 deaths
South Africa: 15,515 cases / 264 deaths
Ghana: 5,735 cases / 29 deaths
Uganda: 227 cases / 0 deaths (no data currently available)

We'll take a brief pause in our live Africa Covid-19 live feed but we'll be back soon for the latest updates and breaking news on the global pandemic.
We'll leave you with the front cover of AS for Monday 18 May as Real Madrid set their sights on a striking tandem of Hazard, Haaland and Mbappe for 2021.

African countries get new tool to predict climate-related disasters
A new weather forecasting system in Africa allows meteorologists to track approaching storms in real time, potentially saving lives from climate-related disasters, scientists said on Monday.
The technology is already used in developed countries but was not available until recently in most of sub-Saharan Africa, according to scientists behind the project at the University of Leeds.
"We had forecasting methods before but they were not as good," said David Koros, principal meteorologist at the Kenya Meteorological Department.
"It's very important because we can issue information for the safety of lives, property and the environment," he told the Thomson Reuters Foundation.
The new method, called nowcasting, was tested in Kenya last year. The state now uses it regularly and it has helped with the evacuation of people affected by landslides and mudslides in Western Kenya and flooding on Lake Victoria, Koros said.
Senegal, Nigeria and Ghana also have teams interpreting the satellite-derived data and issuing warnings through an initiative funded by the British government.
Nigeria impounds British plane for breaking coronavirus flight ban rules -aviation minister
Nigeria impounded a plane operated by a British company for allegedly contravening a flight ban imposed to prevent the spread of the coronavirus, the aviation minister said on Sunday.
Passenger flights into the country, with the exception of ones to evacuate people or repatriate Nigerian citizens, have been banned for weeks. The ban will remain in place until at least June 4.
Flights for essential services, such as the delivery of food supplies and items for humanitarian use, are permitted.
Aviation Minister Hadi Sirika said in a tweet on Sunday that a plane had been impounded after the rules were broken.
Sirika said a UK company "was given approval for humanitarian operations but regrettably we caught them conducting commercial flights."
Daily high in cases reported by South Africa
South Africa on Sunday reported 1,160 new coronavirus infections, the highest daily number since the first case was recorded in March, AFP reports.
"As of today, the total number of confirmed Covid-19 cases in South Africa is 15,515 with 1,160 new cases identified in the last 24 hour cycle of testing," said the ministry statement

Egypt tightens coronavirus restrictions for Eid holiday
Egypt will bring forward the start of its curfew by four hours to 5 p.m. and halt public transport from May 24 for six days during the Eid holiday, as it seeks to curb the spread of the new coronavirus, the prime minister said on Sunday.
Shops, restaurants, parks and beaches will be closed for the extended holiday at the end of the holy Muslim month of Ramadan, and restrictions on citizens' movements will remain in place for at least two weeks afterwards, Prime Minister Mostafa Madbouly said.
Egypt has reported 11,719 cases of the novel coronavirus, including 612 deaths. Daily increases in the number of cases have been rising as the government slightly eased a night curfew and other measures. The number of cases rose by 491 on Saturday,the Health Ministry said.
Sudan airports to remain closed until May 31
Sudan will keep its airports closed for both internal and international commercial passenger flights until May. 31, the state news agency SUNA said on Sunday, extending a shutdown that began in March due to the coronavirus outbreak.
The airport will remain open only for flights for cargo, humanitarian aid, oil organisations' workers and evacuating foreigners.
Tanzania's Magufuli plans to lift coronavirus restrictions
Tanzania's President John Magufuli said on Sunday he plans to re-open universities and allow the resumption of sports and international flights if the decline in new coronavirus infections continues.
The Tanzanian government closed schools, stopped international flights and banned large gatherings but much of the regular economic activity has continued and religious services have been allowed to continue unlike neighbours like Rwanda and Uganda which imposed total lockdowns.
Magufuli, who has questioned the quality of COVID-19 test kits and at one time asked citizens to pray away the virus, said activities could resume in the coming days.

Joggers, walkers and cyclists exercise during an allocated exercise window in lockdown, Cape Town, South Africa, 17 May 2020. The Western Cape of South Africa is the worst hit province with the coronavirus SARS-CoV-2 which causes the Covid-19 disease. South Africa is following a government risk adjusted strategy with a phased easing of lockdown. The country has some of the most severe lockdown rules in the world including no jogging outside of homes except between 6-9am, no sales of alcohol or cigarettes, no walking of dogs, no leaving home except for essential journeys with heavy penalties for transgressors. EFE/EPA/NIC BOTHMA
Doubts over Africa official case counts
A report in the New York Times suggests that official figures on the continent don't reflect the true extent of the pandemic in Africa.
Hervé Renard chats to TV3GH
Juliet Bawuah caught up with French coach Hervé Renard who guided Zambia to win the CAF African Cup on Nations in 2012 and won the trophy again three years later with Ivory Coast. "If you remember the semi-final against Ghana and the final, there was nothing between the two teams. I watched the 2015 final again on TV a few weeks ago and I think Ghana were better than us, honestly, we were a bit lucky to win the trophy but that's destiny, that's football".
39 Nigerian evacuees quarantined on return from Ghana
Punch reports that 39 Nigerian nationals returning from Ghana and 12 other evacuees from other West African countries have been placed into quarantine. The cost of their 14-day quarantine including lodging and feeding will be met by Lagos State Government. The NCDC confirmed 176 new Covid-19 cases in the country on Saturday night, more than half of them in Lagos.
Madagascar records first Covid-19 death
Madagascar has registered its first coronavirus death, of a 57-year-old medical worker who suffered from diabetes and high blood pressure, the national Covid-19 taskforce said on Sunday.
Taskforce spokeswoman Hanta Danielle Vololontiana said in a televised statement that the man had died on Saturday night."A man died from Covid-19 in Madagascar ... he is 57 years old and a member of the medical staff," she said.

Egypt tightens coronavirus restrictions for Eid holiday
Egypt will bring forward the start of its curfew by four hours to 5pm and halt public transport during the six-day Eid holiday from 24 May as it seeks to curb the spread of the new coronavirus, the prime minister said on Sunday.
Shops, restaurants and parks will also be closed for the holiday at the end of the holy Muslim month of Ramadan, and restrictions on citizens' movements will be extended for a further two weeks afterwards, Prime Minister Mostafa Madbouly said.

Paris hideout of Félicien Kabuga, Africa's most wanted fugitive
Pictured is a general view of the apartment building where Rwanda genocide suspect Félicien Kabuga who has been known as the financier of the genocide, was arrested yesterday, in Asnières-sur-Seine, northwestern suburbs of Paris.
On Saturday, French police arrested one of the last key suspects in the 1994 Rwandan genocide, describing him as its "financier" and one of the world's most wanted fugitives. Félicien Kabuga, once one of Rwanda's richest men, was living under a false identity in the Paris suburbs, the public prosecutor's office and police said in a joint statement.
Three Nigerians returning from Dubai test positive for Covid-19
Three Nigerian nationals who were part of a group of 256 to be repatriated from Dubai on 6 May have tested positive for Covid-19, Lagos Commissioner for Health, Akin Abayomi confirmed. The three patients have been placed into quarantine and their health will be closely monitored during the next 14 days.
Buhari urges caution regarding so-called herbal Covid-19 remedies
Nigeria president Muhammadu Buhari has warned citizens to be extremely careful about so-called herbal remedies for Covid-19. Last week it was reported that the country would be assessing a herbal medicine produced by Madagascar which has been offered to several other African countries.
Buhari has stated that all potential drugs, medicines and potions purporting to cure Covid-19 must first be tested and regulated by the relevant authorities.
HURIDAC Calls For Probe into Human Rights Violations In West Africa
The Human Rights Advancement Development and Advocacy Centre has called for investigation of all human rights abuses recorded during the management of Covid-19 in West Africa, Sahara Reporters report.
Executive Director of the center, Ayodele Ameen, said the report would help in developing models capable of protecting the rights of citizens: "The report contains detailed analysis of the human rights framework within the context of management of Covid-19 pandemic through the medium of emergency powers and rights limitations; government obligations under international human rights laws".
Coronavirus: the complete guide to the Covid-19 pandemic
All the information you need to understand the coronavirus and ways to stay safe during the Covid-19 pandemic: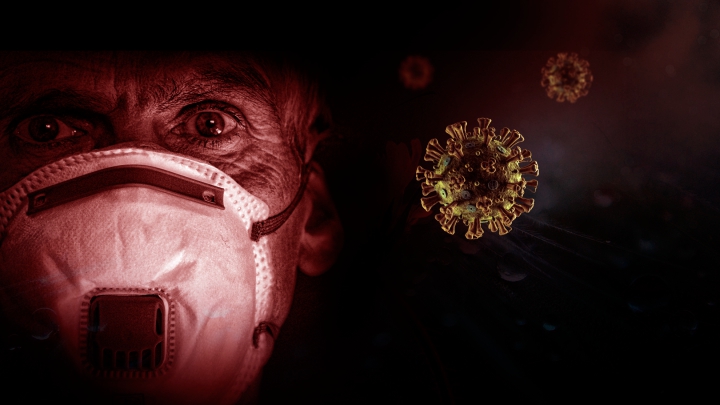 Coronavirus live Africa: welcome
Hello and welcome to our live, Africa-focused coverage of the coronavirus pandemic, which has now registered 4.63 million cases worldwide, leading to just over 311,000 deaths. Join us for the latest developments and statistics as they emerge throughout the day.
.