Coronavirus Africa summary: cases, deaths, news - 18 May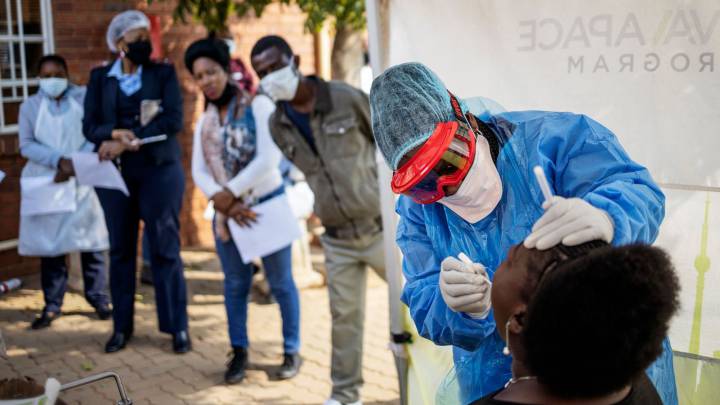 Coronavirus live Africa updates: cases, deaths and news - 19 May

Africa Covid-19 update: 02:00 WAT on Tuesday 19 May (03:00 CEST)
According to the latest figures published by Johns Hopkins University, 4,795,941 cases have been detected worldwide, with 318,213 deaths and 1,784,653 people now recovered.
Nigeria: 6,175 cases / 191 deaths
South Africa: 16,433 cases / 286 deaths
Ghana: 5,735 cases / 29 deaths
Uganda: 248 cases / 0 deaths (no data currently available)

Haaland: created to score goals
We're taking a brief pause in our live coverage but leave you with our newspaper's front page for Tuesday 19 May.
Yemen disappearing
More than 24 million Yemenis - 80% of the population - are in need of humanitarian assistance. Half of the country's health facilities are dysfunctional and nearly a quarter of the country's districts have no doctors.
"We know that the immunity among the population is very low. We are speaking here about people who maybe eat once a day. We are speaking about children who have not been vaccinated," Mr Bouze said.
Lesotho PM Thomas Thabane steps down
Lesotho Prime Minister Thomas Thabane resigned on Monday, Punch reports. Thabane, 80, stepped down under pressure over allegations that he was involved in the brutal 2017 shooting of his wife Lipolelo Thabane, who he was in the process of divorcing.
He will remain leader of his ruling All Basotho Convention party.

South Sudan vice president and wife test positive for coronavirus
South Sudan's Vice President Riek Machar and his wife Angelina Teny, who serves as defence minister, have tested positive for coronavirus, his office has confirmed . It believed that a number of his office staff and bodyguards have also tested positive for Covid-19.
Machar said on state television that he would be in self-isolation for 14 days in his residence. So far, South Sudan has recorded 347 cases of coronavirus and six deaths. Last week authorities reported two Covid-19 cases in a camp outside the capital Juba, raising concerns among humanitarians that the infection could devastate the crowded settlement.
Nigerian government agrees to meet repatriation costs
Nigerian Minister of Foreign Affairs Geoffrey Onyeama has said that the cost of evacuating Nigerian citizens stranded in other countries due to the coronavirus pandemic would be met by the Central Bank of Nigeria and Nigerian National Petroleum Corporation, according to Sahara Reporters.
Nigeria closed its international airports in March and has only been allowing special flights to repatriate foreign citizens to their home countries. The repatriation programme started just under a fortnight ago with Nigerians returning from Dubai, London and New York.
Sudan extends lockdown in Khartoum by two weeks
Sudan has extended a lockdown of the state of Khartoum by an additional two weeks from Tuesday to try to slow the spread of the deadly Covid-19 disease, the state news agency reported late on Monday. The country had as of Saturday registered 2,591 cases of the respiratory disease, including 105 deaths.

Uganda arrests prominent academic protesting lockdown
Ugandan police have arrested prominent academic Stella Nyanzi, a vocal critic of President Yoweri Museveni, for allegedly inciting violence as she protested against lockdown measures to curb the spread of coronavirus, police told Reuters.
The East African nation, with 284 cases and no deaths, has implemented one of Africa's strictest lockdowns, closing businesses and schools, banning public gatherings and the use of private and public vehicles other than those of essential workers such as medical staff.
Author, university lecture and rights activist Nyanzi has in recent years earned a huge following on social media for her bold attacks on Museveni over his crackdown on political dissent and decades-long rule. "We detained her for inciting violence. She is exploiting the Covid-19 situation to advance her own political motives," Police spokesman Patrick Onyango explained.
Nyanzi was arrested in Kampala as she and a small group of activists attempted to present to the prime minister a petition demanding the lifting of the lockdown and the distribution of free face masks to the population. The petition also called for the release of thousands jailed for alleged violations of anti-coronavirus measures like a dusk-to-dawn curfew.

Kabuga's own children led police to Paris bolthole
French intelligence agents spied on the children of Rwanda's most-wanted genocide fugitive to track him down to an apartment in a Paris suburb and end a 26-year-long manhunt, the head of the police unit who arrested Felicien Kabuga said.
The inquiry gathered pace in March after an intelligence sharing meeting between investigators from France, Britain, and Belgium, home to some of Kabuga's children, as well as Europe's Europol law enforcement agency and a team from a U.N. tribunal.
The dragnet subsequently closed in on one of the alleged chief financiers of the Rwandan genocide, suspected of bankrolling and arming the militias that slaughtered 800,000 ethnic Tutsis and moderate Hutus in 1994. "We realised ... that trail from the children protecting their father converged on Asnières-sur-Seine," Emeraux told Reuters, "We also discovered one of his children was renting an apartment there."
The 84-year-old fugitive had been living in a third-floor flat on the Rue du Reverend Pere Christian Gilbert in Asnières-sur-Seine, a well-off neighbourhood on the northern fringe of Paris. Neighbours described a frail, elderly man who said little and before the lockdown would often stroll outside of his apartment. One resident in the same block said Kabuga might have lived there for four or five years.
"We could not afford to risk the lives of our children. Of course, it was not an easy decision but Covid-19 has disrupted everything in the universe and this makes the year 2020 an unusual year in the history of human rights," said Zolani Mkiva, Contralesa secretary-general.
Africa backs WHO, needs help with debt relief, supplies - Ramaphosa
South Africa's President Cyril Ramaphosa said on Monday that Africa affirms its 'full support' for the World Health Organization (WHO) which he said had been key in guiding the international response to the coronavirus pandemic. Ramaphosa, speaking to the WHO's annual assembly being held online, said that assistance to Africa needs to include debt relief and help with diagnostics, drugs and medical supplies. (report by Reuters)
The World Health Organization, WHO, regional office for Africa in Brazzaville, Congo, says the number of coronavirus (COVID-19) cases in Africa has risen to over 84,000 in the past 24 hours...
Uganda academic and activist Stella Nyanzi has been arrested at a food protest against the "slow distribution" of relief food to people affected by the coronavirus lockdown. Local television station NTV has aired footage of Ms. Nyanzi's arrest on Monday morning in the capital, Kampala...

In pictures: Nigerian style influencer, Angel Obasi, 24, poses for a picture with a fabric protective face mask on, with colours matching her clothes, following the spread of coronavirus disease (COVID-19) in Lagos, Nigeria May 14, 2020. Picture taken May 14, 2020. (REUTERS/Temilade Adelaja)
The number of COVID-19 cases in Africa rose to nearly 85,000 Monday after 3,279 new patients were identified over the past 24 hours, the Africa Centres for Disease Control and Prevention said in an update...
Nigeria impounded a plane operated by a British company for allegedly contravening a flight ban imposed to prevent the spread of the coronavirus, the aviation minister said on Sunday...
Senegal online food company sees sales double due to epidemic
Since the coronavirus reached Senegal, a growing number of residents in the capital have begun ordering groceries online, a welcome boost to a fledgling delivery service in a country where produce is usually bought in shops or markets. Club Kossam now delivers milk products, vegetables, fruit and meat to 1,300 households in Dakar per week with monthly sales doubling since the start of the epidemic.
In contrast, the core business of its parent company La Laiterie du Berger (LDB) and local suppliers have been hit hard by the crisis. The delivery firm sped up a planned expansion of it services in March, when normal shopping was disrupted by a dusk-to-dawn curfew, limits to public transport, and the closure of open-air markets to combat the virus. Its decision to offer weekly deliveries of vegetables and fruit in addition to the dairy products it had sold since 2016 was a game-changer for the business, said LDB founder Bagore Bathily.
'With vegetables, it's clear activity has exploded,' he told Reuters. Club Kossam's sales hit 62 million CFA francs ($103,000) in April, compared with a monthly average of 30 million before the epidemic and it has recruited 25 employees to cope with the surge in demand. In contrast, sales of LDB's main brand Dolima fell 20% in the same period. The business is one of 60 in Senegal's nascent e-commerce sector, according to a U.N. trade and development report, which highlights efforts by the trade ministry to respond to the outbreak by fast-tracking e-commerce reforms.
Coronavirus lockdowns are hastening a shift towards online shopping across the continent, African e-commerce giant Jumia said this week. Club Kossam's Manager, Lucien Diedhiou, sees the trend lasting beyond the end of the epidemic. 'There is a new generation that is changing habits,' he said. 'Both men and women work now, so I'm confident Senegalese people will remain interested in our services,' For now, Club Kossam accounts for around 6% of LDB's revenue, which amounted to around 5 billion CFA francs in 2018. (reporting by Reuters)
Nigeria impounds British plane for breaking coronavirus flight ban rules
Nigeria impounded a plane operated by a British company for allegedly contravening a flight ban imposed to prevent the spread of the coronavirus, the aviation minister said on Sunday.
Passenger flights into the country, with the exception of ones to evacuate people or repatriate Nigerian citizens, have been banned for weeks. The ban will remain in place until at least June 4.
Flights for essential services, such as the delivery of food supplies and items for humanitarian use, are permitted.

Miners queue to board a company bus en route to the evening shift at the Sibanye-Stillwater platinum mine in Marikana, Rustenburg, on May 15, 2020 after having had their temperature checked. - South Africa is the world's top platinum miner. Mining accounted for eight percent of the country's GDP in 2018 and acts as a major source of foreign exchange. The industry is also a major employer, with more than 450,000 people on the payroll. Africa's most industrialised economy has the highest number of recorded coronavirus cases on the continent. More than 13,500 people have tested positive for the disease and 247 of those have died. (Photo by Michele Spatari / AFP)
Coronavirus live Africa: welcome
Hello and welcome to our live, Africa-focused coverage of the coronavirus pandemic, which has now registered 4.7 million cases worldwide, leading to just over 315,000 deaths. Join us for the latest developments and statistics as they emerge throughout the day.
.