Coronavirus summary: deaths, cases, news - 18 May
Coronavirus live global updates: cases, deaths and news - 119 May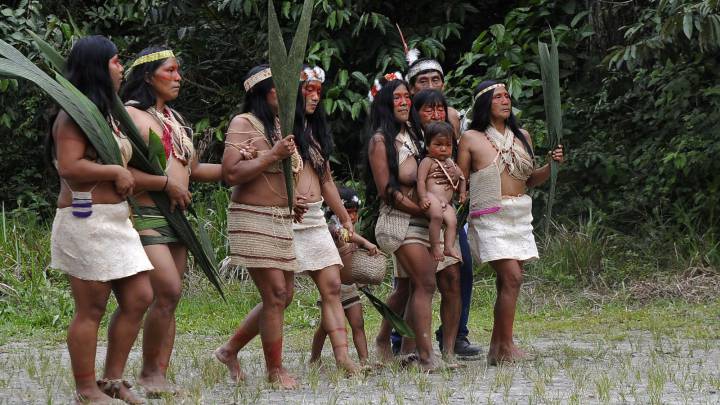 Haaland: created to score goals
We're taking a brief pause in our live coverage but leave you with our newspaper's front page for Tuesday 19 May.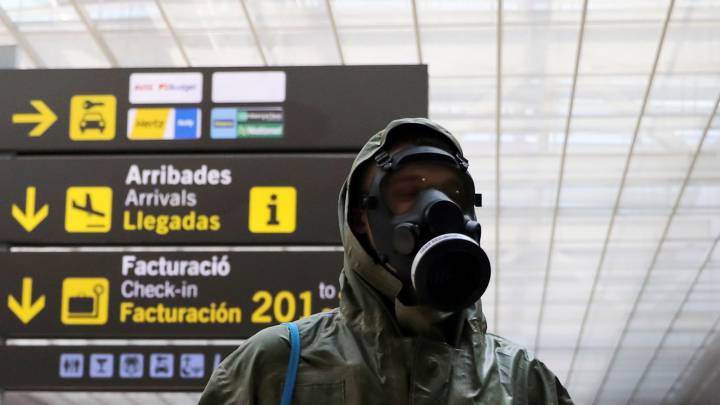 Air travel: how will it change after coronavirus
Up in the aIr Down Under
Qantas Airways Ltd said on Tuesday it would introduce new measures on board such as providing masks and cleaning wipes to ensure safe travel and give passengers peace of mind during the pandemic but it would not leave middle seats empty.
Catering will be simplified, aircraft cleaning will be stepped up and passengers will be asked to limit movement around the cabin once seated as part of the new measures to be put in place from 12 June, the airline said, reported by Reuters. Masks will not be mandatory but Qantas will recommend that passengers wear them in the interest of everyone's peace of mind, it said. Qantas Group Medical Director Dr Ian Hosegood said social distancing, such as leaving the middle seat empty, was not practical on board, and the airline did not believe it was needed given the low transmission risk.
'The data shows that actual risk of catching coronavirus on an aircraft is already extremely low,' he said. 'That's due to a combination of factors, including the cabin air filtration system, the fact people don't sit face-to-face and the high backs of aircraft seats acting as a physical barrier.'
We considered how air travel may look.
Plane saving in Brazil
We told you earlier about the novel coronavirus spreading fast among the indigenous people in the furthest parts of Brazil's Amazon rainforest. And the doctors there are now evacuating critical Covid-19 patients by plane to the only intensive care units in the vast region.
'The number of Covid-19 patients has increased a lot. We are flying more planes (up the rivers); it's the last opportunity to save their lives,' said Edson Santos Rodrigues, a pediatric doctor working on medevac planes for the state of Amazonas.
'Sometimes we don't get there in time, because we cannot land at night on remote airfields that have no lights,' he said as he returned to the city of Manaus with a 26-year-old man of the Tikuna tribe, who was breathing through an oxygen tank aboard the plane. Manaus, the capital city of Amazonas, has some of the only intensive care units in the region.
Covid-19 affects children differently
Coronavirus affects adults and children differently, according to findings in a new study. Children appear to have much lower rates of infection with the new coronavirus than adults, but most reports on Covid-19 in youngsters have focused only on small groups.
Chinese researchers has analysed data from 24 earlier studies involving a total of 2,600 children with Covid-19, enabling them to shed light on ways in which the virus acts differently in patients. They reported that the most common laboratory test abnormality observed in adults was a low level of immune cells called lymphocytes (B cells and T cells). This condition, known as lymphopenia, developed in up to 80% of adults but in less than 10% of children.
On the other hand, children - particularly infants - were more likely to have elevated levels of cardiac enzymes that indicate heart injury. They also found additional differences. The rates of severe illness and critical illness in adults were 14% and 5%, respectively. That compared with 4.4% and 0.9% in children. Fever occurred in up to 99% of adults but in 43% of children; cough in up to 82% of adults but 43% of children. Shortness of breath and acute respiratory distress syndrome were rare in children, but digestive tract symptoms like diarrhoea were more common in kids than in adults.
Oxford University Covid-19 vaccine doesn't work on animals
Doubts have surfaced about one of the vaccines being developed by a team at Oxford University which has failed a trial on rhesus macaque monkeys. Six monkeys taking part in the trial were administered with the vaccine, ChAdOx1 nCov-19, but all went on to contract coronavirus.
It is a setback for the Oxford team and the UK government, who were pinning hopes on the vaccine's success and had planned to start production in September.
Wearing masks mandatory in Spain
The Spanish government and the country's autonomous communities have reached an agreement to make wearing face masks in public compulsorywhen social distancing is not possible. It is mandatory for the public to wear face masks on public transport in Spain and that obligation has been extended to enclosed spaces and in the street when people cannot physically be two metres apart.
Brazil is now the fastest growing Covid-19 hotspot in the world
According to data compiled by Bloomberg, Brazil accounted for 13% of all new Covid-19 cases globally during the past week. The South American country has now overtaken Spain, Italy and France with 245,595 confirmed cases of infection - the fourth highest on the planet. So far, 16,370 have lost their lives in Brazil due to the pandemic.
UAE to expand nightly curfew after increase in coronavirus cases
The United Arab Emirates will extend a nightly curfew by two hours from this week after reporting an increase in daily cases of coronavirus. The curfew, which currently runs from 10 p.m-6 a.m., would start at 8 p.m. on Wednesday until further notice, Saif Al Dhaheri, spokesman for the National Emergency Crisis and Disaster Management Authority, explained.
On Monday, the UAE reported 832 new infections and four deaths from the virus to take its count to 24,190 confirmed cases with 224 deaths.
T cells play a role in fighting coronavirus
The immune system's T cells play a role in attacking the coronavirus, while the immune system's B cells make antibodies that block the novel coronavirus, its T cells provide another line of attack, according to new research.
Researchers found that T cells from recovered patients can target the virus. That is promising news for vaccine developers because it is "consistent with normal, good, antiviral immunity," Shane Crotty, from the Center for Infectious Disease and Vaccine Research at the La Jolla Institute for Immunology told Reuters.
Furthermore, some people who never had Covid-19 had T cells that could attack the virus, Crotty's team reported on Thursday in the journal Cell. This suggests that past exposure to other coronaviruses (such as those that cause the common cold) had somehow primed their T cells to recognise and attack this new coronavirus.
UK death toll rises by 160 to 34,796
The number of people who have died in the United Kingdom after testing positive for Covid-19 rose by 160 to 34,796, the health department said on Twitter on Monday. A total of 246,406 people have tested positive for the virus, up by 2,684.
Italy's daily death toll below 100 for first time since 9 March
Daily deaths from Covid-19 inItaly climbed by 99 on Monday, against the previous day's total of 145 - the first tally of below 100 in the country since 9 March. New cases increased by just 451 compared to 675 on Sunday, the lowest daily figure since 2 March.
The total death toll since the outbreak came to light on 21 February now stands at 32,007, the third highest in the world after those of the United States and Great Britain.
Wuhan conducts 400,000 tests in three days
Wuhan has conducted 400,000 tests in the last three days, with the number of tests conducted daily steadily increasing from 72,791 on May 14 -- when the campaign began -- to 222,675 on May 16, local health authorities said...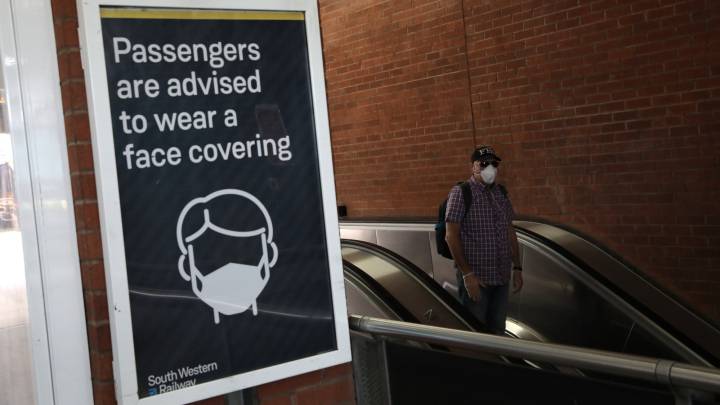 Germany hopes to end global travel warning in June, but no return to normal
Germany is hoping to replace a travel warning that is in place for all touristic trips abroad until June 15 with softer guidelines, Foreign Minister Heiko Maas said on Monday, but warned there would be no quick return to holidays as usual.
"June 15 is not the starting date for taking holidays - June 15 is the date when we need to make a decision on whether we will lift the global travel warning and we're working on replacing this travel warning with travel guidelines," Maas said.
He said he wanted summer holidays to be possible but stressed that this needed to be done in a responsible way and added that it was too early to say which countries Germans were most likely to be able to take holidays in. He also said that if there were a second wave of coronavirus infections, new restrictions would need to be introduced. (report by Reuters)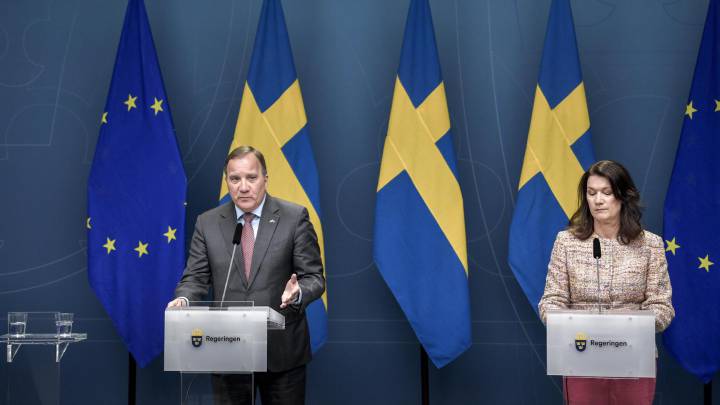 Sweden's herd immunity plan: is it working?
Swedish epidemiologist, Johan Giesecke, has hailed Sweden's herd immunity plan as "the best in the world", while the WHO believes it is reckless and dangerous. Read more...
Merkel defends WHO but says it could be improved
Speaking at the World Health Assembly, German Chancellor Angela Merkel has defended the legitimacy of the WHO, but suggested the organization could be improved.
"The World Health Organization is the legitimate, global institution where all the threads come together. Because that is the case we have to keep looking at how we can further improve its functioning," Merkel said via video ink, arguing that international cooperation was key to overcoming the coronavirus crisis.
Coronavirus death may be 60% higher than official counts
The death toll from coronavirus could be up to 60 per cent higher than official counts, according to an FT analysis of overall fatalities during the pandemic in 14 countries...
In pictures: Railway official mark passengers with a quarantine stamp after arriving on a special train service from Delhi to Secunderabad railway station on May 18, 2020, after the government eased a nationwide lockdown imposed as a preventive measure against the COVID-19 coronavirus. (Photo by NOAH SEELAM / AFP)
UK 'missing 70,000 cases due to outdated symptoms' list
Prof Tim Spector from King's College London has claimed that around 70,000 cases of coronavirus have not been identified in the UK due to authorities' "outdated symptoms list."
While the UK continues to emphasise only coughs and fevers, Prof Spector says that complaints such as fatigue, muscle pain and loss of taste or smell, are being overlooked.
"This country is missing them all, underestimating cases but also putting people at risk and continuing the epidemic," he told BBC Radio Four.
"There's no point telling people to be alert if they don't know the symptoms."
Climbing season at Mount Fuji cancelled due to coronavirus
The climbing season for Mount Fuji, Japan's highest peak, is cancelled for this year, after local officials announced on Monday that the mountain trails leading up to the summit will stay closed throughout the summer due to the novel coronavirus. Shizuoka Prefecture, which manages three of the four trails that lead to the peak, made the announcement on Monday, following a similar announcement made by a neighbouring prefecture that manages the fourth trail. Shizuoka made the decision to keep the trails shut because 'we cannot guarantee the safety of the climbers', as mountain lodges and first-aid centers will be closed to prevent the spread of the novel coronavirus, said Yoshinari Nushida, a section chief for the Mount Fuji public work office.
This is the first time since record-keeping started that Shizuoka did not open its trails for the climbing season, he added. Located about 130 km (81 miles) west of Tokyo, Mount Fuji rises to 3,776 meters (12,388 feet) and attracts multitudes of hikers and tourists during its climbing season, which runs from July to September. Some 236,000 people climbed the mountain last year, according to the Environment Ministry. Japan has seen about 170,000 cases and 769 deaths from the novel coronavirus as of Monday. The daily number of new cases has dropped in recent days, with new cases in Tokyo down to the single digits. The government lifted its state of emergency last Thursday for most of the country, save for eight prefectures including Tokyo, but is still urging people to remain vigilant against spreading the virus. (report by Reuters)
Football clubs have been using different ideas in an effort to make the stands look fuller with no fans allowed to attend games. A South Korean team tried to fill out the stands but ended up having to issue an apology because they filled the stands with sex dolls.
"We would like to apologise to the fans," FC Seoul said in a statement on Instagram. "We are deeply sorry."
It added: "Our intention was to do something light-hearted in these difficult times. We will think hard about what we need to do to ensure that something like this never happens again."
Residents wearing face masks wait in line to be tested for the COVID-19 coronavirus in Wuhan, in China's central Hubei province on May 18, 2020. - Authorities in the pandemic ground zero of Wuhan have ordered mass COVID-19 testing for all 11 million residents after a new cluster of cases emerged over the weekend. (Photo by Hector RETAMAL / AFP)
Ryanair CEO: 'idiotic' UK mismanaging coronavirus crisis
Ryanair Chief Executive Michael O'Leary said the British government had mismanaged its response to the novel coronavirus outbreak for many weeks and its policy on a 14-day quarantine for international travellers was idiotic.
"It is idiotic and it is unimplementable," O'Leary told BBC radio. "This the same government that has... mismanaged the crisis for many weeks."
Hungary govt to propose giving up emergency powers on May 26
Hungary's government will submit a proposal to parliament on May 26 to end its special coronavirus emergency powers, hirtv.hu quoted Prime Minister Viktor Orban's chief of staff as saying late on Sunday.
Gergely Gulyas put a date on a similar statement by Orban on Friday. Gulyas said Parliament would take a few days to pass the bill, which will end the much-criticised emergency powers by early June.
No end date was set when parliament gave the government permission to rule by decree in matters related to the coronavirus, leading to international criticism and accusations of an autocratic power-grab.
Taiwan did not receive WHO meeting invite, issue off the table for now
Despite strong efforts Taiwan did not get invited to this week's meeting of a key World Health Organization (WHO) body due to Chinese pressure, its foreign minister said on Monday, adding they had agreed to put the issue off until later this year.
Non-WHO member Taiwan had been lobbying to take part in the WHO's decision-making body the World Health Assembly, which opens later on Monday, saying that to lock it out was to create a gap in fighting the coronavirus pandemic.
Taiwan has said it wanted to share with the world its successful experience at fighting the coronavirus, having only reported 440 cases and seven deaths thanks to early detection and prevention work.
But China, which considers democratically-ruled Taiwan its own with no right to attend international bodies as a sovereign state, strongly objected to Taiwan taking part in the assembly unless it accepted it was part of China, something the Taipei government refused to do.
Contact tracing is seen as one of the key aspects to getting the virus under control with South Korea being one of the first to carry it out on a wide scale. They managed to get the virus under control as the UK now looks to understand who and where the clusters of the virus are.
Coronavirus live coverage: welcome
Hello and welcome to our live coverage of the coronavirus pandemic, which has now registered 4.7 million cases worldwide, leading to just over 315,000 deaths.
We'll endeavour to bring you the latest developments and statistics as they emerge throughout the course of the day.