Mourinho tells Guardiola: "Stop the partying, this isn't over yet"
When Thiago Motta was sent off in the Inter Milan and Barcelona return leg, "The Barça bench started celebrating as if they'd won the match," recalled José Mourinho.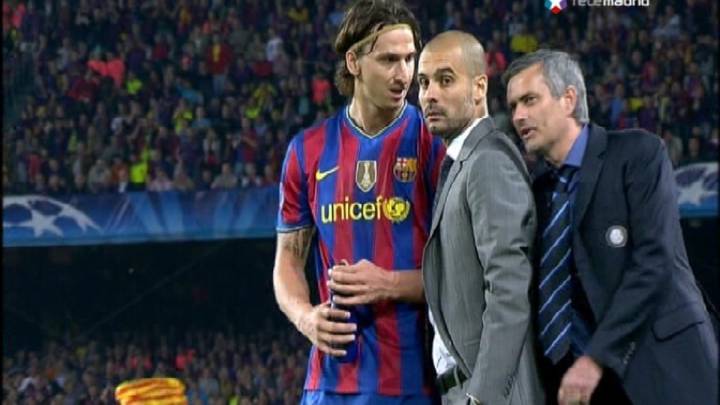 The 2009/10 Champions League semi-final return leg had entered the 28th minute, Barcelona were hosting Inter Milan after having the lost the first leg at San Siro 3-1 and it looked as though their luck might be about to change. In a move involving Thiago Motta and Sergio Busquets, the Barça midfielder exaggerated contact and Motta was sent off by Frank De Bleeckere. Suddenly, with Inter on 10 men and over an hour left to play, Barça's chances of turning the tie around started to look a little more promising.
Guardiola ushered Ibrahimovic over to the touchline to give him a new set of instructions seeing as the situation had changed. As he did so, Mourinho ambled over and could be seen muttering something into the Barça coach's ear in one of the most memorable images of the match.
This week, to mark the tenth anniversary of Inter completing the treble, Mourinho recalled the incident in an interview with Gazzetta dello Sport. "When Busquets fell down as though he'd been knocked out, I was stood between our bench, the Barça bench and just in front of where Motta had been sent off. Out of the corner of my eye I could see Barcelona players in the dug-out celebrating as though they'd already won and Guardiola calling Ibra over to give him tactical instructions on how the game would be played with 11 against 10. All I said to him was: "You can stop the partying, the game isn't over yet," Mourinho remembered.
Mourinho's gameplan goes out of the window
That game will always be remembered for the sheer willpower and gritty resilience which Inter showed to hold off a Barcelona side who only managed to score one goal - a Piqué strike with the game practically over. Today, Mourinho recalls that his original gameplan was very different. "The classic Mourinho-style defensive game was at Camp Nou but before that Barcelona had already lost 3-1 at San Siro and so we had earned the right to play against them however we wanted. And besides, if Pandev hadn't picked up an injury in the warm-up, he would have played along with Sneijder, Eto'o and Milito," Mou added, implying that he had a more attacking approach in mind.
It was fascinating to watch the game unfold from the stands or on television but down on the touchline, Mourinho remembers being forced to think on his feet. "When you're up in the stands you have time to experience the drama. When the situation is right at the very limit at least you can pray but out on the pitch you can't do that, you have to find solutions. That was the most fantastic defeat of my career because we didn't lose 1-0, we won 3-2 in epic conditions," he concluded.