Coronavirus lockdown in California: phases, restrictions and end date
Restaurants and malls in California can reopen in those counties that meet state standards for testing and a proven success at reducing cases of the coronavirus.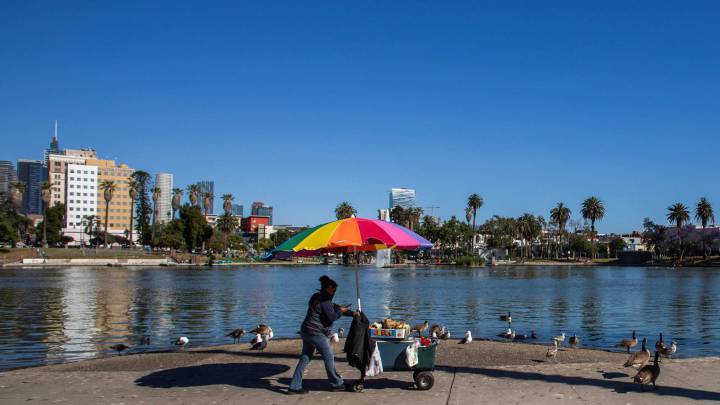 California has suffered less than other heavily populated states in the US. With a total population of 39.5 million people, the state has 84,000 confirmed Covid-19 cases with 3,2420 deaths, while New York (pop. 19.45 million), the epicentre of the pandemic in the US, has had over 350,000 cases and 28,636 deaths. New Jersey (pop. 8.8 million), the second worst hit state, has had over 150,000 cases and 10,749 deaths.
The initial move to reopen California started back on 8 May, when some retail stores across the state were allowed to reopen. Bookstores, music stores, toy stores, florists, sporting goods retailers and others were allowed to provide customers with pick-up service, while manufacturing and logistics in the retail supply chain were allowed to resume activities.
Last week, Governor Gavin Newsom announced new guidelines further easing the restrictions, allowing California to begin opening up amid the pandemic, including allowing certain dine-in restaurants, shopping malls and offices. To apply the guidelines counties have to meet state standards for testing and success at reducing cases of the coronavirus.
Going to REPEAT, REPEAT, REPEAT:

CA is flattening the curve because folks are staying home. Practicing physical distancing.

We aren't out of the woods yet.

We must continue to take this seriously and allow our re-opening to be guided by science and public health.

— Gavin Newsom (@GavinNewsom) April 30, 2020
According to the State of California, activities and businesses still not permitted include: Bars and nightclubs, entertainment venues, gyms and fitness studios, public events and gatherings, convention centers and hair and nail salons.
Next phase
At present there is now confirmed end date for current restrictions with the state Public Health Officer continually monitoring the public health situation.
To prepare for the next phases of reopening, Newsom said Tuesday that testing continues to expand in California.
The state has provided more than 1 million diagnostic polymerase chain reaction tests, and is now exceeding the April goal of 25,000 tests a day, providing tests to an average of 40,000 people daily during the last three days. Newsome claimed the state is "making progress" toward a goal of testing more than 61,000 per day.