Toni Kroos tied to Real Madrid
Exactly one year ago Kroos renewed his Real Madrid contract until 2023 and according to sources within his inner circle, "going to China or the United States is not his thing".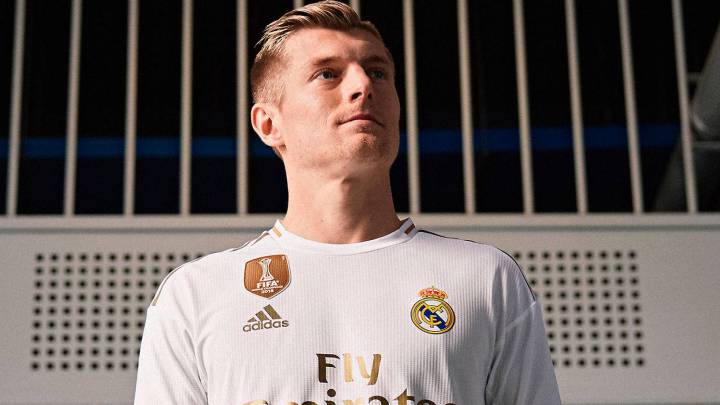 Just a year ago, after a season to forget both on a personal and collective level, Toni Kroos entered the Bernabéu press room to announce that he would be renewing his contract with Real Madrid until 2023. "If I renew this long at 29 years old, the idea is that it will practically be the last," said the German midfielder.
Twelve months on, and the plan has not changed, despite a number of situations arising – namely an apparent disagreement with Zinedine Zidane; a large section of Madrid fans' disenchantment with him (mainly due to his meeting with Pep Guardiola after the Man City game and his comments regarding wage cuts during the coronavirus crisis); the emergence of Fede Valverde as a contender for his starting spot and the possible arrival of new midfielders like Eduardo Camavinga on the horizon.
Kroos and Real Madrid – a mutual commitment
While there has been speculation about moves to China and the MLS, Kroos is not going anywhere. Madrid tied him down with that new contract last year and Kroos has also tied himself to Madrid. The commitment, indeed, is mutual.
"Toni is comfortable in Madrid," those within his inner circle explain to AS. "He is going to stay there; going to China or the United States is not his thing." The same message has also been shared publicly by the Madrid midfielder's brother and Union Berlin player, Felix Kroos. Perhaps a return home to Germany is on the cards beyond 2023 if the former Bayern Munich player does not extend his stay in the Spanish capital. Or maybe he'll hang up his boots. But what the 30-year-old does not envision is a move to an exotic league far beyond European borders.
Right now, his current priority is keeping himself in the shape required to play 50 games a year with Madrid, at least until he is 33 years old. At 34, his long-time midfield partner, Luka Modric, has set the example in that regard and the club sees the possibility of replicating the model with Kroos.
The German international presently has eleven LaLiga games, plus the second leg of the Champions League last 16 tie against City at the Etihad, to try to once again win the hearts of Madrid fans, who now look upon him with suspicion over the Guardiola incident after the first leg, a game in which the German played no part, not even coming off the bench to warm up.

Kroos' season at Real Madrid
With all that has happened, Kroos has, in some ways, experienced several seasons in one. In a rare occurrence for him, he started the season as a goal-scoring machine and formed part of Zidane's sacrosanct three-man midfield. But his substitution at half time in the derby against Atlético, his omission against City and substitution in the last game against Real Betis before the Coronavirus suspension, has left him in a strange situation. "It gives the impression that there is something going on there," former Madrid player and media pundit, Álvaro Benito, warned.
Just a few weeks ago and not too long after the Guardiola incident, Kroos found himself embroiled in another controversy over his apparent objections to coronavirus salary cuts while speaking on the SWR Sport podcast. Afterwards he was upset by his impression that the media and a large number of Madrid fans had not understood what he meant. He claimed to have been misquoted and tweeted that he did, in fact, see player salary cuts as a "logical" step if "we can help the workers and areas of the club."
Despite all that has happened, the club still sees Kroos as a fundamental part of the team for the mid-term future. "He is indispensable," Zidane said after the German veteran played no part in the game against City.
As Madrid works to build a more youthful team over the coming years, the Greifswald-born midfielder will no doubt have left a legacy in the same vein as fellow veterans Sergio Ramos, Marcelo, Modric and Karim Benzema.
Aged 30, he is currently in that golden age for a midfielder anchor and continues to perform at the highest level. "Do not expect to see me playing until I am 38 years old," he recently said in an interview published in his native Germany. But for now Kroos is focused on serving Madrid to the best of his abilities until at least 2023.