Lewandowski vs Haaland: battle of old vs new in Der Klassiker
With an explosive start to his fledgling career, Erling Haaland has been tauted as the new Robert Lewandowski, and they go head-to-head on Tuesday evening.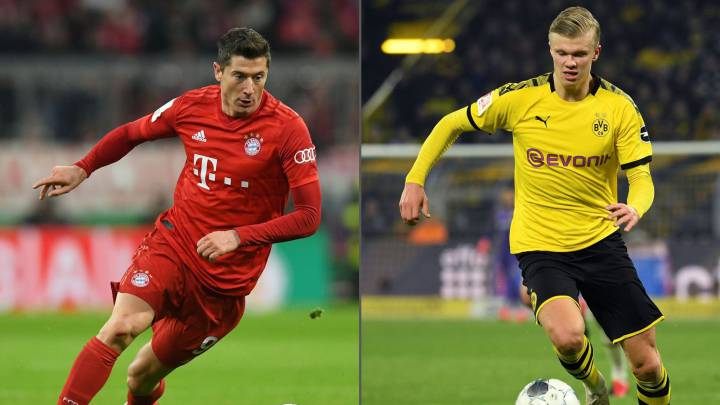 Both arrived at Dortmund after a prolific spell in one of Europe's less prestigious leagues and came with the hope of knocking Bayern Munich off their perch. Both were imposing young strikers with a thirst for self-improvement and a sheer bloody-mindedness that was soon translated into goals, but can Erling Haaland really be the new Robert Lewandowski?
**Bayern Munich vs Borussia Dortmund: match preview**
The Old Pro

Lewandowski trod that path ten years earlier and saw instant success, winning back-to-back league titles, the DFB-Pokal Cup and finishing runner up in the Champions League in his first two seasons. The Pole went on to establish himself as one of the finest strikers of the last decade, and although now 31 he has shown no signs of slowing down in the 2020s. In recent years he has really demonstrated his value as a 'back-to-goal' striker, using his movement and technical ability to create opportunities for teammates, but his goal-scoring threat is just as potent.
He began the 2019/20 season with 16 goals in his first 11 matches and has continued that form to be within striking distance of Gerd Muller's 50-year-old Bundesliga record of 40 goals in a season. When you consider that in six Champions League appearances this campaign he has scored 11 goals, it is clear than 'Lewy' is still one of the greatest attacking talents in Europe.
The Young Talent
Erling Haaland only signed for Borussia Dortmund in January but has begun life in the Bundesliga at a blistering pace. He scored five goals in his first two appearances for the club and has now notched 13 in 13 in all competitions, including two in a Champions League game against PSG. The 19-year-old has adapted to one of Europe's top leagues far quicker than anyone could have expected and has quickly drawn comparisons to the man who has reigned over the league for the past decade.

But while Lewandowski's longevity is the true mark of brilliance, Haaland's impact is particularly impressive when you consider that he is playing in a far less dominant team. Both are hovering around the hallowed 'goal-a-game' ratio in the Bundesliga this season, but Haaland has considerably fewer opportunities to score.
At Bayern, Lewandowski has averaged five scoring attempts per game as the champions look to secure a record eighth successive league title. For perennial underdogs Dortmund, Haaland has been getting just two per game. Haaland has the physical attributes and his directness to carve opportunities for himself and fits Dortmund's counter-attacking perfectly, with 30% of his goals for the club coming on the break. For Lewandowski, playing a side that almost always enjoy the lion's share of possession, that figures is just 4%.
Managers' Perspective
This evening's Der Klassiker fixture will be the first time that the two have faced each other and the world's attention has been drawn to this meeting of old and new. On the pitch Dortmund's young upstarts will look to disrupt the more established Bayern side and it will be an opportunity for Haaland in particular to lay down a marker against one of the game's best.
In the pre-match press conference Dortmund head coach Lucien Favre was full of praise for his young striker, believing that he has the ruthlessness and dedication to reach the very top:
"He immediately showed his qualities — which we were aware of before he arrived. He's somebody with an incredibly strong mentality. He always wants to lead the way, in training he always wants to score. And if he doesn't score, even in training, he is annoyed and disappointed. His superb attitude helps the entire team — and all that with him being only 19 years old."
Bayern boss Hansi Flick was also complementary about Haaland's potential, but said he still has a long way to go before he can be compared to Bayern's Number 9:
"He's a young player but he has a tremendous drive towards goal and he just wants to finish. He's characterised by enormous dynamism, he's hungry.
"It's his first season, so it's too early to compare with Lewy. Robert has played at a world-class level consistently for years, but Haaland is an enormous talent."
Lewandowski has been one of the all-time Bundesliga greats and his haul of nine league titles in the last decade is a testament to his clinical nature and winning mentality. Tonight's game will be a test of Bayern's resolve as they come up against the greatest threat to their dominance for years. Dortmund's players will want to put down a marker with just seven matches remaining, and Haaland will be one of them.