Coronavirus Africa news summary: cases and deaths - 27 May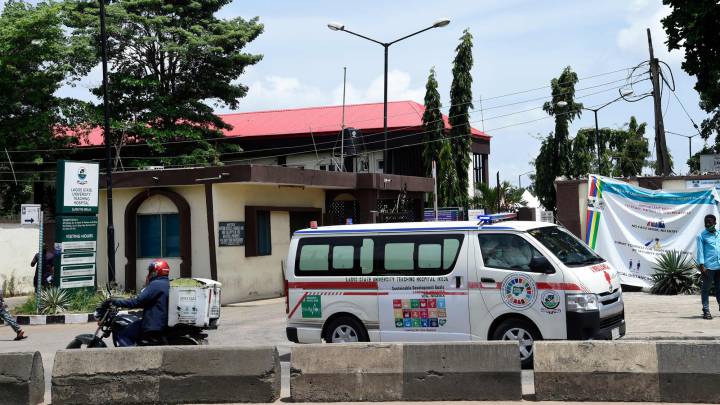 Coronavirus live Africa: latest Covid-19 news - 27 May
Senegal president's brother tests positive
Earlier on Wednesday, it was announced that the brother of Senegalese president Macky Sall has tested positive for Covid-19:

A worker performs disinfection tasks at the Sibonile School for the Blind in Meyerton, South Africa, to curb the spread of the coronavirus. (Photo by REUTERS/Siphiwe Sibeko)
Namibia coronavirus management earns praise
There have been just 21 confirmed cases of the coronavirus in Namibia - with none recorded between 7 April and 21 May - leading to praise for the African country's response to the pandemic.
Low number of cases in Africa "urges caution"
Africa's relatively low total of coronavirus cases "urges caution", writes the BBC's Anne Soy, who warns that this may be more indicative of testing rates that are "woefully low".
According to the latest figures released by the World Health Organization on Wednesday, there have been nearly 119,000 cases on the continent, leading to just over 3,500 deaths.
Jailed members of ousted regime have Covid-19, Sudan says
At least three jailed senior members of the toppled regime of former Sudanese leader Omar al-Bashir have the coronavirus, the country's public prosecution service said on Wednesday.
The Arab African country, which has reported 4,146 coronavirus cases and 184 deaths, released more than 4,000 prisoners in March as a precaution against the spread of the disease in jails.
But political sensitivities mean all those jailed for offence committed as part of the administration run by the veteran Islamist, who was ousted in an uprising a year ago, remain in custody.
They include Ahmed Haroun and Abdel Raheem Muhammad Hussein, both wanted by the International Criminal Court (ICC) for alleged crimes in Sudan's Darfur region, and who the prosecution service said had tested positive for coronavirus.
Haroun was a senior Bashir aide while Hussein served as defence and interior minister. Ali Osman Taha, a former vice president, was also infected, it said in the statement.
All three are under health quarantine in Khartoum hospitals, the statement added.
(Reuters)
Tanzania president accused of Covid-19 cover-up
The president of Tanzania, John Magufuli, is facing accusations of concealing a significant outbreak of the coronavirus in the African country.
Opposition politician Zitto Kabwe, who is the leader of the Alliance for Change and Transparency party, told the Guardian: "The government say there are no patients in the hospitals but we know of three hospitals in Dar es Salaam [the country's largest city] where the ICU beds are all completely full."
According to Johns Hopkins University, there have been 509 coronavirus cases in Tanzania, leading to 21 deaths. However, the Guardian's report notes that the nation has not released official data on its total number of infections since the end of April.
Schools reopening plan in Nigeria
Nigeria's Federal Government revealed plans for schools in the country to reopen with classes possibly spit into smaller groups for morning and afternoon sessions. Education Minister Emeka Nwajiuba refuted claims that schools would reopen on 8 June but said a strategy was being worked on.
"Until we are sure these children can go to school, return safely and not bring up with them Covid-19 and infect people who are more susceptible than they are, then we are running a huge risk and God forbid something happens to our children, I am not sure how anybody will be able to retrieve what has been lost," Nwajiuba explained. "For a country that has over 115,000 primary schools, you will understand that 35,000 of these who are private must agree to set up the same standard in other to allow children to go in".
it is thinking of sectionalising classes for primary, secondary, and tertiary institutions in the country ahead of school reopening amid the coronavirus pandemic.
The Minister of State for Education, Emeka Nwajiuba, stated this on Wednesday during a briefing by the Presidential Task Force on COVID-19 in Abuja.
Rwandan genocide suspect Kabuga denounces charges as "lies"
Rwandan genocide suspect Felicien Kabuga, who was arrested on 16 May after more than two decades on the run, told a French court on Wednesday that the international charges against him were not true.
Kabuga has been indicted by U.N. prosecutors for genocide and incitement to commit genocide, among other charges. He is accused of bankrolling and arming the ethnic Hutu militias which killed 800,000 Tutsis and moderate Hutus over 100 days in 1994.
Asked if he understood the charges, Kabuga told the court through an interpreter: "All of this is lies. I have not killed any Tutsis. I was working with them."
The court's three judges, who are due to decide whether to transfer Kabuga to the international tribunal based in The Hague and Arusha, Tanzania. Kabuga was too elderly and sick to be transferred and should be tried in France, his lawyers said.
South Africa's central bank says lenders can handle coronavirus crisis
South Africa's central bank said on Wednesday the coronavirus had resulted in far reaching risks to financial stability and banks' profitability would suffer, but lenders were in a good position to weather the storm.
The country's banks, some of the largest on the continent including Standard Bank and FirstRand, have seen profit growth slip in recent years, while risks from lending to the increasingly strained government and the economy have increased.
The South African Reserve Bank (SARB) said the pandemic would exacerbate these problems, while also causing a rise in bad debts from households and businesses already struggling after the economy tipped into recession at the end of 2019.
Its bi-annual review of financial stability said banks were well capitalised and resilient, while stress testing during 2018 had shown they would be able to cope with severe macroeconomic shocks, although the scenarios used are hard to compare to the current crisis.

'No masks, no gloves': Kenyan government under fire over quarantine centres
Kenya's government is facing growing criticism over quarantine centres it set up to curb the spread of the coronavirus, with witnesses saying some are squalid and expose residents to the risk of catching COVID-19.
Since mid-March, the government has enforced a mandatory 14-day quarantine period for anyone who flies into the country or has direct contact with someone infected and lives in an area where self-isolation is not allowed.
World Health Organisation daily Africa figures
There are now over 118,000 confirmed Covid-19 cases in Africa, with more than 48,000 recoveries & 3,500 deaths

Cameras roll again in Nollywood but Nigeria's cinemas still dark
Nigeria's film industry is creeping back to work after lockdown, and one of the first productions to resume is a new television series about a highly infectious disease that has ravaged the world.
Cameras stopped rolling weeks ago due to the coronavirus pandemic, which has killed more than 300,000 people worldwide, including 200 in the West African country.
Better known as Nollywood, the multibillion dollar industry churns out movies and TV shows at a rate second only to India's Bollywood and employs one million people. But productions have had to be stripped right back.
31 new cases in Uganda
The total cases of coronavirus in Uganda rose to 253 after 31 new cases were reported by the Ministry of Health.
South Africa to let places of worship reopen from June
South Africa's churches and other places of worship can reopen their doors from June, but will be limited to 50 people, President Cyril Ramaphosa said on Tuesday as coronavirus lockdown rules are further eased.
Africa's most industrialised economy has been largely shut since late March, when the government enforced restrictions to stem the spread of the coronavirus, which has so far infected 23,615 people in South Africa and killed 481.
Some churches responded by moving to radio, television and online so that people could worship from home.
"This pandemic has ... taken a toll on us emotionally and spiritually. It has shaken our sense of well-being and security.
Many of us are anxious and fearful of both the present and the future," Ramaphosa said in a televised address.
Administrators deny South African Airways set to start flying
Administrators for state-owned South African Airways (SAA) said on Wednesday the airline is not aiming to resume domestic flights from mid-June, rejecting a statement from the airline a day earlier.
SAA is under a form of bankruptcy protection and suspended all commercial passenger flights in late March, when the government imposed one of Africa's strictest lockdowns.
"The position around the cessation of flights remains as is until SAA has a better sense of what the level 3 lockdown means in terms of domestic air travel," SAA's administrators, Les Matuson and Siviwe Dongwana, said in a statement.
"The airline also needs to consider what the opening of the skies will mean from a commercial and load factor perspective."

West African food trade under strain as COVID-19 shuts borders
In ordinary times, it takes Boureima Diawara two or three days to truck his mangoes the 1,200 km (745 miles) from southern Mali to Senegal's seaside capital Dakar.
But since coronavirus restrictions came in, some shipments have taken more than twice as long. After struggling with border delays and a dawn-to-dusk curfew in Senegal, Diawara's workers have ending up dumping sacks of rotten fruit in landfill.
Trading across borders in West Africa, with its rutted roads and bribe-hungry police, has never been easy. But restrictions imposed by governments in response to COVID-19 are crippling the trade in perishable goods and livestock like never before, according to commercial data and interviews with traders.

South Africa (The Star) front cover
Coronavirus related stories dominate the front cover of today's The Star newspaper with news that the government easing of lockdown will see people being able to return to places of worship.

The Guardian (Nigeria) front cover
World Health Organisation debate over the correct drugs approach relating to the Covid-19 virus dominates the front page of today's The Guardian newspaper in Nigeria.
Coronavirus live Africa updates: welcome
Hello and welcome to our live, Africa-focused coverage of the Covid-19 pandemic, which has now caused over 350,000 deaths worldwide.
Join us for the latest news and numbers as they emerge throughout the day
.