Coronavirus India summary: cases, deaths and news, 28 May
Coronavirus live India: latest Covid-19 news - Thursday 28 May

India Covid-19 update: 00:30 IST on Friday 29 May (00:00 CEST)
According to the latest figures published by Johns Hopkins University, 5,763,122 cases have been detected worldwide, with 358,369 deaths and 2,389,735 people now recovered.
In India, there have been 165,386 cases confirmed, 4,711 people have died and 70,920 people have recovered from the virus.
India allows export of paracetamol API
India has ended restrictions on export of active pharmaceutical ingredients (API) of common pain reliever paracetamol, the Directorate General Of Foreign Trade (DGFT) said in a statement on Thursday.
The Indian government in March put a hold on exports of several drugs including paracetamol to secure supplies for its people after COVID-19 outbreak disrupted the industry's supply chain globally.
However, last month India allowed exports of formulations of paracetamol, also known as acetaminophen, but retained restrictions on exports of API of paracetamol.
Kerala, a state on India's tropical Malabar Coast, having to prepare for a monsoon now as various parts of the country have to deal with storms along with the coronavirus.

Nepali migrants workers return to Nepal at the India-Nepal border in Dhangadi of Gaurifanta Naka Kailali District, some 650 Kms west of Kathmandu on May 28, 2020. - Thousands of Nepalese workers are sleeping on roadsides or in buses without food or water after crossing the border from India, unable to return home amid local stigma about the coronavirus, aid workers and officials said on May 28. (Photo by Shivarajr BHATTA / AFP)
Paracetamol API update
News is breaking that the Inidian government is lifting curbs on exports of paracetamol APIs. More to follow...
India braced for locust attacks
India is suffering one of the worst outbreaks of desert locusts in recent years. The locusts, which cause severe damage to crops, have attacked Rajasthan and are now spreading to other areas including Punjab, Gujarat, Maharashtra and Madhya Pradesh.
The desert locust, one of four species of locust found in India is the most destructive and can cover 150 kilometres in one day.
Visva Bharati teachers donate Rs 1 lakh to CM s relief fund
The Visva Bharati Faculty Association has donated Rs 1 lakh (approximately 1,200 euros) to the Chief Minister's Relief Fund for the people affected by Cyclone Amphan, a senior member of the association said on Thursday.
"The association raised Rs 1 lakh. More financial contributions will be made to the relief fund by teachers in the coming days," Visva Bharati faculty member Sudipta Bhattacharya said.
40 rotis for breakfast, 10 plates of rice for lunch - in quarantine
Anoop Ojha, a 23-year-old migrant worker who has spent the last fortnight in a quarantine center in Bihar's Buxar has puzzled officials with his eating habits - 40 rotis for breakfast and 10 plates of rice for lunch every day.
Anoop had travelled to Rajasthan in search of work but was forced to return to Bihar when the coronavirus crisis hit. He was released from the quaratine centre today.

Cockpit voice recorder recovered from crashed Pakistani plane
Search teams have recovered the cockpit voice recorder from the wreckage of a Pakistani airliner that crashed last week, a spokesman for the airline said.
The Pakistan International Airlines Airbus A320 crashed last Friday into a crowded residential district of the port city of Karachi, killing 97 people on board. Two people survived. "The search resumed this morning and the voice recorder was found buried in the debris," spokesman Abdullah H. Khan said in a statement. "The cockpit voice recorder recovery will help a lot in the investigation."
The plane's flight data recorder had already been found.
Sonia Ghandi asks government to provide relief to India's needy
Congress president Sonia Ghandi has asked India's central government to put together an aid package to help those most in need during lockdown. She told the 'Speak Up India' campaign that the government is not doing enough to give relief aid to those whose livelihoods have seriously been affected by the coronavirus crisis.
"We urge the Center to inject money into the system to help the needy. They can put Rs 7,500 per month into the bank accounts of every family for th next six months and provide Rs 10,000 immediately. Ensure free and safe travel of migrant workers back to their cities of origin, create employment opportunities, provide rationing and also increase the number of work days under MGNREGA to 200 days to facilitate jobs in villages," she said in a video message today.

No way back: Indian workers shun city jobs after lockdown ordeal
When power loom operator Lokanath Swain boarded a bus home after a 40-day wait in the Indian textile hub of Surat, he took a silent vow - to never return to his workplace of two decades.
Like millions of migrant workers left jobless by India's strict coronavirus lockdown, Swain was left penniless and facing starvation and could only afford the 1,700 km (1,100 miles) trip back to eastern Odisha state after his family wired him money.
Countless workers in India have walked thousands of miles home after losing their jobs, many dying in accidents along the way, and the ordeal has made them reluctant to return to work despite India easing restrictions to reboot industrial activity.
"Nobody was understanding our problems there. My employer did not lift the phone when I contacted him to ask for my 10 days' wages pending with him. They are big people. What can we do?" Swain, 45, told the Thomson Reuters Foundation by phone.
"I thought I would not survive until the time trains would resume. How long can a starving man survive? May be one or two days," Swain said from a quarantine facility where he is housed near his village in Ganjam district of Odisha state.
Swain is among the often invisible army of about 100 million migrant workers in India - or 20% of the workforce - who leave their villages for jobs in cities, where their skills are needed in manufacturing, construction, or the hospitality industry.
Wedding party quarantined after positive test
A newly-married couple in Chhindwara district, Madhya Pradesh, has been placed into quarantine together with 100 friends and relatives after a member of their wedding party tested positive for coronavirus on the day of the event.

Passengers riding a state bus in Siliguri maintain social distancing after the resumption of bus services following the government's easing of a nationwide lockdown imposed as a preventive measure against the coronavirus. (Photo by Diptendu DUTTA / AFP)
Coronavirus: the complete guide to the Covid-19 pandemic
All the information you need to understand the coronavirus and ways to stay safe during the Covid-19 pandemic: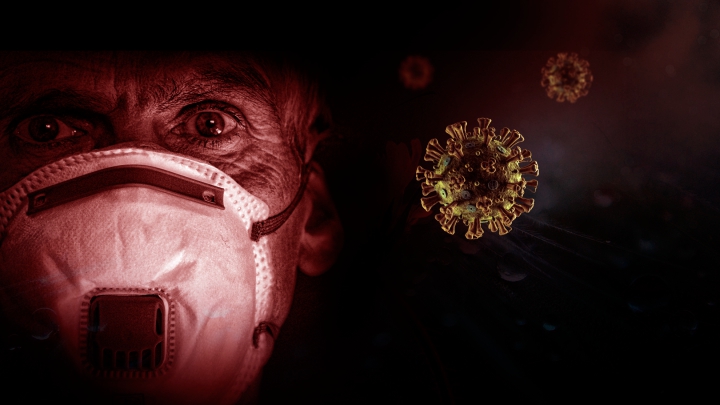 Coronavirus live India updates: welcome
Hello and welcome to our live, India-focused coverage of the coronavirus pandemic, which has now registered nearly 5.7 million cases worldwide.
We'll endeavour to bring you the latest news and numbers as they emerge throughout the day.
.