Benzema to lead the line for Real Madrid on his own
The French striker, whose total for the season stands at 19, will be the team's only reference in attack in LaLiga and the Champions League with Jovic out injured.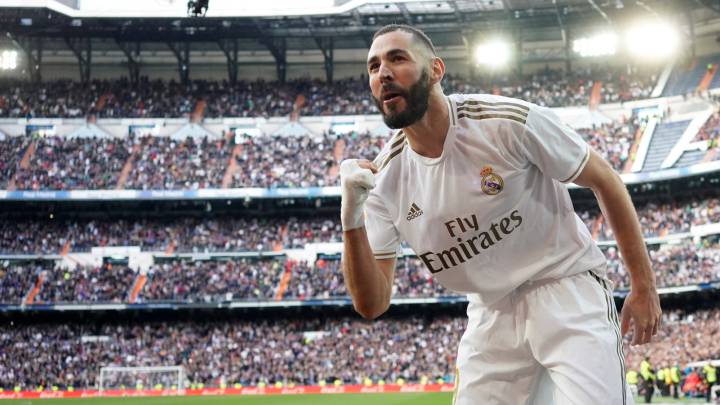 Gary Lineker famously quipped, following England's penalty shoot-out defeat at World Cup Italy 90, "Football is a simple game - twenty-two men chase a ball for 90 minutes and at the end, the Germans always win". It was meant to be a joke and was a slight exaggeration, although the theory could also be applied to Real Madrid's attack. Since Cristiano left, the team has depended on Benzema almost entirely to supply the goals.
The stats couldn't be much clearer. During the first season without Cristiano, Benzema assumed the role of the team's goal scorer and contributed 30 goals. So far this season, he is on 19 goals and nine assists. In LaLiga, he has scored 14 goals and only player has more - Messi on 19.
A more mature Benzema
Karim, who will turn 33 in December, has fully taken on his new responsibility. That is evident when you consider that Madrid's second top goal scorer is a defender - Sergio Ramos, when is on seven, the same as Rodrygo; but it looks like Zizou has lost faith in the Brazilian, who was back with Raúl's Castilla for the last few league games before the competition was halted for the coronavirus crisis ...
Madrid now have at least 12 games to played in a month and a half (11 in LaLiga plus the Champions League return leg against Guardiola's City). And for those games, Zidane only has one striker available and who he trusts. Jovic is out for the next two months with an ankle injury, and Mariano, who finally joined the group for training yesterday, doesn't figure in the coach's plans - in spite of his late winner against Barça in the Clásico on 1 March.
As far as Zidane is concerned, Benzema's place in the side isn't up for discussion - even when the striker has entered a barren spell in front of goal, he has remained a first choice starter. Karim has figured in the starting XI in 93% of the team's official games played so far in 2019-20 and has completed 91% of the total possible minutes playing time. Karim knows he has the trust of his team mates. They understand that he is not a predator in the mould of Cristiano or Van Nistelrooy or a poacher like Raúl, but his quality and the selfless way he plays for the team are attributes which benefit everyone. Another role he performs is that of teacher and mentor to the younger players such as Vinicius, Rodrigo and Brahim.
So as Madrid attempt to dislodge Barça from the top of the league table and will be trying to turn their Champions League tie around at the Etihad, Benzema is guaranteed a starting place. It also means that Zidane will have to use the striker carefully - playing twice a week will increase the chance of picking up an injury...
Marco Asensio
If Benzema does suffer any physical problems which impede him from playing, Marco Asensio is the favourite to take on the role of a 'false nine'. It is a position which Marco has played in before - under Lopetegui with the national team in the games running up to 2018 World Cup Russia. It's impossible to forget his brilliant performance in a friendly against Italy at the Bernabéu playing in precisely that role. Zidane has used Asensio only out on the wing. He's not a prolific scorer but he has no problems finding the back of the net. So Madrid are looking at Benzema to ensure they have a happy end ot the season in LaLiga and the Champions League. Karim has two years to run on his contract (which will expire on 30 June 2022) and his idea is to gain as much success as possible in the next three seasons before he hangs up his boots for good.