George Floyd protests: which states are controlled by the Democrats?
Currently in the US, the Republican party has full control of the legislative and executive branch in 22 states with the Democrats enjoying the same power in 15 states.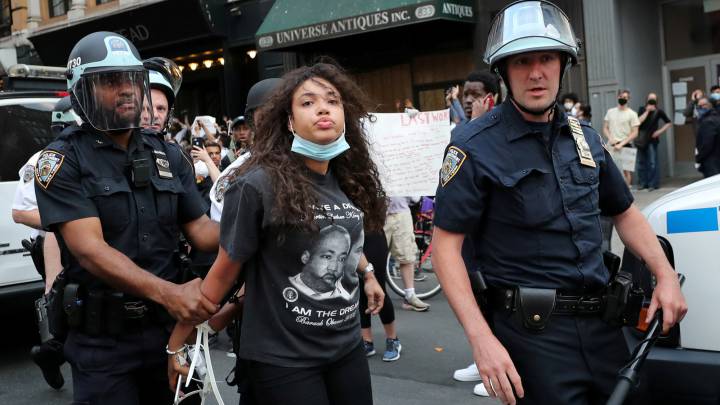 Minnesota is the only current US state with a split control of state legislature with a divided government in place and no political party holds a state government trifecta. A trifecta exists when one political party simultaneously holds the governor's office and majorities in both state legislative chambers. As of June 3, 2020, there are 21 Republican trifectas, 15 Democratic trifectas, and 14 divided governments where neither party holds trifecta control.
The state came to global prominence at the end of May when George Floyd, a 46-year-old black man, died on Monday 25 May in the city of Minneapolis after pleading for help as police officer Derek Chauvin knelt on his neck to pin him down. Floyd was unarmed and already handcuffed. He was pronounced dead at a nearby hospital.
Footage shot by a bystander shows Chauvin kneeling on Floyd's neck, as he pleads that he cannot breath, until he slowly stops talking and moving. 'I CAN'T BREATHE' has become a slogan for the protests across America.
George Floyd protests

Many of the protests resulting from Floyd's death and ongoing police brutality have been conducted in Democrat held states with the opposition party currently totally controlling 15 states and these include the densely populated cities of New York and Los Angeles.
At present the Democratic party control the states of: Washington State, Oregon, Nevada, California, Colorado, New Mexico, Illinois, Virginia, Maine, New York, Rhode Island, Connecticut and New Jersey, Delaware and Hawaii.
Whilst George Floyd protests have been conducted in all major U.S. cities, they have not been exclusively confined to states controlled by the Democratic party with National Guard troops having being deployed in the traditionally Republican State of Texas with major disturbances witnessed in Salt Lake City.
George Floyd protests: live coverage
You can follow live coverage of the protests over the killing of George Floyd here.