PREMIER LEAGUE
Premier League return: five fixtures not to miss
We take a look at the biggest games of the Premier League's return with full details of when and how to watch them.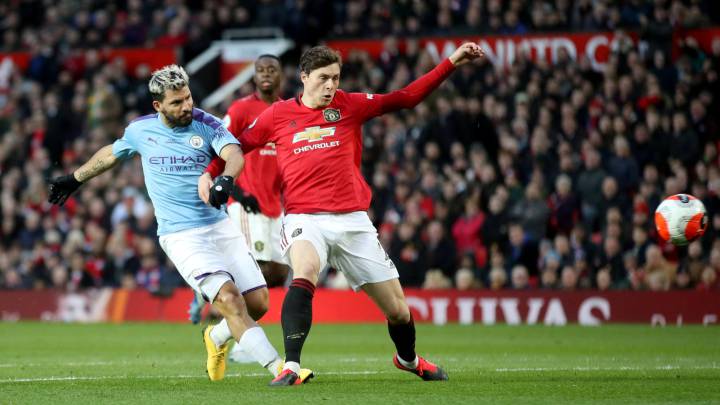 The Premier League has confirmed the fixture list for all remaining matches to be played up to 2 July.There will be three full rounds of fixtures with two additional games held on 17 June, the day of the league's restart. The FA Cup quarter-finals will also be played on 27 June.
With games to be played behind closed doors the FA have agreed to waive the usual '3pm black-out' of live broadcasting, meaning that every remaining Premier League match will be televised live in the UK. The kick-off times are staggered with four slots on Saturday and Sunday allowing supporters to catch all of the action with four Premier League games shown live on the BBC for the first time.
There is just a quarter of the season left to play and while Liverpool stand on the brink of a historic first Premier League title there is still plenty to play for elsewhere. With Manchester City's impending ban likely to see them forfeit their Champions League place, the team finishing fifth will qualify for European football's elite competition. There are seven clubs, all the way down to Arsenal in ninth, who will feel they can make the cut.
At the bottom things are just as tight with six clubs threatened with relegation. Norwich City may be too far adrift but there are just four points between the other five looking to avoid the remaining two relegation places.
Here's five games to look forward to in the coming weeks as English football makes its long-awaited return…
Manchester City vs Arsenal - Wednesday 17 June
The first game after the restart will be Aston Villa vs Sheffield United but later that evening is a fascinating match-up of master vs apprentice. Mikel Arteta, a coach under Pep Guardiola until earlier this season, will take his Arsenal side to the Etihad Stadium to face his former team.
City are currently in second and know that defeat in their opening game will give Liverpool the chance the clinch the title in their first match back. Both City and Arsenal have played one game fewer than most Premier League sides and the visitors will be hoping to pick up three points in their quest to return to the Champions League. City will want to start strong and erase memories of their 2-0 defeat at Old Trafford in their last match before the suspension.
Where to Watch:
UK: Sky Sports (20:15)
Spain: DAZN (22:15)
Los Angeles: NBC Sports (13:15)
New York: NBC Sports (16:15)
Qatar: BeIN Sports (23:15)
Everton vs Liverpool - Sunday 21 June
The Merseyside derby is always one to watch but this has the potential to be one of the biggest in Premier League history for the Reds. In their first game back they could have the chance to win their maiden Premier League title, against their closest rivals, and Everton will be desperate to stop them.
With such high stakes the venue is yet to be confirmed, but Merseyside Police have said that they are happy for the Goodison to host as per the initial fixtures. Wherever the game is played, Everton would love nothing more than to spoil the Liverpool title party and have been in good form since the arrival of Carlo Ancelotti in December.
Where to Watch:
UK: Sky Sports/Pick (19:00)
Spain: DAZN (21:00)
Los Angeles: NBC Sports (12:00)
New York: NBC Sports (15:00)
Qatar: BeIN Sports (22:00)
Manchester United vs Sheffield United
Wednesday 24 June – GMT: 18:00, Spain: 20:00, Los Angeles: 11:00, New York: 14:00, Qatar: 21:00
In the first full mid-week round of fixtures two proud old clubs go head-to-head in pursuit of Champions League football, with just two points between them as it stands. For Manchester United the game is a must-win as they look to re-establish themselves as a top club under Ole Gunnar Solskjaer.
Sheffield United have exceeded their wildest expectations since their return to the top flight this season and go into the run-in within touching distance of European football. Manchester United are one of their closest rivals for qualification so there is a lot on the line in this War of the Roses clash.
Where to Watch:
UK: Sky Sports/Pick (18:00)
Spain: DAZN (20:00)
Los Angeles: NBC Sports (11:00)
New York: NBC Sports (14:00)
Qatar: BeIN Sports (21:00)
Aston Villa vs Wolverhampton Wanderers - Saturday 27 June
Villa's return to the Premier League this season ensured a top flight Midlands derby for the first time since the 2017/18 season and the first between these sides since 2012. For the home side a win could prove invaluable as they battle against relegation and will be boosted by the return of John McGinn from a lengthy injury; the Scottish midfielder who so impressed for Villa at the start of the season.
At the other end of the table Wolves are in the hunt for Champions League football for the first time in their history and their first appearance in Europe's premier club competition since 1960. Doing so would be a crowning achievement for their incredible rise under Nuno Espirito Santo.
Where to Watch:
UK: BT Sport (12:30)
Spain: DAZN (14:30)
Los Angeles: NBC Sports (05:30)
New York: NBC Sports (08:30)
Qatar: BeIN Sports (15:30)
Manchester City vs Liverpool - Thursday 2 July
The very last game of the fixtures released so far sees the best two sides in the country go head-to-head. By this point Liverpool will almost certainly have clinched the title and they will want to solidify this passing of the torch by beating last season's champions. After two weeks of football both teams should be up to speed and if it is anything like the recent games between the two we are in for a treat.
Not only are these two of the finest club sides in in the world but they are managed by two of the best managers, Pep Guardiola and Jürgen Klopp, who enjoy a competitive rivalry of their own. Klopp has never previously won the league in a season when he was competing with a Guardiola side so he will want to make Liverpool's new-found dominance count. There are few more mouth-watering fixtures in European football right now.
Where to Watch:
UK: Sky Sports (20:15)
Spain: DAZN (22:15)
Los Angeles: NBC Sports (13:15)
New York: NBC Sports (16:15)
Qatar: BeIN Sports (23:15)