Koeman: "Everyone knows my dream is to coach Barcelona"
The Dutch coach reappeared after his health scare to take part in Catalunya Ràdio's Tot Gira programme. He also spoke about De Jong: "His best position is where Busquets plays".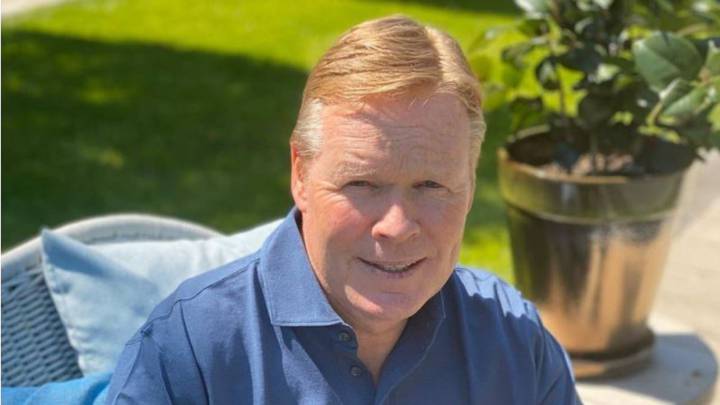 Ronald Koeman, Barça's hero at Wembley in '92 and the current national team coach of the Netherlands, chatted to Catalunya Ràdio's Tot Gira programme today. It was his first interview since he was admitted to hospital at the start of May for heart problems. The first thing Koeman said, was to confirm that as far as his health goes, the situation is positive. "I'm happy to be back in good shape. I had a check-up with the cardiologist last week and it all went well. They told me that I still have to look after myself but I'm very happy. Thanks to Martina (his wife) I was able to get over the shock of it all. I didn't feel too good at first but now I'm fine," he explained.
De Jong will come good for Barcelona - Koeman
Koeman, who admitted that post-pandemic football all seems a little "artificial" to him, chatted about a number of topics concerning Barça - in particular, Frenkie de Jong's form. He said he has been in touch with the player during lockdown. "I've spoken to all of our internationals because they have all been affected in different ways by various levels of confinement. I think De Jong is a player who can adapt to a new position in midfield, playing a little further forward. But I still think his best position is just in front of the back four - where Busquets plays. That's his best position- where he plays for the national team and where he played with Ajax. It's not a bad thing to adapt to other positions. He's still only young and you have to give young players time. In no time he will show his quality with Barça. He's done that with Ajax and with the national team. I'm in no doubt that he's the right player for Barça. He knows he can do more, but he's taking it all with calm because he's happy at Barça".
Koeman's priorities: The Netherlands and Euro 2021
He also reaffirmed that his big dream is to coach Barça one day but for now, he has other priorities - the Netherlands and next year's Euros: "I had a phone call (from Barça), as I've explained many times. But I want to keep my word with the national team, I thought we'd have Euro 2020 this summer. I'm happy with how things are with the national team and for me, that's the most important thing at the moment. None of us know what will happen in the future. In my contract, there is a clause that will let me leave the national team job after the Euros but now's not the time to be thinking about that. Everyone knows it's my dream to coach Barça. Hopefully I might have the opportunity to do so in the future. But as always, that depends on your performance and successes as a coach - you need a lot of experience to coach a team like Barça".
Koeman revealed that UEFA will make a decision on the future of the Nations League by 17 June. He also gave his thoughts on Barça's season and compared the current team to that of a decade ago: "It's really difficult for me to say what I think about Barça. Today's Barça isn't the same as Guardiola's, but it's still a fantastic team. Because of De Jong, I've been watching more of their games. I hope they go on to win LaLiga. As for the Champions League, they'll need to improve to be in a chance of winning it".