Coronavirus India: summary for Monday 8 June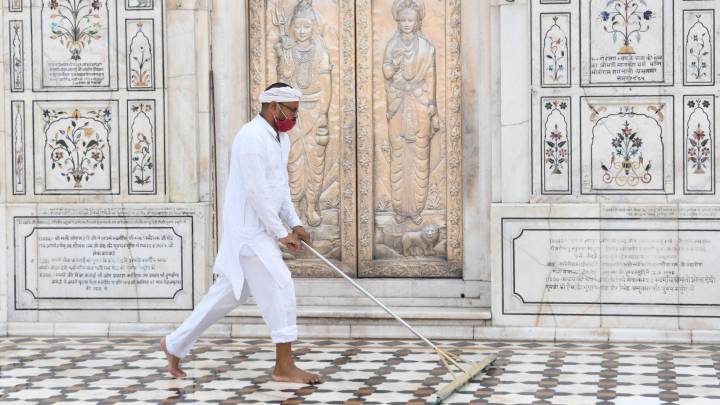 Coronavirus live India: latest Covid-19 news -8 June

India Covid-19 update: 02:30 IST on Tuesday 9 June (23:00 CEST Monday 8 June)
According to the latest figures published by Johns Hopkins University, 7,081,665 cases have been detected worldwide, with 405,002 deaths and 3,177,074 people now recovered.
In India, there have been 265,869 cases confirmed, 7,473 people have died and 129,088 people have recovered from the virus.
"The failure of the health care system in Delhi can be seen on social media"
Hours before the Lieutenant Governor overruled a state government order reserving hospitals in the capital for Delhi residents, BJP MP Meenakshi Lekhi Monday took a dig at the Delhi government for resorting to diversionary tactics, Indian Express reports.
"Many videos testifying the failure of health system of the Delhi government can be seen on social media. Instead of strengthening infrastructure, the Delhi government is threatening hospitals engaged in saving lives of the people of Delhi. ICMR is empowered to take any action against doctors, labs or medical institutions…, not AAP ministers," she said.
Covid-19 patients must provide ID documents to be treated in Delhi hospitals
Delhi Chief Minister Arvind Kejriwal announced on Sunday that the hospitals run by his government as well as private entities will only treat residents of the city during the coronavirus crisis. Patients will be required to be provide documents to prove their identity - these include: passport, bank or post office passbook, ration card, drivers' license, an income tax return form, a recent water, telephone or electricity bill issued to the patient - or close relative such as parents or spouse, Aadhaar card issued prior to 7 June or any valid document issued in the name of any of the parents if the patient is a minor.

People wearing masks walk with shopping bags inside a mall as India eases lockdown restrictions that were imposed to slow the spread of the coronavirus disease in New Delhi, India, June 8, 2020. REUTERS/Anushree Fadnavis
Tamil Nadu cases continue to rise
More than 1,500 coronavirus cases were reported in Tamil Nadu on Monday, taking the state-wide tally to 33,229 positive cases. 17,527 people have recovered and the death toll is 286.
Mask-wearing worshippers in temples as India reopens amid rise in coronavirus cases
(Reuters) India reopened shopping malls and restaurants on Monday and people trickled into temples and mosques wearing masks even as the country added a record number of infections in a single day and was closing in on Spain and the United Kingdom's caseload.
After imposing a severe lockdown in March, Prime Minister Narendra Modi's government is under pressure to fully open up the economy and get people back to work to prevent mass distress.
India's restaurant business under threat
According to a report in Business Today, four out of every 10 of India's resturants won't reopen as a result of the coronavirus pandemic.
Places of worship and malls re-open
Malls and temples re-opened in several cities across India on Monday despite the country recording a record daily number of new coronavirus infections, with the pandemic expected to ravage the country for weeks to come..
After a 10-week lockdown the government has risked lifting some restrictions in a bid to ease the devastating blow to the economy dealt by the coronavirus.
The reported death toll of 7,135 is much lower than reported in other badly-hit countries, but the epidemic is only expected to peak locally in July,
Delhi reserves hospital beds for residents as virus cases surge
The city of New Delhi on Sunday ordered many of its hospital beds to be reserved solely for residents of the Indian capital, as the number of COVID-19 infections continued to surge.
India on Sunday registered 9,971 new coronavirus cases, taking its tally to 246,628 cases, with 6,929 deaths. The case numbers now lag only the United States, Brazil, Russia, United Kingdom and Spain.
New Delhi city alone has registered more than 10% of total cases, making it the third worst-affected part of the country after the western state of Maharashtra, home to financial capital Mumbai, and southern Tamil Nadu state.
"Delhi is in big trouble . . . corona cases are rising rapidly," state Chief Minister Arvind Kejriwal said in a video message on Twitter, where he announced that private and city government-run hospitals will be reserved for Delhi residents.
"If we open Delhi hospitals for patients from all over, where will Delhi residents go when they get infected with coronavirus?"
Global coronavirus deaths top 400,000 as outbreak grows in Brazil & India
Global deaths from the novel coronavirus topped 400,000 on Sunday, as case numbers surge in Brazil and India, according to a Reuters tally.
The United States is responsible for about one-quarter of all fatalities but deaths in South America are rapidly rising.
The number of deaths linked to COVID-19 in just five months is now equal to the number of people who die annually from malaria, one of the world's most deadly infectious diseases.
Global cases are approaching 7 million, with about 2 million, or 30%, of those cases in the United States. Latin America has the second-largest outbreak with over 15% of cases, according to Reuters tally.
Kerala farmers dealing with attacks by wild animals
Thousands of farmers in Kerala have either abandoned cultivation or have stopped nursing their farm lands, especially those close to forest patches, due to the frequent raids by wild elephants, wild boars and more recently, by monkeys.
Various measures have been adopted such as digging elephant-proof trenches, creating elephant-proof walls, constructing solar-powered electric fences but the attacks are increasing rather than going down.
Masks but a lack of social distancing in Mumbai
Days after the Maharashtra state government allowed the return of certain outdoor physical activities, Mumbai residents emerged from their homes to take a stroll down at Marine Drive, India Today reports. Some wore masks but there was very little social distancing on display.
By 7 pm the area was deserted in line with the government's measures to permit outdoor physical activity between 5 am to 7 pm.
Hello and welcome
Welcome to our live coverage of the latest coronavirus news in India for Monday 8 June.
We'll aim to keep you up to date with everything you need to know throughout the day.
.