Coronavirus Africa summary: cases, deaths and news - 15 June

Coronavirus live Africa: latest Covid-19 news - 15 June

Africa Covid-19 update: 02:00 WAT (03:00 CEST) on 16 June
According to the latest figures published by Johns Hopkins University, 8,014,554 cases have been detected worldwide, with 436,306 deaths and 3,833,358 people have now recovered.
Nigeria: 16,658 cases / 424 deaths
South Africa: 73,533 cases / 1,568 deaths
Ghana: 11,964 cases / 54 deaths
Worldwide cases top eight million
According to figures compiled by Johns Hopkins University the total confirmed number of cases of Covid-19 worldwide is now over the eight million mark.
The US continues to have by far the most cases, with well over two million, while Brazil (nearly 900,000), Russia (over 500,000), India (over 330,000) and UK (just under 300,000) make up the five countries with the most cases.
African approaches to Covid-19
The lack of resources many governments across Africa face is a problem, but there are solutions, many ingenious, and often using the infrastructure already in place.
Cyril Ramaphosa condemns violence against women
South Africa president Cyril Ramaphosa has condemned the surge in the number of women being murdered since the start of June when lockdown was loosened.
Ramaphosa said gender-based violence: ""continues to plague our country and we have been saddened by the continuous and recurring news of men attacking and killing women in the past few weeks."
"Men continue to kill women in the most horrific and barbaric fashion," said the president. "It must end," he concluded.
An investigation is ongoing as to why the rates of violence against women have increased. Police minister Bheki Cele points out that there has been an overall rise in crime with the lifting of the ban on the sale of alcohol.
Death rates in patients with chronic illnesses
According to a report released by the US' Centers for Disease Control and Prevention, the death rates for coronavirus patients with chronic illnesses are 12 times higher than for other Covid-19 sufferers.
About 20 per cent of Covid-19 patients with chronic disease died compared to 2% for other people infected with the new coronavirus.
The report was based on 1.3 million lab-confirmed cases of the disease in the US. It will be interesting to see if this extrapolates directly to other locations.
Business man in court in Zimbabwe over 'fake coronavirus contracts'
The BBC reports that a Zimbabwean businessman has been charged over a multimillion dollar procurement scandal involving coronavirus medicine and equipment.
Delish Nguwaya is facing two charges of misrepresentation and fraud after supposedly trying to secure contracts to supply the equipment to a state firm.
The government says it has cancelled the contract.
UNICEF hands over 32 motorbikes to Sierra Leone
The United Nations Children's Fund (UNICEF) in Sierra Leone has handed over thirty-two (32) brand new motorbikes to boost the Ministry of Social Welfare's capacity to provide Psychosocial Support Services in the current Covid-19 response.
The motorbikes will be dispatched to Social Workers in all the 16 districts to support in their daily assignments such as rapid case management for survivors of violence and abuse and tracing of vulnerable children.
"Covid-19 is real, we must ensure that our vulnerable families including women, children, the disabled and elderly are well protected during this pandemic," said Bindu Dassama, Minister of Social welfare.
SA President Ramaphosa delivers message to country's youth
President Cyril Ramaphosa says the youth of South Africa must be empowered to lead the economic recovery in the country once the coronavirus pandemic has subsided.
Nigeria doctors go on strike
(Africa News) Members of the National Association of Resident Doctors (NARD) in Nigeria have embarked on an indefinite strike.
President of the Association, Dr Aliyu Sokomba made the announcement on Monday while addressing a press conference in the capital, Abuja.
But those treating patients with Covid-19 would continue to work, President of the National Association of Resident Doctors, said in a tweet.
Sokomba warned that even exempt doctors would join the strike if their demands were not met within two weeks.
The doctors union has denounced failings by the state over inadequate provision of protective equipment.
Kenya update
Fatalities in Kenya have passed 100 as cases reach 3,727, according to the latest Ministry of Health statistics.
Stark warning from the UN
(Agencies) UN agencies warned Monday that the coronavirus pandemic could lead to the deaths of an additional 51,000 under-fives in the Middle East and North Africa by the end of the year.
The World Health Organisation and United Nations children's agency UNICEF said the disruption of essential health and nutrition services risked "reversing progress (on) child survival in the region by nearly two decades".
IMF cuts Senegal's 2020 GDP forecast to 1.1%
(Reuters) The International Monetary Fund has cut Senegal's 2020 economic growth forecast to 1.1% from a 3% estimate in April due to the effects of the coronavirus pandemic.
As recently as January, the Fund had expected 6.8% growth this year, but Senegal's economy has been battered by border closures, a curfew and social distancing, it said in a statement late on Sunday.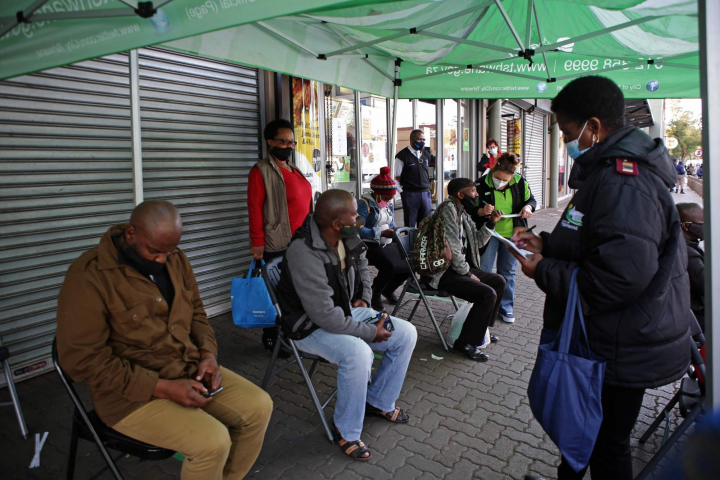 People wait to be screened during a testing drive for the Covid-19 coronavirus at the Bloed Street Mall in Pretoria Central Business District, (Photo by Phill Magakoe / AFP)
Egypt to reopen all airports on July 1, says aviation minister
Egypt will reopen all its airports on July 1, the civil aviation minister said on Sunday, after suspending regular international flights in March due to the coronavirus outbreak.
Mohamed Manar Anba told a news conference that flights would resume gradually at the airports from the start of July.
He said foreign tourism would be limited to resorts in three coastal provinces, after the government said on Thursday it would reopen Egypt's main seaside resorts for international flights and foreign tourists from July 1.
Anba and Tourism Minister Khaled al-Anani, who joined the news conference, outlined measures to be taken inside planes, at airports and in hotels to help to ensure the safety and health of foreign tourists.
The wearing of masks compulsory in Ghana
President Nana Akufo-Addo has announced that wearing face masks in public is now compulsory in Ghana and directed the police to enforce the directive. The country's coronavirus case count has risen to nearly 12,000, with 54 deaths and about 4,000 recoveries.
The country's Health Minister has recently been diagnosed with the virus.
Coronavirus Africa live updates: welcome
Hello and welcome to our live Africa-focused coverage of the coronavirus pandemic, which has now registered almost 8 million cases worldwide, according to figures compiled by Johns Hopkins University.
We'll endeavour to keep you abreast of the latest developments and statistics as they emerge throughout Saturday.
.