Infantino: "Football will return with more passion after the coronavirus crisis"
FIFA president Gianni Infantino took part in Monday's virtual inauguration of Education City Stadium, the third venue for 2022 World Cup Qatar.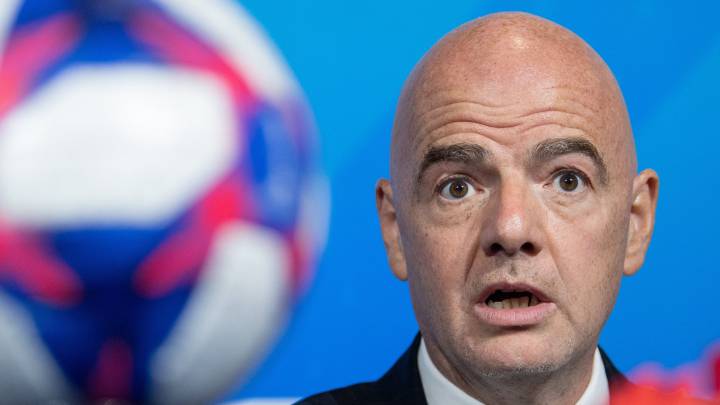 FIFA president Gianni Infantino took part in Monday's virtual inauguration of Education City Stadium in Al Rayyan, the third venue to be unveiled for 2022 Qatar World Cup. Infantino appeared by video-link and made declarations during the event.
The FIFA president began by extending his thanks to His Highness, Emir Sheikh Tamim bin Hamad Al-Thani for inviting him to take part in the milestone event. "First of all I would like to thank Sheikh Tamim bin Hamad Al-Thani, the Emir of Qatar, for giving me the opportunity to share this night of celebration with the news of the inauguration of another stadium which will host matches at the 2022 FIFA World Cup in Qatar. We pay a very special tribute to those who suffered, fought and are still fighting against the Covid-19 pandemic giving us a remarkable example of resilience during such a difficult moment," Infantino said via video-link.
He went to add: "We must not forget that health comes first. In some parts of the world, it is already possible to look ahead to better times. In others, we still have to be extremely careful, stay strong and united. The opening of the new stadium in Education City reminds us that football will return - and with more passion than ever. When time comes, we will be sharing the stands with family and friends...In this beautiful and modern stadium, we will come together to celebrate the FIFA World Cup in 2022. Until then, stay healthy, strong and positive".
A different inauguration
Due to the current pandemic, the event could not be held at the stadium, neither the organisers not the fans were able to attend in person – the inauguration was held entirely on social media under the supervision of the Supreme Committee for Delivery and Legacy, who are in charge of planning and organising the projects for Qatar 2022, and broadcast live by beIn Sports and Al Kass Sports.
It is worth noting that Infantino was able to take part in the inauguration of Al-Khalifa International stadium in 2017 – the first of the 2022 World Cup venues to be unveiled; then in 2019, he attended the inauguration of the Al-Janoub stadium, the second venue to be finished. Al-Janoub however was built entirely from scratch while the Al-Khalifa International was modernised in accordance to FIFA guidelines to make it suitable to host World Cup matches.