Coronavirus Africa summary: cases, deaths and news - 16 June

Coronavirus live Africa: latest Covid-19 news -Tuesday 16 June

Africa Covid-19 update: 02:00 WAT on Wednesday 17 June (03:00 CEST)
According to the latest figures published by Johns Hopkins University, 8,152,885 cases have been detected worldwide, with 441,407 deaths and 3,942,312 people have recovered.
Nigeria: 16,658 cases / 424 deaths
South Africa: 73,533 cases / 1,568 deaths
Ghana: 12,193 cases / 58 deaths

Congo mining provinces impose new Covid-19 lockdowns
Authorities in DR Congo's southeastern mining heartland announced temporary lockdowns on Tuesday in an effort to widen coronavirus testing and prevent a worrying situation from worsening, governors said.
Cases have multiplied in the central African nation despite the imposition of short-term lockdowns in some urban centres and restrictions on movement. A lack of local testing has fanned fears the virus is spreading undetected.
Jacques Kyabula Katwe, governor of the mineral-rich Haut-Katanga province, said a new 48-hour lockdown would come into force in the mining hub of Lubumbashi and the border towns of Kasumbalesa and Kipushi over the coming weekend.
Around 9% of Guinea-Bissau health workers have been infected with Covid-19
More than 170 of Guinea-Bissau's 2,000 health workers have contracted Covid-19, a World Health Organization expert said on Tuesday, warning that hospitals were close to being overwhelmed.
The West African nation's under-equipped healthcare system has been struggling to curb the spread of the novel coronavirus, which has infected over 1,400 people and killed 15. Health authorities have raised the alarm over a lack of oxygen to treat patients.
"The three main Bissau hospitals are currently facing rooms filled with Covid-19 patients and a breakdown in essential medical services," said Joana Cortez, a WHO expert in Guinea-Bissau, during an online seminar on the impact of the epidemic on Portuguese-speaking African countries.

Germany offers financial aid to help African farmers
The German Ministry for Economic Cooperation and Development (BMZ) has provided 5.9 million US dollars to ensure that the UN World Food Programme (WFP) can continue to protect 1.2 million vulnerable African farmers with climate risk insurance.
"This donation comes at a crucial time. The Covid-19 pandemic keeps colliding with the climate crisis. While the immediate priority of many countries is to protect people and prevent the spread of Covid-19, it is essential to have safety nets in place that protect vulnerable people from the double threat of Covid-19 and climate impacts. Heatwaves, floods, storms and droughts are compounding the economic and public health effects of the pandemic, putting an additional burden on overstretched health services," Gernot Laganda, WFP Chief of Climate and Disaster Risk Reduction Programmes explained. "Germany's donation will enable these countries to strengthen their safety nets and manage two hazards at the same time."

Lagos state suspends plans to reopen places of worship
Nigeria's commercial hub Lagos has suspended plans to reopen places of worship after a review of the new coronavirus outbreak, the state governor said on Tuesday. Earlier this month Nigeria's government said places of worship, which the government ordered to close in March to halt the spread of the highly infectious virus, could reopen.
It said each state would decide the terms on which its places of worship would reopen. Christianity and Islam are widely practised in Lagos, as in the rest of Nigeria. Places of worship were due to open from June 19. "We will not be proceeding with the opening of the places of worship," Lagos State Governor Babajide Sanwo-Olu told journalists, adding the closures would be effective until further notice.
Sanwo-Olu said the decision followed a review of the outbreak in the state. "Our review indicted that we needed to suspend that attempt at opening," he said.
Lagos state, whose capital city of 20 million inhabitants bears the same name, is the epicentre of the outbreak in Nigeria. The country that has recorded 16,658 confirmed cases and 424 deaths. A month-long lockdown in Lagos was eased in early May but authorities have expressed concern that many people are not observing social distancing rules, wearing masks in public and not gather in groups of 20 or more.
Red Cross fears coronavirus spreading silently in Somalia's displaced camps
The new coronavirus could be spreading undetected through camps across Somalia hosting some 2.6 million displaced people, the
Red Cross warned on Tuesday, as floods and conflict swelled the numbers fleeing into overcrowded settlements.
Almost 500,000 people have been forced from their homes by recent floods in central Somalia, the United Nations said, putting further pressure on some 2,000 camps across the Horn of
Africa nation, which has been mired in conflict since 1991.
"We are concerned that many COVID cases are going undetected, especially in the internal displaced camps," said Ana Maria Guzman, health coordinator for the International Committee of the Red Cross (ICRC), in a statement.
"Because of the ongoing conflict in Somalia, and also we are facing floods right now in Somalia, there is an increase in the number of internal displaced population into urban areas and this creates the perfect environment for infectious disease."
Somalia, which has a population of about 15 million people, has recorded more than 2,600 coronavirus cases and about 90 deaths, according to a tally by Johns Hopkins University.
African nations seek UN inquiry into US racism, 'police brutality'
African countries are lobbying to set up a U.N. inquiry into "systemic racism" and "police brutality" in the United States and elsewhere, aiming to defend the rights of people of African descent, a draft resolution seen by Reuters shows.
The text, circulating among diplomats in Geneva, voices alarm at "recent incidents of police brutality against peaceful demonstrators defending the rights of Africans and of people of African descent".
It will be considered at an urgent debate of the U.N. Human Rights Council on Wednesday.
The Council agreed to convene at the request of Burkina Faso on behalf of African countries after the death last month of George Floyd, an African American, in police custody in Minneapolis, which ignited protests worldwide.
The United States quit the Council two years ago alleging bias against its ally Israel.
Significant reduction in mortality
Big trial result. The steroid dexamethasone can have a big impact for seriously ill people. Also good news: it's cheap.

Outbreak in Beijing
In the last 24 hours a further 27 Covid-19 infections have been detected in the Chinese city of Beijing, taking the total to 107 since Thursday.
The market the outbreak is centred upon has been closed and Chinese authorities are taking swift action, with 29 neighbourhoods next to the market under tight lockdown and an almighty track and trace operation underway.
With many countries tentatively (or not so tentatively) opening up from lockdowns this is not good news.

A year's protection
The Covid-19 vaccine being developed by British pharma giant AstraZeneca is likely to provide protection against the virus for about a year, the company's chief executive Pascal Soriot told Belgian radio station Bel RTL today. "We think that it will protect for about a year," Soriot said.
"If all goes well, we will have the results of the clinical trials in August/September. We are manufacturing in parallel. We will be ready to deliver from October if all goes well," Soriot said.
Immunity to Covid-19
This article from Scientific American was published back at the start of April, but is still well worth reading in light of the current debate over how effective any Covid-19 vaccine might be.
"...immunity functions on a continuum. With some pathogens, such as the varicella-zoster virus (which causes chicken pox), infection confers near-universal, long-lasting resistance. Natural infection with Clostridium tetani, the bacterium that causes tetanus, on the other hand, offers no protection—and even people getting vaccinated for it require regular booster shots. On the extreme end of this spectrum, individuals infected with HIV often have large amounts of antibodies that do nothing to prevent or clear the disease.
At this early stage of understanding the new coronavirus, it is unclear where COVID-19 falls on the immunity spectrum. Although most people with SARS-CoV-2 seem to produce antibodies, "we simply don't know yet what it takes to be effectively protected from this infection," says Dawn Bowdish, a professor of pathology and molecular medicine and Canada Research Chair in Aging and Immunity at McMaster University in Ontario. Researchers are scrambling to answer two questions: How long do SARS-CoV-2 antibodies stick around? And do they protect against reinfection?"
So, there's a chance a yearly Covid-19 booster shot becomes a thing.
Somalia-born Omar's father dies of coronavirus
Somalia-born US congresswoman Ilhan Omar has announced that he father, Nur Mohamed, has died as a result of the coronavirus.
"It is with tremendous sadness and pain to say goodbye to my father, Nur Omar Mohamed," Omar tweeted. "No words can describe what he meant to me and all who knew and loved him."
Omar and her father arrived in the US as refugees in 1995, during Somalia's civil war.
Coronavirus: the complete guide to the Covid-19 pandemic
All the information you need to understand the coronavirus and ways to stay safe during the Covid-19 pandemic: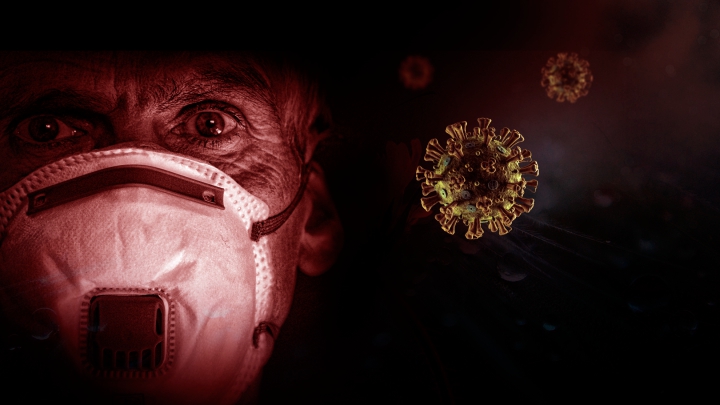 Coronavirus Africa live updates: welcome
Good morning and welcome to our live, Africa-focused coverage of the coronavirus pandemic, which has now registered just over eight million cases worldwide. According to the World Health Organization's most recent count, there have been over 240,000 confirmed Covid-19 cases in Africa, leading to approximately 6,400 deaths.
.