World Cup 2022: Five facts about Education City stadium
Qatar is providing eight state of the art venues for the World Cup in 2022. Education City stadium will host games through to the quarter-finals.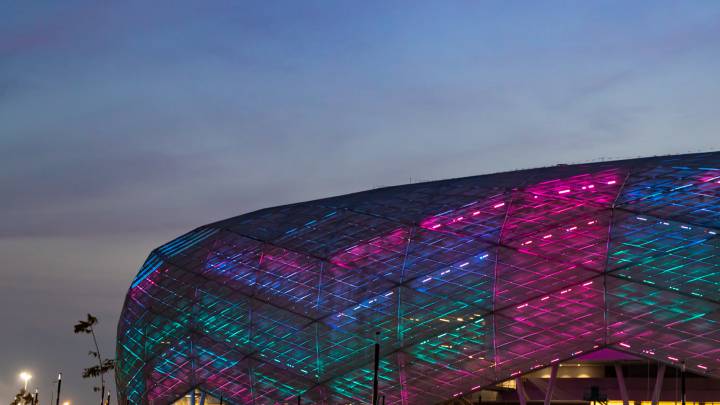 With the opening of Education City stadium, which was celebrated virtually on the social media accounts of the Supreme Committee for Delivery and Legacy - the body responsible for managing the infrastructure projects for the World Cup 2022 in Qatar - the country now has three stadiums full prepared to host matches at the tournament.
Education City stadium
Education City stadium is the third of the eight venues which will host the matches at the World Cup in Qatar. The first was the Khalifa International, which was reopened in 2017 after a complete renovation to meet the highest FIFA standards, and Al Janoub, opened in 2019.
The next two grounds to be opened will be Al-Rayyan and Al-Bayyt.
Here are five facts about Education City:
Diamond in the desert
The façade of the stadium features triangles that form complex, diamond-like geometrical patterns which appear to change colour with the sun's movement across the sky. Like diamonds, the stadium's design represents quality, durability and resilience – and will become something to be treasured, both for the memories it holds and its future value to the country.
World Cup games
During Qatar 2022, the stadium is set to host matches up to the quarter-finals stage. The stadium's seating capacity during the tournament will be 40,000. After Qatar 2022, the capacity will be reduced to 20,000 following the removal of the modular upper tier. The excess seats will be donated to countries which lack sporting infrastructure – meaning the legacy of Qatar 2022 will be felt far and wide.
An education centre
Education City is the home of Qatar Foundation for Education, Science and Community Development (QF). Situated within Education City are leading universities, along with research and development institutions. As well as hosting matches during Qatar 2022, the stadium will provide sporting facilities for the entire QF community, including faculty and students. Parts of the stadium will be turned into classrooms and event spaces for QF schools and universities after the tournament.
Fans on the move
The Doha metro makes it easy to get to Education City stadium, on the green line, with Education City metro stop just 500 metres from the ground.
Certified sustainability
Education City stadium has received G-SAS certification for design and construction, thanks to its unique characteristics, including ease of travel to the ground, the use of environmentally friendly materials and the use of an energy-saving LED lighting system.