Cristiano Ronaldo and Serie A are back: The complete schedule
Here is the full rundown of the fixtures still to be played in Serie A as the Italian top flight gets back under way this week after the coronavirus hiatus.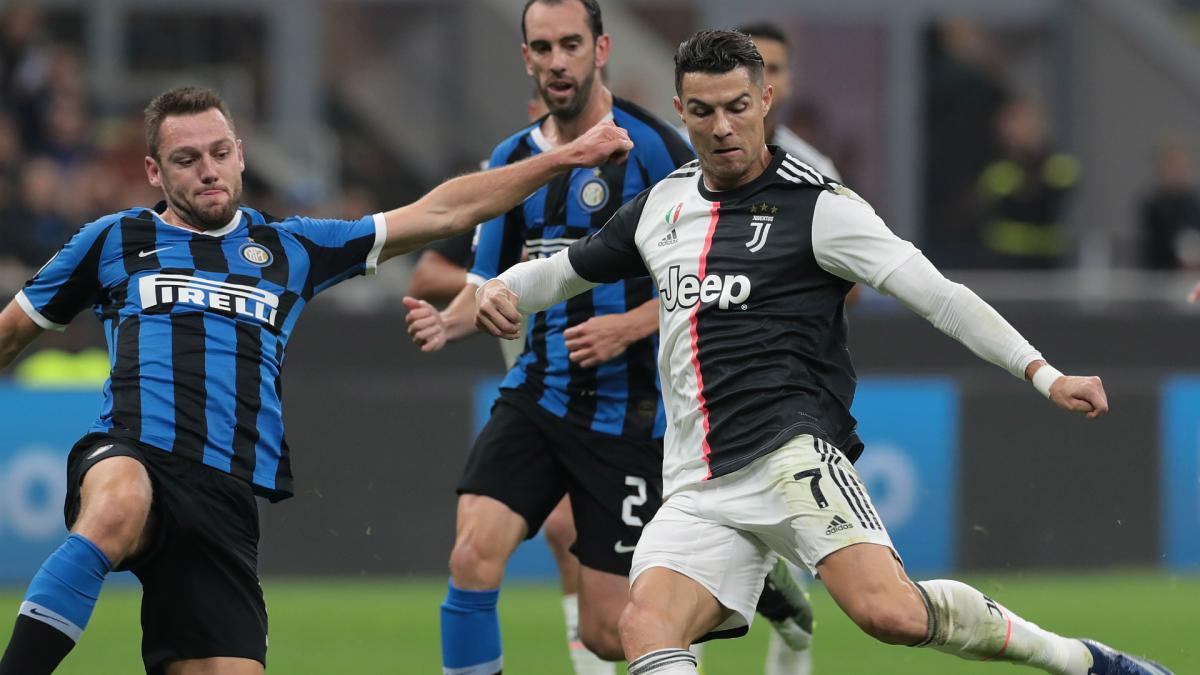 Serie A resumes on Saturday following a three-month hiatus, with all to play for at both ends of the table. Italy's top flight was suspended in March due to the coronavirus pandemic but the action will return behind closed doors this weekend with Juventus one point clear of Lazio.
The reigning champions are chasing a ninth successive Scudetto, while Inter are nine points adrift of top spot with a game in hand to play.
The reigning champions' first league game back is away to Bologna, with Maurizio Sarri's side nursing the hangover from their Coppa Italia final loss to Napoli.
Below is the full list of Serie A games still to be played, including four fixtures carried over from earlier in the season.
Serie a 2019-20 run-in
Matchday 26
Inter v Sampdoria
Hellas Verona v Cagliari
Torino v Parma
Atalanta v Sassuolo
Matchday 27
Atalanta v Lazio
Bologna v Juventus
Fiorentina v Brescia
Genoa v Parma
Hellas Verona v Napoli
Inter v Sassuolo
Lecce v Milan
Roma v Sampdoria
SPAL v Cagliari
Torino v Udinese
Matchday 28
Brescia v Genoa
Cagliari v Torino
Juventus v Lecce
Lazio v Fiorentina
Milan v Roma
Napoli v SPAL
Parma v Inter
Sampdoria v Bologna
Sassuolo v Hellas Verona
Udinese v Atalanta
Matchday 29
Atalanta v Napoli
Bologna v Cagliari
Fiorentina v Sassuolo
Genoa v Juventus
Hellas Verona v Parma
Inter v Brescia
Lecce v Sampdoria
Roma v Udinese
SPAL v Milan
Torino v Lazio
Matchday 30
Brescia v Hellas Verona
Cagliari v Atalanta
Inter v Bologna
Juventus v Torino
Lazio v Milan
Napoli v Roma
Parma v Fiorentina
Sampdoria v SPAL
Sassuolo v Lecce
Udinese v Genoa
Matchday 31
Atalanta v Sampdoria
Bologna v Sassuolo
Fiorentina v Cagliari
Genoa v Napoli
Hellas Verona v Inter
Lecce v Lazio
Milan v Juventus
Roma v Parma
SPAL v Udinese
Torino v Brescia
Matchday 32
Brescia v Roma
Cagliari v Lecce
Fiorentina v Hellas Verona
Genoa v SPAL
Inter v Torino
Juventus v Atalanta
Lazio v Sassuolo
Napoli v Milan
Parma v Bologna
Udinese v Sampdoria
Matchday 33
Atalanta v Brescia
Bologna v Napoli
Lecce v Fiorentina
Milan v Parma
Roma v Hellas Verona
Sampdoria v Cagliari
Sassuolo v Juventus
SPAL v Inter
Torino v Genoa
Udinese v Lazio
Matchday 34
Brescia v SPAL
Cagliari v Sassuolo
Fiorentina v Torino
Genoa v Lecce
Hellas Verona v Atalanta
Juventus v Lazio
Milan v Bologna
Napoli v Udinese
Parma v Sampdoria
Roma v Inter
Matchday 35
Atalanta v Bologna
Inter v Fiorentina
Lazio v Cagliari
Lecce v Brescia
Parma v Napoli
Sampdoria v Genoa
Sassuolo v Milan
SPAL v Roma
Torino v Hellas Verona
Udinese v Juventus
Matchday 36
Bologna v Lecce
Brescia v Parma
Cagliari v Udinese
Genoa v Inter
Hellas Verona v Lazio
Juventus v Sampdoria
Milan v Atalanta
Napoli v Sassuolo
Roma v Fiorentina
SPAL v Torino
Matchday 37
Cagliari v Juventus
Fiorentina v Bologna
Hellas Verona v SPAL
Inter v Napoli
Lazio v Brescia
Parma v Atalanta
Sampdoria v Milan
Sassuolo v Genoa
Torino v Roma
Udinese v Lecce
Matchday 38
Atalanta v Inter
Bologna v Torino
Brescia v Sampdoria
Genoa v Hellas Verona
Juventus v Roma
Lecce v Parma
Milan v Cagliari
Napoli v Lazio
Sassuolo v Udinese
SPAL v Fiorentina