Coronavirus: Nigeria to start trial of dexamethason
Nigerian health minister Dr. Osagie Ehanire has announced that Nigeria will start the clinical trials of the drug dexamethason, used to treat Covid-19.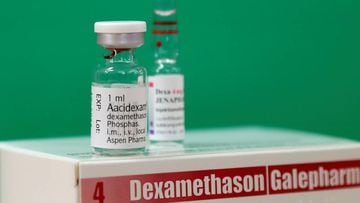 Nigerian health minister Dr Osagie Ehanire announced on Thursday that Nigeria will start the clinical trials of the drug dexamethason to aid in the treatment for Covid-19 patients.
**Follow all the latest coronavirus related news in Africa on our dedicated live blog**
Dexamethason trials in Nigeria
"The medicine in not new and is already used for other purposes as a steroid," Eharnie said in his speech before adding, "it's easy to try it out because we already know its side effects."
It's important to mention that British prime minister Boris Johnson had already referred earlier to the effectiveness of dexamethason when tried on patients who suffered from the severe symptoms of Covid-19 and its reduction of the risk of death from the virus.
Johnson stated that according to UK researchers the drug has reduced death risks for patients on ventilators by almost one third, in addition to the drug being affordable and widely-available. Scientists have actually gone as far as to say that it could have saved around 5,000 lives if it had been brought in earlier to the UK.
Nigerian clinicians, as well as citizens, are looking forward to the results of these trials, hoping they can produce a positive outcome like that of their peers in Britain.
Nigeria recorded new 745 confirmed Covid-19 cases according to the Nigeria Centre for Disease Control (NCDC) on Thursday, so the total number of confirmed cases has increased to well over 18,000 while 6,307 patients have left isolation centres following their recovery. Sadly 475 have passed away due to virus-related complications.
The volume of new cases has surged recently in several African countries although the continent was believed to be the one with the least cases across the world since the virus outbreak.