Raul Jimenez breaks 'Chicharito's' record in the Premier League
The Mexican striker scored his 14th goal of the season in Wolverhampton's 2-0 victory over West Ham.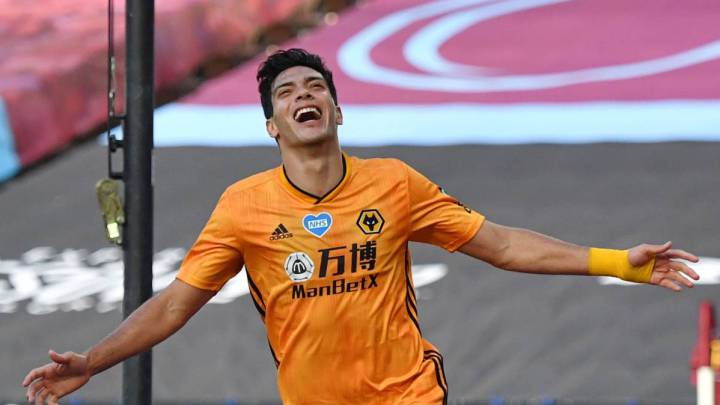 Since arriving in the Premier League Raul Jimenez has proven he is one of the best strikers and the great season he is having with Wolverhampton has piqued the interest of other big clubs in Europe. This Saturday Wolverhampton defeated West Ham 2-0, with the Mexican striker scoring his 14th goal of the season.
He is now in sixth place of the Premier League's tops scorers and is one goal behind Liverpool's striker Mohammed Salah. Also with his 14th goal of the season he has broken the record held by his compatriot Javier Hernandez.
Chicharito scored a total of 13 goals with Manchester United in the 2010-2011 campaign and Raul Jimenez can still increase his record as there are still 8 games left of the current season. The next game for Wolverhampton will be on Wednesday against AFC Bournemouth, a team that is facing relegation against whom Jimennez will have a good opportunity to score more goals.
Jimenez spoke about Liverpool and Manchester United interest
Wolves striker Raul Jimenez said the reports linking him with a move to Liverpool F.C. and Manchester United are inspiring him. The 29-year-old has also contributed three goals in seven games in the Europa League to underscore his great season.
Other teams outside the Premier League have been linked to Jimenez during the coronavirus break in Europe. There are several reports that F.C. Barcelona, Real Madrid and Juventus have asked about Jimenez and are following him closely.
"It is something very cool, I don't know if they are true, they are rumors. Those are teams that in the history of football are important. It's something good to continue growing, making an effort and taking it as an incentive so that, if possible, give even more to achieve it," said Jimenez to Bolavip and quoted by the Mirror.