Premier League: Late goals galore as teams take advantage of tired legs
Research by Dr Joel Mason of the University of Jena suggests fatigue could be a major cause for an increase of dramatic late goals since football's restart.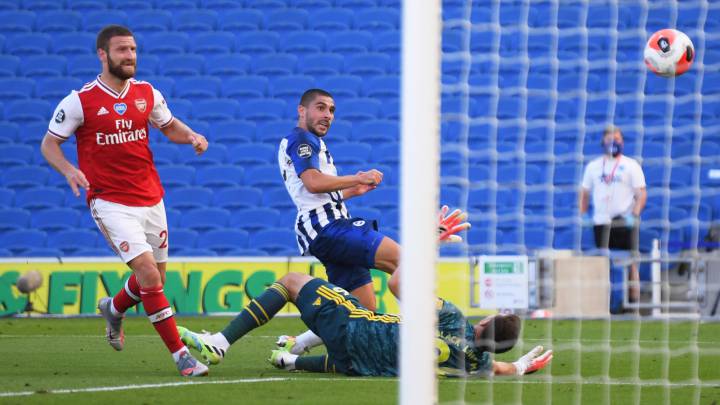 The Premier League really got back into full swing on Saturday with four matches broadcast live throughout the day. Most notable from the day's action were the decisive goals in the latter stages in three of those games as players struggled to regain full fitness after three months without competitive fixtures.

Late goals on the rise
Saturday's first match saw two brilliantly taken goals in the final five minutes of action as two unlikely scorers took advantage of space in the opposition's box. Leicester City left-back Ben Chilwell found himself with room just inside the penalty area and fired into the top corner, before Craig Dawson equalised for Watford with a bicycle kick with just seconds remaining.
A trend of late goals had already been noticed in the Bundesliga where training-science expert Dr Joel Mason has found that teams are far more likely to concede towards the end of matches. Taking the German league's Matchday 30 from the beginning of June he found that 23.8% of all goals were scored after the 80th minute. Players may be struggling to last the full 90 minutes after a prolonged break and that may explain why Chilwell and Dawson were not closed down quickly enough to prevent the goals.

Substitutions favour the attackers
In the second game of Saturday afternoon Brighton and Hove Albion reversed a one-goal deficit to Arsenal in the final 15 minutes of normal time. Brighton's winner, a 95th-minute strike courtesy of Neal Maupay, came after Shkodran Mustafi had failed to track the forward's run. The German defender had played every minute of Arsenal's two games in the last three days.
The 5:30pm kick-off saw Europe-chasing Wolverhampton Wanderers ease aside West Ham United, but they needed some inspiration off the bench to do it. The game was all-square for 70 minutes but changed with the introduction of Adama Traoré. The Wolves winger's pace was too much for the tiring West Ham defence to handle and he was heavily involved in both goals, picking up an assist in a 2-0 win.
Premier League clubs are now allowed to make five substitutes, as is the case in the Bundesliga, to deal with the extended lay-off but Dr Mason found that defenders are considerably less likely to be replaced than attackers. Across the first five rounds of German fixtures defenders accounted for just 14.8% of those substituted while strikers made up 33.1%, despite there being far more defenders on the pitch. In the final stages of matches the attackers are more likely to have fresh legs than the defenders and after three months without football that can make all the difference.