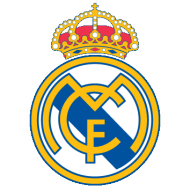 2
Vinicius Junior 18',
Sergio Ramos 55'
Strikes from Vinicius and Ramos see Madrid regain top spot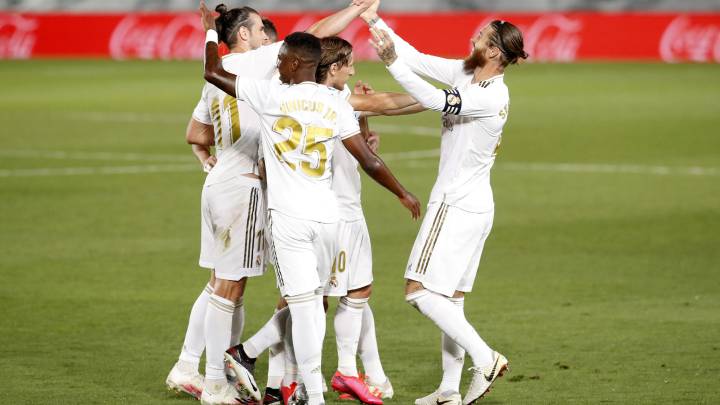 Real Madrid 2-0 Mallorca: as it happened
GAME OVER! Madrid good value for their three points as they return to the summit. It's neck-and-neck at the top of LaLiga. Goals from Vinicius in the first half and then Ramos from a free-kick in the second. Mallorca played well but failed to truly break down Madrid's defense. They didn't have enough chances and the chances Madrid had, they finished.
One last chance for Madrid now as they have a corner that Kroos takes. Makes its way to Mariano and he slips as he strikes and it goes wide.
Free delivered by Kroos and Ramos gets absolutely taken out of it with a push. But he was offside.
Kroos chops Kubo down. He gets himself a yellow card.
Luka Romero came on for Baba. He is the youngest player in the history of LaLiga.
Luka Romero came on for Baba. He is the youngest player in the history of LaLiga.
The game is just a number of subs now with a few bursts of football. Brahim on for Vinicius.
Kubo races clear and Mendy catches him on the leg. A booking for his effort as he prevents the Japanese attacker from starting a dangerous counter.
Another waterbreak now as the referee blows the whistle for some refreshments.
Bale off for Asensio and Modric off for Isco as Zidane makes another couple of changes.
Salibur on for Lago Junior for Mallorca.
Good pressure from Kroos, who is just on, and Vinicius, who has run plenty already tonight and must be tiring. Still hungry for more chances though as Reina kicks it out for a throw and Madrid start a fresh attack.
Bale launches in the direction of Carvajal but it's too far for the speedy right-back.
And now Kroos comes on for Hazard as Zidane tries to get a little more control of this one.
Mallorca make a number of changes Cucho Hernandez and Salva Sevilla on for Aleix Febas and Budimir. Like for like in terms of positions but they do very different things. Mallorca trying to change things up.
GOAL! RAMOS! The free kick from Ramos into the top corner. Incredible strike and from a defender too. 2-0 and that should be game over now because Mallorca have looked good but they won't be scoring two, you'd think!
Bale races forward and he curls it with his left but it's blocked and out for a corner.
More importantly, during that move, Hazard got caught on the ankle and looks to be in some pain. He hobbles back to his position but worth keeping an eye on.
Benzema with another hand-stinger for Reina. He'll need sudocream for his palms after the game. Benzema's left foot this time after some nice work from Vinicius on the left again. The young Brazilian has been very active so far tonight.
Ramos absolutely cleans Budimir out of it and follows through with his hip. Referee blows for a free. Ramos on seriously thin ice now. He has a yellow and while that was way less dangerous than it looked, it was still a foul as Mallorca countered. Next one might see him get a second yellow.
Valverde goes through the back of Lago Junior and the Mallorca winger goes down. No free.
Free for Mallorca straight away and it's headed down into Courtois' waiting arms.
Game is back underway. No changes for either side. If Madrid can't get a second and Mallorca continue to push forward, I'd imagine Zidane will take action sooner than later though.
Teams back out on the field and we are ready for action again!
One last hurrah actually. Courtois kicks it out and it's out for a throw. Referee blows for half-time.
One last corner for Mallorca to deliver and for Madrid to deal with. Lago Junior heads it over the bar.
One of Bale's bullet shots just hit Baba in the ribs. A sore one for the midfielder but he's back up after checking that all of his ribs are in their correct places. He seems happy enough that they are. Jogs back to his position gingerly.
Another good move ruined by a silly offside. Lago just drifting back into play but received the ball and flag goes up rightly. Mallorca really showed up tonight and some lovely football from them.
Mallorca are building again and asking questions of Madrid's defense. They have answers for them so far though. Modric steps in front of a pass and clears the lines.
Ramos and his beard go in the book. He swipes the legs from under Budimir.
A short break for some high-quality H20. Necessary given the heat in Madrid at the moment. It's 30 degrees.
Madrid counter! Modric's cross safely into the hands of Manolo Reina.
Lago Junior with a dangerous cross after a nice piece of skill from Take and there's nobody there to meet in the middle. Budimir tried but he just couldn't get there.
Hazard fizzes one wide. He got the ball from Benzema, turned, made a nice angle for himself and launch it just wide.
Kubo again through on goal as he tries to scoop it again. This time it hits the crossbar and comes back out to Bale. He heads it up into the air though as it falls awkwardly to him.
Free for Mallorca. Kubo absolutely launches it towards goal. It's rising all the time though and floats over the bar.
We are getting a VAR check, however, after Carvajal seemed to foul Dani Rodriguez.... after a delay, the goal is given! Real Madrid lead 1-0.
VINICIUS! He sends it into the roof of the net after Modric puts him in on goal. 1-0.
Ball sent into the box by Bale and it's headed up into the air and out for a corner for Madrid. Modric lines it up to take.
Kubo again looking dangerous as he links with teammates. Real Madrid defenders manage to swarm him and clear.
Real Madrid with a good break. Febas has the ball nicked off him by Modric, Hazard feeds Vinicius and he sees his effort blocked.
That's a few good chances now and a couple on either side. Madrid team looking quite lopsided with Mendy and Vinicius, two speedsters being put under pressure by Kubo and Pozo, who is playing as a wing-back.
Mallorca are growing into this game. Junior Lago takes on and beats Carvajal now and forces a save from Courtois.
Pozo takes on Mendy but he can't get the better of him and ends up just bundling him over.
Idrissu Baba with a lovely curling effort that nearly slips inside Courtois' far post. Corner for Mallorca.
Budimir is booked for throwing an elbow into Varane's face as they jumped for the ball.
Lovely cross in from the left. Benzema chests it down and wallops it at Reina, who is equal to it.
Benzema with an effort first and then Hazard stings Manolo Reina's hands. Corner for Madrid.
Mendy's turn to stretch his legs. He races forward but can't cross the ball before it goes out of play. Goal-kick for Monolo Reina.
Mallorca break and Kubo tries to race past Modric, which he does. Ramos is out to cut out his run.
Ramos gets his first touch after recovering from the knock he took to the knee against Real Sociedad. There was fear he had really injured himself but just three nights later, he is at the back beside Varane again to protect Thibaut Courtois' goals.
We are underway as Madrid try to retake their place at the top of LaLiga by the most slender of margins (head to head).
It's currently 30 degress in Madrid. It's going to get a lot hotter next week but already incredibly warm and humid conditions to be playing football in.
The teams emerge out into an empty Alfredo di Stefano stadium. The Madrid hymn blares around the stadium though.
Hello and welcome to our live online coverage of Real Madrid vs Mallorca. Real Madrid have the chance to go back to the top of the league after Barcelona's win last night.
.