Klopp and Liverpool confirm Premier League title
Chelsea beat Manchester City 2-1 at Stamford Bridge to see Jürgen Klopp's Liverpool crowned as English champions for the first time since 1990.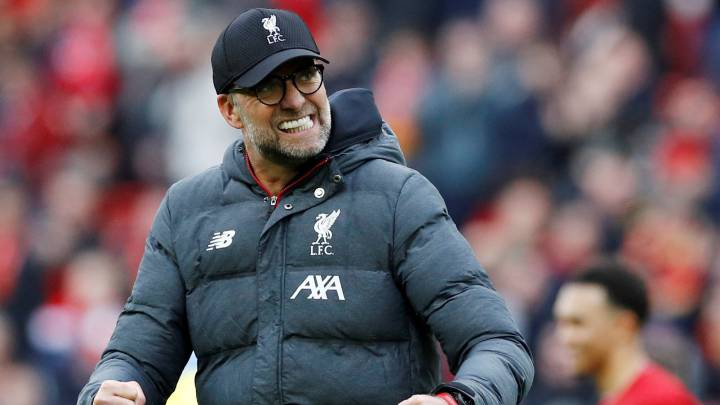 The 2019/20 Premier League season is just two weeks into its return to action but Liverpool have been confirmed as champions with a record-breaking seven fixtures still to play.
Liverpool had waited 30 years to be crowned English champions for a 19th time but the circumstances around that win will have been far from what they had envisioned for all those years. On a sweltering June evening, Chelsea beat reigning champions Manchester City in a breathless contest in West London to bring English football's biggest prize back to Merseyside.
Chelsea opened the scoring in the first half following a calamitous mix-up in the City defence, with Christian Pulisic racing clear to slot past Ederson. Kevin de Bruyne then levelled the scoring with an inch-perfect free-kick in the second-half as the visitors continued to push and probe relentlessly.
The deciding moment would come with just 15 minutes left to play when a goalmouth scramble saw Fernandinho repel Tammy Abraham's prod towards goal. The referee seemed unsure on the legality of the Brazilian's clearance and after a lengthy consultation with VAR, a penalty was awarded and Fernandinho was sent off. Willian fired the ball home and Liverpool were nearly there.
Liverpool carve out 23-point Premier League lead
Thursday's result leaves Liverpool with an unsurmountable 23-point lead and the final whistle at Stamford Bridge was greeted with jubilation across Merseyside. Reds boss Jürgen Klopp admitted after his side's 4-0 win yesterday that he would be eagerly tuning in to City's game with Liverpool on the brink. The German will feel that his team have finally received their deserved confirmation as the best team in English football.
"You should not underestimate how much this team wants it. You should not," he said after beating Crystal Palace. "This team really wants it. They want to fulfil the wishes of the people at home."
Klopp's words will be realised in the coming hours and days as the Liverpool faithful show their appreciation for a manager and a team who have won the one prize that has evaded them for a generation. Liverpool's next game will see them travel to the Etihad Stadium to face City and they will do so as Premier League champions.