Liverpool glows red as the title party continues into the night
The scenes outside Anfield only tell half the story as a football-crazed city finally got the happy ending that it has been waiting 30 years for.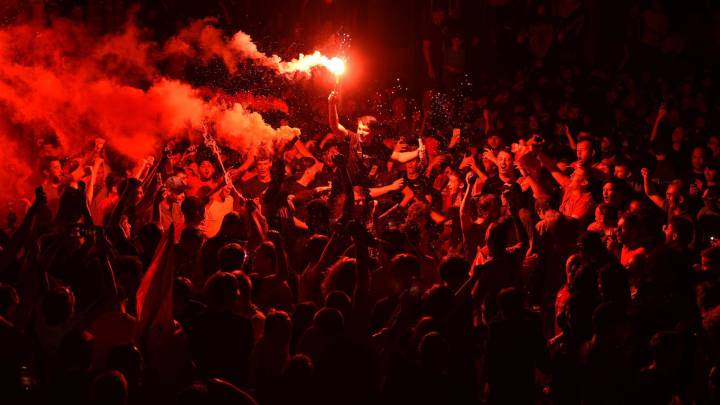 Liverpool's 30-year wait for the title culminated in a surreal final few minutes for lifelong fan Les who, despite the Red's dominance this year, struggled to believe that his boyhood club had finally done it.
"I just kept checking the [Chelsea] score on my phone and suddenly saw it go to 2-1 with 78 minutes gone. Then 79, 80…"
"As soon as I saw the final whistle had gone I heard a firework outside the house. And then another. And then a load of horns with all the cars going past, then all the chanting. I knew we'd won the league but I just couldn't believe it."
Liverpool fans celebrate into the night

The fireworks and the horns and the chanting continued long into the night on Merseyside after Chelsea's victory over Manchester City handed Liverpool the prize that had eluded them for three decades. Since Jürgen Klopp's arrival in October 2015 his side have gone from eighth-place also-rans to European, World and now, most importantly, English champions. Klopp appeared close to tears in his first televised interview as a Premier League-winning coach and he struggled to find the right words, as if taken aback by the outpouring of emotion across the city.
From the second that their title was confirmed fans streamed towards Anfield in a mass of colour and sound to celebrate their return to the pinnacle of English football. Flares, flags and fireworks turned the thick summer air a luminous red as supporters gathered outside the gates of their famous stadium. But although Anfield was the epicentre, the intensity of that feeling was so great that it seemed to spread across the city, radiating outwards like the aftershocks from a truly seismic event.
From the near-religious ceremony occurring near Stanley Park to flag-waving Soleiman and his mates strolling gleefully around the suburbs; the impact could be felt all around. Klopp's team and its feverish brilliance has left Liverpool supporters hopelessly enthralled; he lit the match and a wildfire spread throughout Merseyside.
Smithdown Road in South Liverpool is over three miles from Anfield but even from that distance the weight of this achievement could be felt. The crackle of fireworks punctuated the chants and cries that drifted through the warm air and the knowledge that Liverpool were champions seemed to settle like a red haze. The news was as inescapable and unrelenting as the team itself, transcending football and permeating an entire city.
"I've waited 30 years for this"

As cars streamed past with flags billowing in the breeze, a man and his son stood beside the road, neither quite able to take it all in. Ian had his well-travelled matchday scarf draped around his shoulders, while seven-year-old Frankie wore a bright red replica kit. Even standing there in the street, miles from the stadium, they had a sense that they were part of something greater.
"It's been an incredible season, we've loved every minute of it haven't we Frank?" says Ian, nudging his beaming lad. "I've seen the scenes down the ground and it looks mental over there but we're gonna stick around here and drink it all in. I've waited 30 years so we're gonna take our time".
"I was ten last time we won the league and it's been a long wait, and a troubled wait with everything that's gone on recently. But this team are just fantastic and every single player has given their most every game, and that's all we ask for. This season has been a joy to watch and long may it continue".