BARCELONA
VAR indignation continues but Barcelona remain calm
Barcelona have waved away the idea of a conspiracy but would like the rules clarified after Real Madrid benefit from a number of questionable VAR decisions.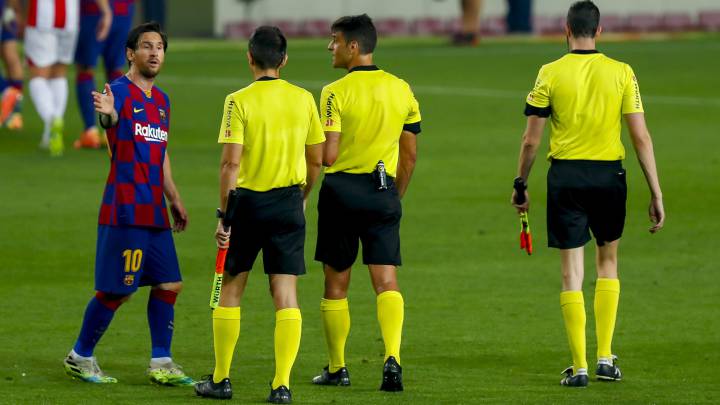 Barcelona fans feel an overwhelming sense of injustice over the last three games, which have seen Real Madrid benefit from some questionable VAR decisions. The feeling at an institutional level, however, is one of calm. Barcelona are one of the teams that championed the introduction of technology to assist referees and they continue to defend its use. What they want is a unification of VAR's criteria. Barcelona have rejected the idea of 'conspiracy' but are 'surprised' by some of the decisions taken by the Video assistant referee.

Gerard Piqué caused a bite-sized furore when he said that "we have seen what happened in the last few weeks since the restart of the competition and I think it will be difficult to win the league." The Barcelona defender's words sounded like they had been encrypted but didn't need much parsing.
He did not specify what he meant but the disallowed goal by Valencia's Rodrigo along with the possible offside from Benzema against Eibar had raised suspicion. Those suspicions were confirmed for many Barcelona fans and some players when Vinicius was awarded a soft penalty against Real Sociedad, Benzema scored after controlling the ball with his arm and Januzaj had a goal ruled out for offside interference.
On Wednesday, the suspicions snowballed even further when Dani Carvajal looked to obstruct Dani Rodriguez in the build up to Vinicius' opener against Mallorca. VAR did not intervene and the goal stood. Quique Setién said "Piqué is a very intelligent guy" before the Athletic Club game, a nod to his player's comments after the Sevilla draw at the Ramon Sanchez Pizjuan.
The club's spokesperson, Guillermo Amor, was coy in his assessment of the rumbling debate. "We don't normally complain about referees and errors and it's true that when VAR was introduced, we supported it because it was going to fix errors," he said. "Our message is this: we have VAR, let's take advantage of it."
Madrid openly complained about VAR after a visit to the Camp Nou and played Real Sociedad after Emilio Butragueño and Sergio Ramos has spoken out about "premeditated decisions". They have changed their tune now though and waved off the idea of such conspiracies.
Barcelona don't want to paint VAR as the cause of their problems and know that their own mistakes have nothing to do with referees. They are looking for a clarification on criteria though and they want the use of VAR to always be used as a matter of support when right decision seems hazy. They will not be filing an official complaint but they do want to see an improvement to the technology's implementation.