2022 World Cup Qatar
"Cristiano and Messi belong to another planet" - Samuel Eto'o
The former Barcelona star is now one of the ambassadors for the 2022 World Cup in Qatar and he feels the country can put on a unique show.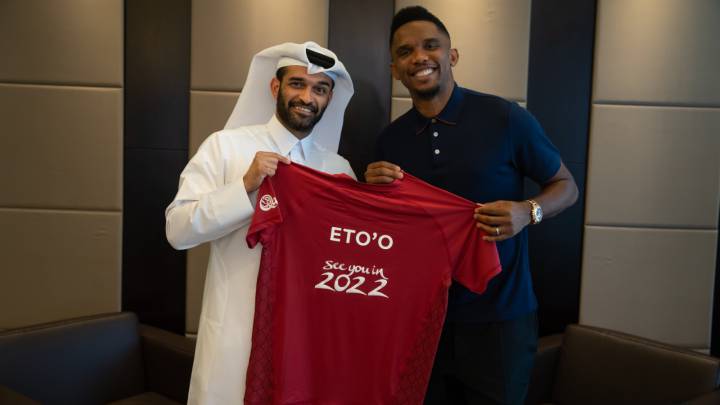 Despite the fact that Samuel Eto'o played professionally in the Qatar Stars League for only one season, he was able to leave his mark on it thanks to his technical ability and professionalism. He was one of the most outstanding stars of Qatar SC over recent years, and was able to add to his great experience that he has obtained in his almost 25-year career, where he won various titles at clubs such as Barcelona and Inter Milan. During that time he was also named as the best player in Africa.
Eto'o is now an ambassador for the 2022 World Cup in Qatar alongside a group of former world football stars such as Xavi Hernández, the current coach of the Qatari team Al Sadd, Cafu and Tim Cahill. And as progress is made towards the 2022 World Cup, the Cameroonian spoke to AS Arabia about a number of topics.
As ambassador of the Organization and Legacy Committee do you think Qatar is ready to host the 2022 World Cup?
Of course, Qatar is ready for the 2022 World Cup, since all the preparations for the event are carried out in a unique way, they want to give us the best stadiums and infrastructure, in fact Qatar has all the capabilities to organize a unique edition of the World Cup.

What are your efforts as ambassador of the Supreme Committee and how do ambassadors collaborate with each other?
I see it as a relatively easy mission, because we work as a family, we want Qatar's vision of the 2022 World Cup to reach as many people as possible in the world, which is a very important job given that there are many people who do not know this well. It's a wonderful country, and we want all the details about Qatar to be available to all those who have not been able to travel there before.
Given your extensive experience in football in Africa, what are the measures that need to be carried out by CAF to develop the game in the continent? Do you have a plan to run for the CAF presidency?
CAF has worked to develop football for many years, and it will continue to do so independently and with full responsibility. I aspire to help football in Africa, and I am available to those concerned about football in my continent to share experiences and opinion, to bring out the best in the world of African football. Africans don't believe in footballers of African descent but we have seen great performances from African players in the European leagues.
Do you think that one of the African players can be rewarded with the Ballon d'Or?

It depends on the voters. There are some Africans who do not believe in the players of their continent, and this only happens in Africa. When we see players having a good season or not, they automatically win the votes of the continent to which they belong. We can make a difference in our continent, thinking carefully about what comes to us from abroad or that what is imposed on us.
When you watch the matches of the leagues on foreign channels, you find that players are sold from other places and it is repeated that they are the best, and thus our journalists are convinced, despite the fact that the results are seen by everyone. But looking over the recent past, then I always say that Messi has been the best player in the world over those years, followed by Cristiano Ronaldo. I think they belong to another planet.
But despite everything, in recent years emerging players like Sadio Mane have stood out. Someone who made an amazing difference, won almost all the titles, scored goals in all tournaments, but the result was that he did not win the Ballon d'Or. Why? Because of those people who vote thinking that the best has a different meaning, and that he may have to be of descent from another place that is not our continent. That's why on many occasions we lost