Kaepernick teams up with DuVernay, Netflix for series
Netflix and former 49ers quarterback Colin Kaepernick have reached an agreement to make a six-part series about his path to activism called "Colin In Black & White."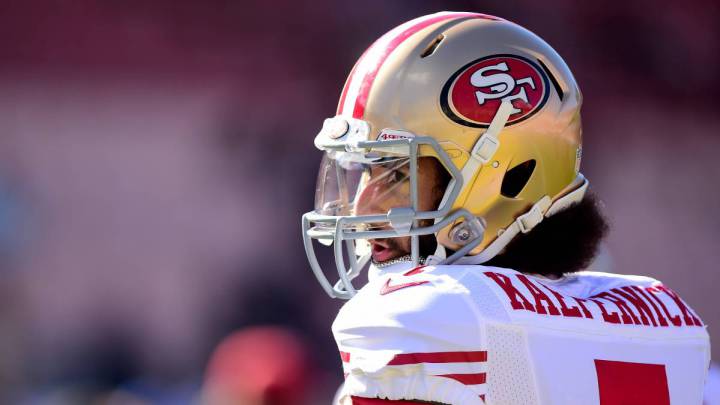 Back in 2016, Colin Kaepernick protested racial injustice, police brutality and systematic oppression when he kneeled during the national anthem when he was the starting quarterback for the San Francisco 49ers. Kaepernick risked his career and since that year he has not played an NFL game, but that could change soon and a team could pick him up for the upcoming 2020 season.
While he prepares to make a comeback, this Monday it was announced that the former NFL star will team up with Emmy-winning filmmaker Ava DuVernay on a Netflix drama series about the teenage roots of Kaepernick's activism.
"Kaepernick ignited a national conversation about race and justice with far-reaching consequences"
"With his act of protest, Colin Kaepernick ignited a national conversation about race and justice with far-reaching consequences for football, culture and for him, personally," said DuVernay. "Colin's story has much to say about identity, sports and the enduring spirit of protest and resilience. I couldn't be happier than to tell this story with the team at Netflix."
The six-part series will be called "Colin In Black & White" and it will examine Kaepernick's adolescent life, focusing on his high school years and the acts and experiences that led him to become the activist he is today. Each episode will be narrated by Kaepernick himself and they will cast an actor to play the younger version of him.
In 2017, Kaepernick became a free agent and the NFL pretty much vetoed him from the league because he stood for what he believed and for protesting during the national anthem. The death of George Floyd sparked the "Black Lives Matter" movements in many countries and a few weeks ago the NFL said they were wrong and now players can peacefully protest during the national anthem.
He would grow up to play in the Super Bowl and realize you never stop fighting for your dreams.

She would grow up to tell stories that matter to millions.

From @Kaepernick7 & @ava, the dramatic scripted series Colin In Black & White follows the H.S. years of Colin Kaepernick. pic.twitter.com/eb75RkuW2H

— Netflix (@netflix) June 29, 2020
Chargers 'flirt' with Kaepernick
Since the NFL's commissioner Roger Goddell said they were wrong for 'vetoing' Kaepernick, many teams are now interested in signing him for the upcoming season. A few days ago, Los Angeles Chargers head coach Anthony Lynn stated that Colin Kaepernick fits the team's style but they are happy with the three quarterbacks they have in the roster right now.