Barcelona: Griezmann benched for second game in a row for the first time
The French forward has never started two consecutive matches on the subs' bench during his time at Barcelona. It's clear he is in the lowest moment of the season.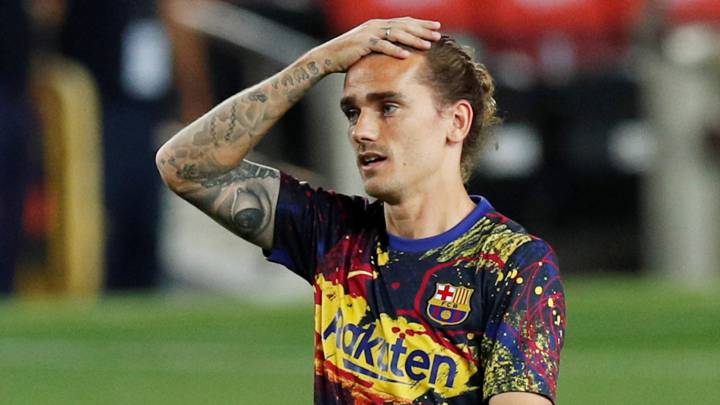 The star signing of last summer, Antoine Griezmann is going through one of the darkest moments since he signed for FC Barcelona. The forward, who was once an undisputed first choice in the starting XI has been left of the bench for the second game running - against his former club. Until now he has never been omitted from the line-up for two games in a row - Quique Setién decided to exclude him in the team's last game against Celta and also tonight's against Atlético.
It demonstrates the lack of faith that the coach has in Griezmann. Since the 2-0 win over Leganés his presence within the team has nosedived - out of the last four games, he has featured in the starting XI just once, against Athletic Club.
Barcelona's expectations of Griezmann
It's clearly a worrying situation, both for the club and the player. Griezmann arrived in Barcelona as the big star who would accompany Messi with the responsibility of leading the team. The 120 million euros that the Catalans paid for him underline esteem they held for him and the kind of expectations the club would demand.
But Griezmann has never really fulfilled those expectations - neither with his game, nor goals. Too often, he has looked like he has struggled to forge a real understanding with his strike partners Leo Messi and Luis Suárez and his role in the team has diminished.
The Frenchman has started 13 consecutive games (since the Atlético game on 1 December right up to the Copa del Rey quarter final against Athletic at San Mamés on 6 February.
But since the team returned to work following the break in competition for the coronavirus crisis, his participation in the team's game has dipped noticeably. He has been unable to associate with his colleagues in attack or find solutions when the team is moving forward. Since LaLiga resumed, he has yet to find the net.