BARCELONA
Barcelona: Griezmann's father aims barb at "passenger" Setién
Alain Griezmann and Griezmann's brother, Theo, posted on social media after Antoine's cameo against Atlético Madrid as pressure piles up on Setién.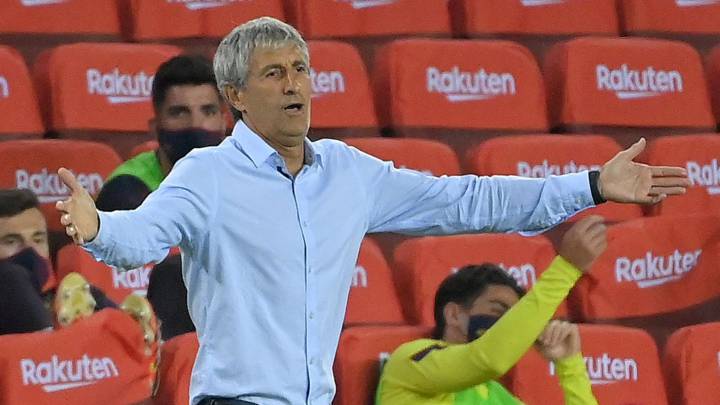 Quique Setién caused fireworks when he brought Antoine Griezmann, a €120 million summer signing, on for the last couple of minutes of Barcelona vs Atlético Madrid on Tuesday night. Luis Suárez pointed the finger at the coaching staff after the Celta Vigo game and Eder Sarabia has been rubbing people up the wrong way too. But it was Theo Griezmann, the player's brother and his father, Alain, who were critical on Tuesday.

Barcelona needed a goal and Griezmann was brought on for five minutes. Theo, his brother, was the first to weigh in. "Honestly, I'm going to cry," he said on Twitter before deleting the post. "2 minutes..."
Alain, his Dad, put a post on Instagram directly criticisng Setien. "To apologise, you first have to have have the keys to the truck but that's not the case because he is simply a passenger," he said before also deleting the post. Basically, his father seemed to be suggesting that Setién is not making decisions at the club.
The statements were very direct and obvious and they question the coach's standing at the club. He is under fire but not in direct danger yet after crisis talks with Josep Bartomeu. Diego Simeone, Griezmann's former coach, was asked if he had any comment on the situation but was sure not to say anything about it. Griezmann left Atlético, where he was the star of the team, and has failed to settle at Barcelona.