Coronavirus in India: which cities are going into lockdown again?
Pnavel, Navi Mumbai, and Ulhasnagar are going into a 10-day lockdown as the Covid-19 situation is getting out of control.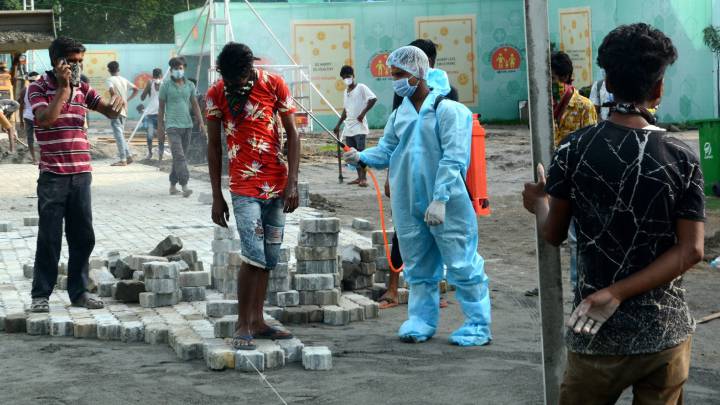 Indian cities Navi Mumbai, Panvel, and Ulhasnagar have announced a 10-day lockdown as a result of the deterioration of the Covid-19 situation and the soaring number of new cases discovered every day in the country.
Lockdown in Panvel and Navil Mumbai is to be implemented starting 3 July at midnight and will continue until 13 July, while in Ulhasnagar the lockdown is effective today until July 12.
Unusual increase in Covid-19 cases
The situation in Navi Mumbai is worsening, as the number of positive Covid-19 cases has tripled over the last month going from 2,284 on 1 June to 6,823 on 1 July, with the increase of deaths at the same alarming rate. The Navi Mumbai Municipal Corporation (NMMC) announced on Wednesday 218 new confirmed cases and six deaths.
Follow all the latest coronavirus related news in India with our dedicated live blog
In his statement, NMMC commissioner Annsaheb Misa noted "Barring the wholesale APMC market and Thane-Belapur TTC industrial area, entire NMMC will be under strict lockdown from midnight of July 3 to July 13. Only essential services and establishments will be allowed to operate. Private vehicles will also be allowed only for essential services and emergencies."
The Panvel City Municipal Corporation (PCMC) also declared and unprecedented increase in the number of cases during the last month, which forced authorities to implement immediate lockdown in an attempt to curb the situation.
PCMC commissioner Sudhakar Deshmukh announced that the city is going into lockdown starting 3 July, assuring that any breach to lockdown will be strictly dealt with, adding that people need to purchase their stock of essential needs without violating social distancing protocols.
Ulhasnagar also reported 68 new cases on Wednesday taking the tally to 1982, including 48 recorded deaths so far.
A similar lockdown was imposed in Thane one day earlier by the Thane Municipal Corporation (TMC) after the number of cases surged to 9,135 that included 322 deaths.