Klopp praises "brilliant attitude" despite comprehensive defeat
The Liverpool boss insisted that the 4-0 loss was down to Manchester City's quality rather than complacency in his side after being crowned champions.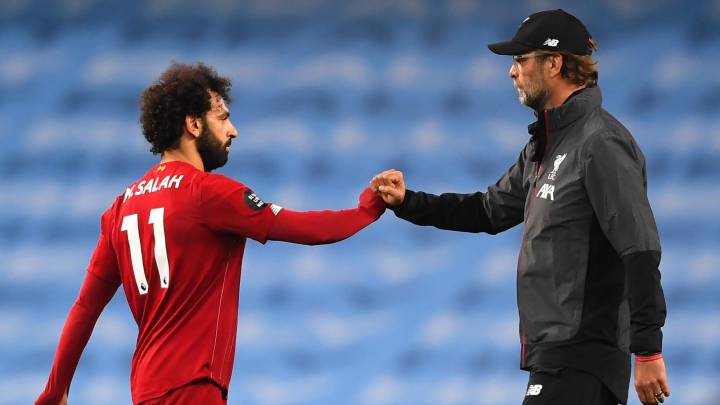 Liverpool fell to their heaviest league defeat for nearly three years at the Etihad Stadium on Thursday but head coach Jürgen Klopp told reporters post-match that he had no issues with his team's work-rate.
"I saw a brilliant attitude, I saw boys who were fighting with all their effort.
"We didn't behave like somebody who became champions a week ago. So like, it's not important. It's all good. We lacked fluidity, and that's for sure, and in some situations - 50/50 situations - they were quicker than us in mind."
Liverpool punished by City

Liverpool were not helped by some uncharacteristic wastefulness in front of goal in the early stages and were quickly punished by a City team who looked determined to make a statement having lost their crown last week.
In his post-match interview with Sky Sport's Geoff Shreeves, Klopp appeared frustrated with the reporter's line of questioning, who seemed to suggest that Liverpool's concentration had slipped following their confirmation as champions. The German said:
"If you want to lead this story in the direction that we weren't here with our focus on that game then do it. You have asked the second time about attitude.
"I liked my team... I said that and I thought it was clear. And you go again with that, I think we proved that point, that City is an unbelievable team."
City coach Pep Guardiola seemed to agree with Klopp's assessment that Liverpool's attitude should not be questioned, saying:
"I think they drunk a lot of beer the last week, but they were here with no beer in their blood and to win this game.
"I saw a team with incredible focus, with energy and a desire to win the game."
Liverpool come undone
Liverpool's title win this season has been built on the back of an incredibly resolute defence that had seen them concede just 21 goals in 31 league games before their trip to the Etihad. But after conceding four, and seeing another ruled out by VAR at the death, the 4-0 defeat was a reminder of Liverpool's more reckless performances from earlier in Klopp's reign.
The most obvious parallel was to a 5-0 defeat to Manchester City at the start of the 2017/18 campaign after suffering an early red card to Sadio Mane. Just over a month later the Reds lost 4-1 to Tottenham Hotspur, although the subsequent signings of Virgil van Djik and Alisson Becker gave then a much more solid defence.
Despite those reinforcements Liverpool's attacking nature makes them more likely to suffer the odd humiliating defeat, but with the title already secured there will be few concerns on Merseyside for now.