July 4th fireworks near me: what can I see and where?
The coronavirus pandemic has changed much of our normal life but it has not completely cancelled our Independence Day celebrations.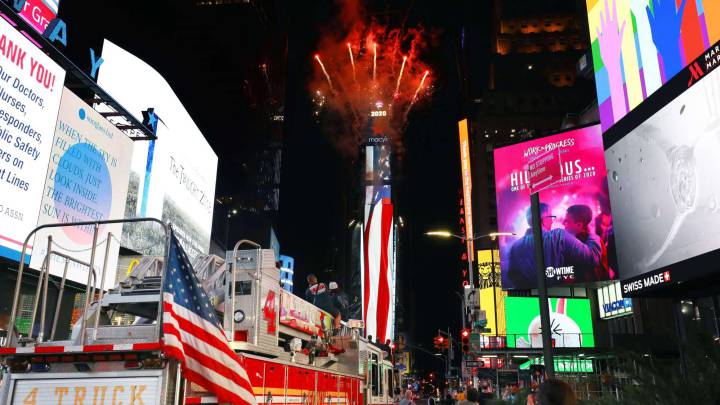 We're all very aware of the impact the coronavirus pandemic has had on daily life and as the US continues in its struggle to contain the spread of Covid-19, we reach one of the biggest weekends of celebration in the calendar.
The July 4th parties can, and many health experts hope, be enjoyed in safe conditions, but there are some who cannot pass the day without seeing some colourful explosions in the sky. Fortunately for them, Parade.com has pulled together a useful list of locations where fireworks displays will be held, and many of them can be enjoyed from the comfort of your own home.
Where can I see a July 4th fireworks display?
It should be noted that several of the usual fireworks shows have been either cancelled or postponed till later in the year but others have got creative for July 4th 2020. Here's what the excellent entertainment magazine has found.
Virtual firework reality
Miami Beach: Fireworks will be paired with music from the New World Symphony via the City's Facebook; for locals, the show will also air on Channel 660 on Atlantic Broadband and Channel 99 on AT&T U-Verse.

Independence Day Tribute: The Independency Day Tribute in North Miami will live-stream at 6PM on the City's Facebook.
New Canaan: The City of New Canaan, CT is encouraging locals to pre-order dinner from local restaurants and tune into Channel 79 for firework shows at 3 PM, 5 PM, 7 PM, and 9 PM; shows are also available online.
Macy's 4th of July Spectacular: Hosted from Manhattan, anyone nationwide will be able to watch the Macy's 4th of July Spectacular on Saturday, July 4 on NBC at 8 PM EST.
Celebrate Kirkland 4th of July: Kirkland, WA is putting on the first annual Celebrate Kirkland 4th of July event. Starting at noon on Saturday, July 4th on the City of Kirkland's Facebook page and Kirkland Television YouTube Channel, the live-stream will include a compilation of 4th of July parades from the last three years, as well as a virtual fireworks show.

Fourth of July Fireworks Show: Tustin, California's Fourth of July Fireworks Show kicks off at 9 PM and can either be watched from home (if you're local) or live-streamed at 8:30 PM.
2020 Spirit of America Fireworks Spectacular: Fireworks will be launched from the Santa Clarita Mall in California on 7/4 at 9:15 PM and can be watched virtually.
Robert Earl Keen's Virtual Fourth on the River: Streaming on YouTube and Facebook—live from Kerriville, Texas—is Robert Earl Keen's Virtual Fourth on the River. Featuring Robert Earl Keen and band, Cody Cananda, Willow City Music, and special guest Josh Morningstar, all acts will perform from Keen's Snake Barn Move Ranch Studio starting at 7 PM CDT on 7/4. Audio will stream on Simulcast on 92.3 The Ranch.
Fireworks in the flesh
In a break from the spectacular norm, neither Disney World in Orlando nor in Anaheim will be hosting any fireworks for this year's July 4th celebrations. Orlando's SeaWorld, however, is hosting its "Light Up the Sky" fireworks show on July 3, 4, and 5. Only reserved places will be accepted and those lucky few - who will follow safety and distancing guidelines - will be the only ones to see it as it is not going to be live-streamed.
Here are a few of the shows that are available in some of the bigger cities (h/t once again to Parade):
California: The 2020 4th of July Community Fireworks Show will be kicking off from Chaffey College on 7/4 at 9PM. Spectators must watch from home. The Fireworks Spectacular 2020 will also kick off at Big Bear Lake—face coverings and social distancing required should you attend in person—on 7/4 at 8:45 PM. The City of San Juan Capistrano is also hosting a Fourth of July Drive-In Fireworks Show at Sports Park (25925 Camino Del Avion) on 7/4 at 9 PM. Viewers must be a resident of San Juan Capistrano and parking registration must be completed in advance. San Bernardino will be hosting Fourth of July Drive-In Fireworks Extravaganza, with all viewers remaining in the cars at the San Manuel Stadium. General admission is $40 per car, reservations are required, and fireworks kick off at 9 PM. The Mission Viejo Committee Annual Fireworks Spectacular will launch fireworks on 7/4 at 9 PM from Marty Russo Youth Athletic Park at 22056 Olympiad Road in Mission Viejo. No vehicle or pedestrian entry permitted; viewers are encouraged to watch from home.
Pennsylvania: If you live in or around the Gettysburg, PA area, Gettysburg Area Recreation Authority is hosting fireworks at 9:20 PM at Gettysburg Recreation Park on 7/4. Gates open at 7PM, it costs $2 per car, and all participants are encouraged to stay inside their vehicles while watching the show.
Washington, D.C.: The 40th annual broadcast of "A Capitol Fourth" in D.C. will live-stream fireworks. Hosted by John Stamos and Vanessa Williams in a pre-taped 90-minute special, the fireworks show will be the only live component of the special. It airs at 8PM Saturday, July 4th on PBS. Pre-taped perofrmances include The Temptations, Trace Adkins, John Fogerty, Yolanda Adams, Patti LaBelle, and more; the show is also expected to feature a tribute to frontline workers and America's Black heroes.
Washington: Most in-person fireworks shows in and around the Seattle area have been either cancelled or postponed, however Port Angeles is still holding its fireworks show via Facebook livestream on the Port Angeles Regional Chamber of Commerce's Facebook Page.