Real Madrid player ratings in 2-0 win over Alavés
Benzema and Asensio got the goals as Zidane's men recorded a solid 2-0 win over Alavés to put them four points clear at the top of LaLiga with three games to play.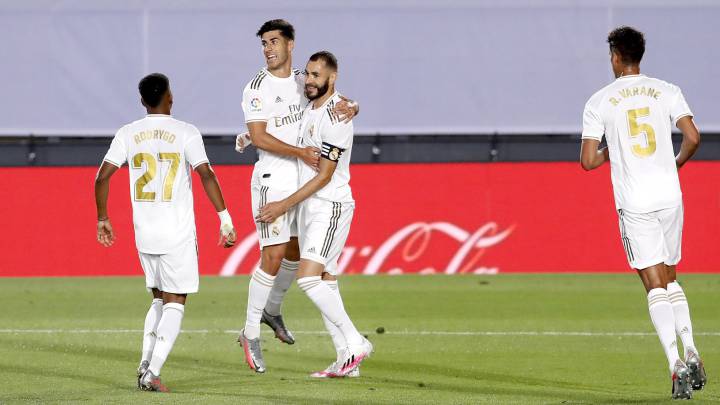 Real Madrid cruised to a comfortable 2-0 win over Alavés on Friday evening, with an early penalty from Benzema after Mendy was tripped just inside the box, and Asensio doubled their advantage with an easy goal after Benzema squared the ball to him in the box.
Here's how Zidane's players performed:
Courtois
Didn't have a huge amount to do, but what he did he did well. Stopped a fine curling effort from Burke after 29 minutes, and another on 60 minutes from Joselu. He's in fine fettle right now. 8/10
Militao
He's extremely quick is Militao and showed it by winning a sprint with Joselu who had the chance of a one-on-one against Courtois, but just minutes later he was shredded by Burke with some silky skills on the touchline, which could have led to the equaliser. Zidane was clearly keeping tabs on him, and he probably passed the test, more difficult than it might have appeared against Joselu and Lucas Pérez. He's well positioned for the match against City. 7/10
Varane
Militao's mentor. He's a solid leader in defence when he needs to be. 8/10
Mendy
Back in the starting line-up after Marcelo (now injured) was in for the game in San Mamés. He was productive from the off, and provoked the penalty after 11 minutes, which Benzema scored. 7/10
Casemiro
A more error-strewn performance than we're used to seeing from the Brazilian in terms of creativity, affected by the absence of Ramos, who usually brings the ball out so well. Despite that, he was as solid as ever in his standard role of bossing the midfield and adding solidity to Madrid's spine. Too good for Camarasa and Edgar. 7/10
Kroos
Rather invisible for long sections of the match, did better when he dropped back and added his touch to the start of some of the moves. 6/10
Modric
At almost 35 years old he's still remarkably active. Dribbles, crosses from the wing, tireless physical performance… He's having a fine end to the season. "Well done lad!" Ramos shouted at him from the stands, to the laughter from the Croat. 8/10
Rodrygo
Lively and insistent down the left hand side, he had two fine chances both denied by Roberto when he was already thinking about celebrating. The Brazilian is in good form and more consistent than Vinicius, meaning he's more of a certain starter. 7/10
Benzema
With no Ramos, the penalties are his. He took the responsibility of beating Roberto from the spot and finished with aplomb. 18 goals now in LaLiga for him. He nearly grabbed the second at the end of the first half, but the shot was saved and the Frenchman hurt his neck adding injury to insult. He was fine for the second half though and set up Asensio for the second. He's one of the team's leaders right now. 9/10
Asensio
Scored Madrid's second tonight and his since the restart. He was rather quiet, but his smile is still contagious. 6/10
Valverde
Took over Modric's mission to the letter, looking to create attacks and push Madrid on. The truth is that he's faded a little though at the end of this strange season. 5/10
Vinicius
Came on after 69 minutes, and struggled to make much of an impact on the game - his running terrifies defenders, but the fact he's often not fully in control of the ball makes him far less dangerous. 5/10
Hazard
Came on in the 81st minute to test out the ankle that's been giving so many problems, or not so many according to Zidane. Playing as a false number nine he produced little. 5/10
Isco
Came on with Hazard and showed his dangerous side, as well as being involved in several long spells of possession that Madrid used to run the clock down. 7/10
Brahim
Zidane brushed the cobwebs off him and brought him on for a run out in time added on.