1
Barcelona hold on against Valladolid to keep LaLiga alive
Real Valladolid vs Barcelona: as it happened!
An Arturo Vidal goal sealed it for Barcelona in the first half. After dominating that opening 45 minutes, Valladolid called upon Ter Stegen a few times and caused some problems. They couldn't beat the German in the end. 0-1 it ends in Zorrilla.
Last chance of the game and it's a fitting end. Ball launched into the box by Valladolid and bounces harmlessly to Ter Stegen. Mateu Lahoz blows it up.
We have four minutes of added time. Unal rounds a defender and Sandro shoots. Ter Stegen saves it.
More pressure from Valladolid and Barcelona do not look comfortable at all.
Wasted chance as Sandro sends one into the stands. It wasn't a cross but it wasn't a shot either. I don't know what he was thinking there.
More crosses. Valladolid turning up the heat.
Ball whipped into the box and Sandro misses it with his head. Looks to catch Junior's hand. It's looked at by VAR but clearly didn't catch him.
Into the last 10 minutes.
Confirmation of Alba yellow during the break.
We have a water break and some action. Pique wanted a penalty and he tells Lahoz. Jordi Alba does too and gets booked during the water break.
Pique wants a penalty now as he thinks his jersey is pulled during a corner. He does manage to get a header on it but he falls to the ground. Mateu Lahoz says no chance again.
Junior Firpo replace Sergio Busquets.
Barcelona try to take control of this one again. Suarez goes down in the box. He looks to be kicked but referee says no.
Another cross from the right and Unal meets it in the air. Ter Stegen saves again.
Kike Perez, who has been heavily involved, gets booked for pulling back Sergi Roberto as he strode clear.
Messi with perfect tekkers with the free. His swings his left at it and forces a save from Masip, who tips it over the crossbar.
Former Barcelona striker Sandro is on for Sergi Guardiola.
The gentle tapping at the door is getting louder from Valladolid. Not quite beating the door down yet but they're growing more impatient by the minute.
Free for Valladolid. What a chance. Perfect cross. Headed down by Kiko and Ter Stegen somehow manages to reach it.
Kike with a chance. Another nice move from Valladolid. Bounces up kindly to Kike on the edge of the box and he sidefoots it well wide in the end. They are troubling Barcelona. It's just a matter of stopping Barça down the other end and making one of these chances count ....
... which is the basic premise of football. I've just explained the objective of football to you.
Rakitic for Riqui. Ronald Araujo for Lenglet.
Plenty of needle in this one. Puig and Kike clash now as they slide into each other. Loads of complaining and loads of explaining to Lahoz as to what happened. Lots of talking going on.
There's a very, very high foot from Kike. He's lucky he didn't catch Messi there because that had red card written all over it if he did.
Valladolid looking more and more dangerous on the counter.
Followed up by a nice break by Valladolid. Kike breaks free from Semedo and plays to Unal. He has a crack and it pops up to Ter Stegen, whose safe as houses.
Suarez tries to get in around Kiko and he hits the ground looking for a penalty. Zero chance and he knew it himself.
Sergi Roberto whips one across to Alba and they change the angle of their attack.
We are back underway. Valladolid not hanging about with a couple of changes at the break. Another poor outing for Griezmann.
And Enes Unal and Hervias are on for Alcaraz and Joaquín.
We have a couple of changes. Griezmann is off for Suárez.
Teams take to the field again.
We have the half-time whistle. Vidal the difference-maker with his strike. Assisted by Messi.
Four minutes of added time at the end of this half.
We had some extracurricular activities between Alcaraz and Vidal on the sideline for a throw as the Chilean pushed the ball int he Valladolid midfielder's stomach. Now Alcaraz gets his revenge with a late kick on the Barcelona player. His revenge comes with a yellow card.
First card of the game goes to Lenglet. Oscar Plano is caught on the counter as he controls it with his back to goal. Yellow for the French defender.
Valladolid getting slightly better now with just a few minutes to play. They're hunting for a leveller. Can they find it? Barcelona have dominated for the entire first half and it would be grossly unfair but Valladolid looking sharper.
That was the chance! Kike breaks free and races behind Pique and Lenglet. He takes a good touch and just before Ter Stegen meets him he falls over and misses the ball. He drove his knee into the ground and made a complete mess of it. He lies on the ground knowing he made a mess of it too.
Quite a long possession by Barcelona is broken up as Plano wins it and Pique hacks his ankle. Free for Valladolid.
A water break. 31 degrees in Valladolid.
That's a nice move that frees up Puig inside the box. He squares to Griezmann but Masip reaches an arm out and grabs it.
Valladolid counter. Oscar Plano shoots and Lenglet blocks it. An ambitious effort and Barcelona win it as it comes back down to the turf. The home side struggling to create anything.
Confirmation of the Raul Carnero substitute. Nacho comes on in his stead.
Another wonderful chance down that right-hand side as Semedo strikes. Masip saves and gathers the follow-up.
Vidal with a foul on Kike. And we have another stop. Mateu Lahoz helps Raul Carnero to his feet. He seems to think he's just joking or something as he tries to hurry him off the field.
And now Jordi Alba is fouled as he jumps for the ball. A very sloppy start to this one.
Semedo with a lovely ball across the box and Griezmann swings a right foot at it. Misses completely. That's ... not very good.
He sends it towards goal but it takes a deflection and looks destined for a corner. Ter Stegen stops it from going over the endline.
Kike Perez feels an elbow in his neck as he jumps with Jordi Alba. Free for Valladolid. Ter Stegen organising his wall. Ruben Alcaraz to take but it's better suited for a left-footer.
Barcelona take the lead! Arturo Vidal the man to finish the move. Semedo, Messi and then inside to Vidal. The Chilean slams home as it rattles off the inside of the post.
Jordi Alba clips one into the box for Messi. Too many purple and white jerseys though and while the Barça captain does get a touch, he's surrounded immediately.
That's why they don't want the ball. They make a complete mess of possession and Griezmann breaks. They manage to scramble it away as Moyano covers and stops the French attacker. Barcelona press again and win a corner.
Puig picked off and Kike breaks. Throw for Valladolid on a rare counter-attack for them.
Messi aims one for Griezmann's head. It beats him but runs on to Alba. The speedy left-back can't reach it though. Barcelona in full control now.
And he blows for a foul by Lenglet on Kike. He has his whistle alright.
Messi's first involvement. And he ends up on his arse and looks to Lahoz. The ref might have forgotten his whistle.
Vidal gets his ankle stepped on, it looks like. He falls in a heap and Mateu Lahoz nods his head. Yep, reply shows Joaquin Fernandez gets him right on the shin/ankle. A sore dose, as they say.
And just like clockwork, they get opened up. Semedo down the right from a pass by Vidal. He pulls it back to the academy kid, Puig, who sidefoots it into Jordi Masip. Decent chance for Barcelona, their first of the game.
Valladolid very compact and no way through for Barcelona. They are shutting down passing options and marking man to man in the middle.
Tame start here as Barcelona try to find their feet. Looks like three at the back from Setién in possession.
We are very much underway at Zorrilla in Valladolid.
Barcelona make their way onto the field in their yellow strips. Valladolid are waiting for them at an empty Zorrilla.
Sergi Roberto, who was injured for a couple of games and then played at right-back before that, has taken his spot in midfield again today. He has played in central midfield in the absence of De Jong and Arthur in recent weeks. Vidal and Puig in the middle with him makes for an interesting choice and it looks like a 4-4-2 from Setién. Griezmann will play up front with Messi off him.
This was quite a surreal game as the pitch was shredded to pieces during it. How nobody got badly injured is a miracle.
A look at just how much control Messi has at Barcelona (you need a subscription to read but there might be a free trial).
We had the draw for the Champions League on Friday and if they do make it past Napoli, it looks like they will play Bayern Munich.

It feels like Barcleona might be starting to think about the Champions League now after all but losing the league title. They would absolutely settle for a Champions League medal though, for sure.
Valladolid have lost just two in eight since the return of football. They have become experts of the stalemate though with 50% of their games since the return ending as draws.
Barcelona have dropped points three times in eight games since football came back. They have drawn against Atlético, Celta and Sevilla as the league title slipped out of their hands.

Here is a look at the LaLiga table.
Real Madrid took care of business last night against struggling Alavés and are now just two wins away from the LaLiga title. Barcelona have to win tonight fight them until the end.


A look at Valladolid's starting eleven.
Quique Setién was brought in at Barcelona top change the dynamic. He hasn't achieved that yet and has a lot more convincing to do to stay on for another season.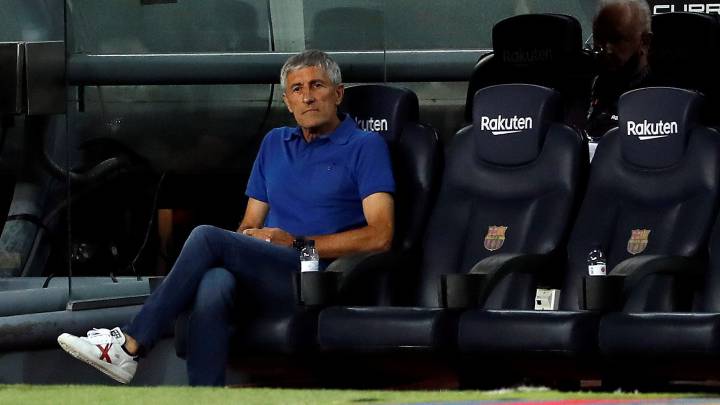 Hello and welcome to our live coverage of Barcelona vs Real Valladolid!
Barcelona are still chasing in LaLiga as Real Madrid continue to sweep all in front of them to the side. Real Valladolid are seven points clear of safety with three games to play. They should be fine but could do with a point or three to erase completely the fear of relegation.
.