INTER MILAN
Inter would be forced to pay €150 million if they sacked Conte
The club are in free-fall in Serie A and still paying Spalletti after sacking him but the cost of sacking Antonio Conte is too much for the club to deal with now.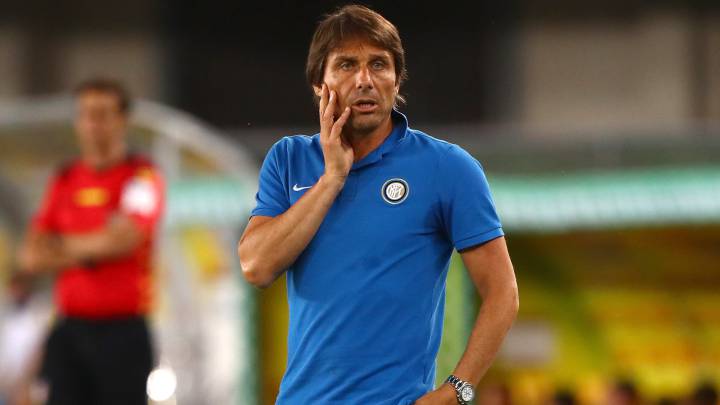 Inter Milan's draw with Verona (2-2) is the second game in a row Antonio Conte's side have dropped points in. It drops Inter to fourth in Serie A and confirmed that they have lost their way post-lockdown. They were once challenging Juventus at the foot of the table. They are now in 4th and would be fighting for Champions League if it wasn't for the comfortable 10-point lead they have over Roma in 5th.
With Champions League football assured, Conte is safe in his job. But that's not the only reason. The other one is economic. Corriere dello Sport revealed on Sunday that it would cost €150 million if they decided to sack the manager. They have contracted Conte until 2022 and he is the highest-paid manager in the league on €12 million a year and sacking him and his staff would be an ultra-expensive move along with hiring a replacement.

The newspaper have mentioned names such as Allegri, Pochettino and Emery as potential replacements but it seems, for now, that the cost in sacking the former Juventus manager is too high. He clashed with his players after the 1-2 loss to Bologna and that continued into Thursday's draw. A resignation is the only possible solution at this point with the coach also reportedly questioning the attitude of his players.
Conte asked for reinforcements in January and Marotta, the sporting director, brought in Christian Eriksen. The season has flamed out though despite the exciting start buoyed by the Lukaku-Lautaro partnership. The Argentine's form has declined just as the rumours to Barcelona have ramped up.
They lost in the group stage of the Champions League, going out in the last game to an already qualified Barcelona. They lost in the semi-finals of the Cup to Napoli and have the Europa League as some sort of lifeline to save an increasingly dissatisfying campaign.
Conte will continue but what seems clear is that they will not give him cart blanche in the transfer market during the summer.