PREMIER LEAGUE
Arsenal defence stands firm but Arteta calls for reinforcements
The Arsenal boss made changes to his backline for the win over Liverpool but said that bringing in new players remains a "big concern".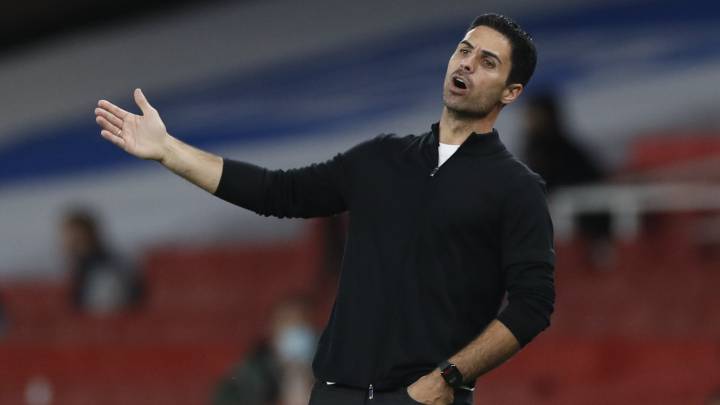 Arsenal picked up an important win at the Emirates on Wednesday evening, beating champions Liverpool 2-1 after going a goal behind in the early stages. Two goals before the break turned the game in the Gunners' favour and they stood strong against a Liverpool onslaught in the second half.
Coming after a disappointing defeat to Tottenham Hotspur last weekend, Arsenal boss Mikel Arteta felt his side showed resilience to secure the three points.
"With the level of quality that [Liverpool] have, the way they controlled every aspect of the game, there were going to be little moments or big moments where you are going to have to defend very close to your area and we knew that.
"We were prepared for that and the boys were terrific. Sometimes we did it really well and sometimes we had moments of luck."
Arteta made two changes to his central defensive trio after the loss at Spurs with Rob Holding and Kieran Tierney drafted in alongside David Luiz. Holding was making just his sixth league appearance of the season and Tierney is a full-back by trade but they limited Liverpool to half chances in the second-half. Both are faster than Sead Kolasinac and Shkodran Mustafi who they replaced, and they dealt well with the visitor's pacey wingers well.
Defence will be a key area of Arteta's rebuild and speaking after the game he was under no illusions as to how far his team needs to go to be at Liverpool's level on a consistent basis.
"We talked a lot about the defence of the two teams and we need to grow in line with them to get the points", he said.
"I am really pleased because they can do it. Sometimes your focus is that, keeping the right spirit and attention against this level of opposition and I am delighted."
Arteta calls for reinforcements in order to compete
The Premier League announced yesterday that the 2020 summer transfer window will take place between 27 July and 5 October but Arsenal have already secured the futures of three defenders in recent weeks. Luiz has signed a one-year extension to his current deal while Pablo Mari and Cedric Soares were signed on four-year contracts following initial loan spells.
Highly-rated French central defender William Saliba will also join the club after the completion of the season as part of a deal agreed last summer. The 19-year-old has had an injury-hit season in Ligue 1 but will expect to be in contention for a starting berth when he arrives.
They do have numbers in defence but former Gunners striker Kevin Campbell is concerned about the quality of the options currently at the club.
"They need centre-halves, I can see them going for one or two players in that position", he said. "That's the position, especially after the North London derby, where we need someone who can cover ground pretty well."
But when asked about the possibility of big summer signings, Arteta seemed uncertain if he would receive the financial backing needed to bring Arsenal closer to Liverpool's level.
"It's a big concern", he said. "You can see how [Liverpool] build their squad and there is no magic, you need to improve the squad with quality, quality players."