World Cup 2022: 18 million hours of work without a single case of Covid-19
The works on the World Cup stadium Al-Thumama are now 76% complete with the ground scheduled to open in 2021.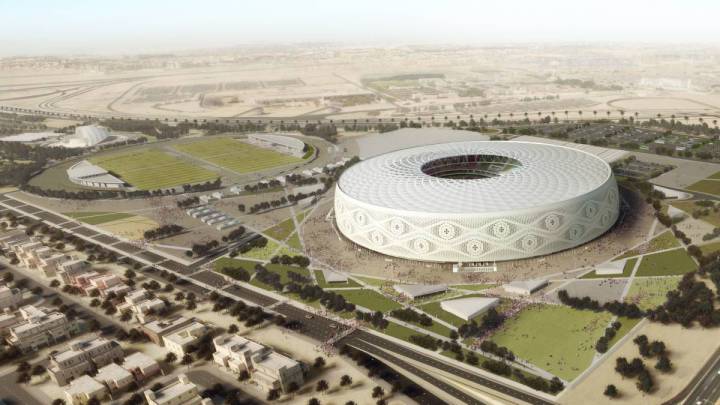 Saud Al Ansari, the project manager for the Al-Thumama World Cup stadium, confirmed that the venue will be ready in 2021, with 76% already complete, and he highlighted that the work at the ground is continuing despite the coronavirus pandemic, with not a single active case of the disease among the workers, which speaks to the efforts made to ensure the health and safety of the workers, starting with a healthy work environment.
"The outline of the World Cup stadium is beginning to be clear, with the work being carried out at an even faster pace, with more than 76% of the stadium carried out, with the steel framework, the concrete, the exterior facade and the roof completed," said Al-Ansary in an interview with Qatar newspaper Al-Sharq.
The project manager continue: "the focus now is on putting the seats in, the electrical and mechanical works, and the other works around the stadium, which will hold 40,000 spectators."
"The project has seen a series of advances and evolutions, including finishing the excavation and levelling of the site, putting the stadium's foundations in place, finishing the first concrete structure, putting the roof on, installing the exterior facade and the covering of the roof. What's more, internally all manner of works are carried out, installing the seats, the electrical and mechanical works, while outside the stadium the paving is being put in the, the training grounds installed, which will all be be ready for 2021," he added.
An Aspetar clinic in the stadium
In terms of the sustainability of the stadium, Al-Ansary said: "we've focused on getting the international G-SAS sustainability certification for the Al-Thumama stadium, in the four-star category, so many sustainable aspects were implemented during the various stages of the stadium's construction, including lowering water and energy use, choosing the best construction materials, recycling waste, and, as had been agreed, the ability to reduce the number of seats to 20,000 in the future, to allow the community to take advantage of the spaces, including initiatives and national championships, as well as setting up a modern hotel and a clinic of Aspetar, the orthopaedic and sports medicine hospital…