"Against City we will not have Ramos, but I am here" - Militão
Real Madrid's most expensive ever defender, Éder Militão, welcomed AS into his home and talked with optimism about the Champions League challenge ahead.
Éder Militão was born in Sao Paulo, Brazil, is generally shy and not one prone to doing interviews. He did, however, grant AS his first interview for Spanish media since his transfer to Real Madrid, when he became the most expensive defender in the club's history with a €50 million move.
Barring injury, the 22-year-old will be in the starting XI for Los Blancos when they line up in the Etihad Stadium next Friday - with Sergio Ramos being suspended - and he welcomed Covid-19-negative journalists to his home in the north of Spain's capital. Sending away his staff, he was left alone to answer the questions put to him, and responded in more than acceptable Spanish.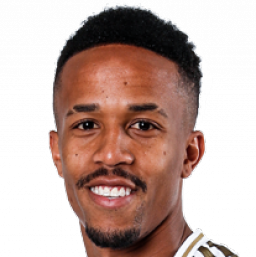 What did you do, in early 2019, when you found out that Real Madrid wanted you?
I was at my house and I got a call from my agent. I was really happy, it was a very good feeling because it confirmed that I was doing an incredible job for Porto.
Did you celebrate the news?
I'm a relaxed person, not one to celebrate too much, but Madrid is the biggest club in the world. I was happy and celebrated with the family.
How did Casillas and Pepe, then your Porto teammates, influence the process?
They taught me things about the club: how it is, its greatness, what daily life there is like. Despite how little time we had together, I remember many things they told me.
It can't be easy arriving in a changing room like Real Madrid's. Has anyone especially helped you?
I get along well with everyone, but Casemiro is the person who always talks to me, tells me the most important things. Also Marcelo. With Casemiro I have a greater friendship, he is always supporting me, and we are also together with Brazil.
Who has surprised you most in daily life at Valdebebas?
I was always impressed seeing Sergio [Ramos] on television and doing it now in person is incredible. He is a player with an amazing desire. Also Toni Kroos, Luka [Modric]. They are incredible.
And what has stood out most of the new world surrounding Real Madrid?
It is the biggest club in the world and everything - the press, the signings, everything - revolves around it. Madrid is like something from another world.
Your father was a footballer. How important was he in your career?
He was an inspiration. He did not become a top player, but many tell me he was really good. When I have a game, he calls me up, explains what I have to do, helps me focus… It is both a motivation and a pleasure.
Does you feel more pressure being the most expensive defender in the history of the club?
Being the most expensive defender in the Real Madrid history is very important to me. It is a reflection of the work you have done before. I have to continue working to show that the money was deserved.
Your Madrid presentation was rather special, remembered for the moment you became dizzy.
Before that day Casemiro insisted that I would feel a lot of pressure, something that comes at the best club in the world. That I would have to know how to be focused to do things well, for the press etc… I had never held a press conference with so many journalists before. At one point I saw a lot of people looking at me, filming me, I was very emotional and I don't know what happened, I just couldn't speak…[laughs] (Here's what happened)
What did the boys say in the dressing room about that?
There were many jokes from the Brazilians [laughs]. The others gave me a good welcome.
You said that the title you liked the most was the Champions League. How did it feel to win LaLiga?
I said that the Champions League was very important, but the league is also important and I can't explain the feeling of winning it, it was incredible. Now comes the Champions League, and we'll fight and battle to reach the final and succeed.
There was a lot of criticism from the media and the fans after the first leg loss. Did this feel unfair?
The media always have to talk about something to do with Madrid. We know what we worked on in training, and how well we were doing. We don't like to lose, we always want to keep winnig, but it doesn't always happen. We knew we were on the right track.
And you will be starting against Man City. Hoe do you feel about that?
It's a really strong feeling. It is a unique moment for me. Ramos is not there and I have to show my heart, play with everything I have.
Who do you consider the most dangerous player you'll face against City?
Although they are all very good… Gabriel Jesus.
When Zidane arrived you had already signed. How is your relationship with him?
We get along really well. He always talks to me the day before, or the day of, the game. He asks me to concentrate on doing things well.
Have you been surprised that such a legend, both as player and coach, is so close to the players?
No. I expected it.
How would you define Ramos?
As a gladiator.
You debuted on 14 September against Levante, along with Eden Hazard. How is he looking for the City game?
He is an incredible player, which he's demonstrated in England, always being the best in the Premier League. It is essential for us [that he plays], as he knows the team well. For him City is also a fundamental match. He is progressing well and will help us, for sure.
You have done a lot but not scored a goal yet. How do you imagine your first goal with Madrid?
I can imagine it now, in the Champions League, in Manchester. The winning goal, with a header. But I wouldn't know how to celebrate it... Nothing is impossible, so I'm going to go for it.
What message would you send to Real Madrid fans?
Madridistas, against City we will not have our captain but I am here. I'm going to have a good match, trust me. We will be victorious.