Seven-year-old ammonium nitrate shipment possibly caused Beirut explosion
The highly explosive substance that detonated in Beirut's port on Tuesday appears to date back to a Moldovan ship that had technical issues back in 2013.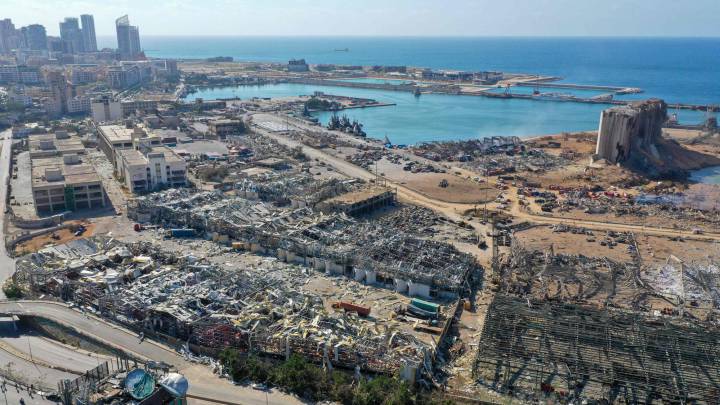 Beirut's port was subject to an immense explosion yesterday that was felt as far away as Cyprus (150 km). The explosion devastated large parts of the capital of Lebanon, killed 135 people and injured around 5,000.
The Lebanese government said the explosion was caused by 2,750 tonnes of ammonium nitrate, a chemical usually used as a fertiliser, or in explosive compounds. According to various sources, the ammonium nitrate was originally impounded in the port on 23 September 2013 from a ship sailing under the Moldovan flag called the Rhosus. It has since been held in unsafe conditions at the port.
Acoording to Stable Seas, back in 2013 the Rhosus was sailing from Georgia to Mozambique when it docked in Beirut after experiencing difficulties. It then underwent technical checks at the city's port by Port State Control technicians, who discovered significant deficiencies and refused the ship permission to continue its voyage.
Follow live coverage of the aftermath of the explosion
Rhosus abandoned in Beirut
Faced with this situation, most of the crew members were sent back home. However, the captain and three of the ships crew members were forced to stay onboard. All attempts to contact the owner of ship failed to garner a response. Under Lebanese immigration law the crew were also not allowed to disembark, meaning they were stuck on the ship with limited provisions.
The crew eventually managed to contact lawyers who succeeded in getting a legal injunction allowing them to leave the ship and in turn Beirut.
Sep 13: a vessel with 2,750 tons of Ammonium Nitrate entered the Beirut port.

Oct 15: "the port authorities discharged the cargo onto the port's warehouses. The vessel and cargo remain to date in port awaiting auctioning and/or proper disposal." pic.twitter.com/TNLeRvMkXP

— Hachem Yassine (@HachemYassin) August 4, 2020
The Rhosus however was now entirely abandoned and in the face of the continuing silence of its owner, the Beirut Port Authority was left with the responsibility of the ship and its potentially deadly cargo.
At some point between July 2014 and October 2015 the ammonium nitrate was moved to the warehouse where it remained until the tragic events of yesterday.
Exactly why the ammonium nitrate was left in the port, despite various reports that it was posing a danger to the city, is unclear. There would usually be mechanisms in place to auction off a cargo such as this, which would be valuable, and presumably repay docking and other port fees the vessel had incurred.