MANCHESTER CITY-REAL MADRID | ZIDANE
"Gareth Bale preferred not to play" - Zidane
Real Madrid manager Zinedine Zidane spoke to the press ahead of tomorrow night's Champions League clash in Manchester, and was asked about why a certain Welshman wasn't there.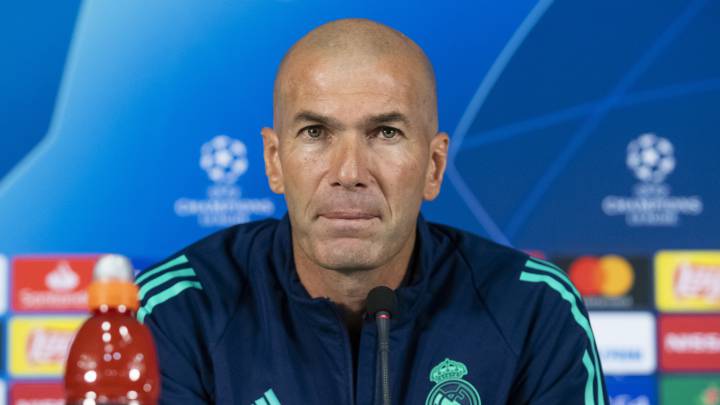 Zinedine Zidane appeared via teleconference for his pre-match press conference ahead of the hugely anticipated Champions League last 16 second leg match against Manchester City. Real Madrid have to overcome a 1-2 deficit from the first leg in order to remain in the competition.
'Bale chose not to play'
How are the team feeling?
"It's good because we are preparing to play this game. It is the return leg, we know what happened in the first, but we are focused and we know that tomorrow is another final. We are going to try to have a great match."
Hazard fitness. Are you confident?
"Yes, because he had a bit of discomfort at the end of the LaLiga season but now he is much better. We have had a lot of time to prepare for the match and I think he is in good shape and confident."

Why is Gareth Bale absent?
"I'll explain. In the end many things are said. We have a respectful relationship as coach and player, of course. All I can say is that he preferred not to play, nothing more. The rest is between him and me."
Marcelo is back in the squad. Is he 100% ready to start after his injury?
Yes, Marcelo is 100%, like everyone else. And our energy is focused on tomorrow's game.
Would you say Bale has been less involved and lacking commitment in this final stretch of the season? Has he disappointed you?
No. I have a lot of respect for Gareth and all the players. What is said in the changing room stays between the players and the coach.

Does Gareth Bale have a future at Real Madrid?
I don't know. Right now he is a Real Madrid player. He prefers not to play, that's the only thing I can say. Everyone who is here are concentrating fully on tomorrow's game.
As one of the biggest challenges you have had as a coach, do you feel it is possible?
We have a disadvantage. We know that. But we know that there is another game tomorrow. A tie is never over until the last minute. We know what we need to do on the pitch. We'll prepare for a great game. I have a good team that has its weapons. We have to think about progressing to the final phase.