Beirut explosion: daily news from Lebanon - Saturday 8 August
Beirut explosion: latest news - Saturday 8 August
Tense calm returns to Beirut after heated 'Day of Revenge'
A tense calm returned to blast-stricken Beirut Sunday as volunteers and municipal workers cleaned up the debris from the heated demonstrations that saw four ministries stormed, one policeman die and 728 people injured the previous day.
Lebanese ministry buildings back under government control
Lebanese protesters stormed government ministries in Beirut and trashed the offices of the Association of Lebanese Banks on Saturday as shots rang out in increasingly angry demonstrations over this week's devastating explosion. The authorities have said they have now regained control.
The protesters said their politicians should resign and be punished for negligence they say led to Tuesday's blast, the biggest ever to hit Beirut, that killed 158 people and injured more than 6,000, compounding months of political and economic meltdown.
Australian toddler names as youngest victim
Australian Toddler Isaac Oehlers has been named as the youngest victim of Beirut port explosion that has killed 160 people. "We are heartbroken a by the sudden and tragic loss of our beautiful boy," the family said in a statement.
Fire erupts in Beirut square amid protests over explosion
(Reuters) Fire broke out in a truck in a main square in central Beirut where protesters had converged on Saturday to demand the fall of Lebanon's ruling class and government after last Tuesday's explosion, witnesses said.
Several other smaller fires broke out in the vicinity of the protest area.
A cloud of tear gas drifts through a crowd of protesters during a protest at Martyrs Square on August 8, 2020 in Beirut, Lebanon. The Lebanese capital is reeling from this week's massive explosion that killed at least 150 people, wounded thousands, and destroyed wide swaths of the city. Residents are demanding accountability for the blast, whose suspected cause was 2,700 tons of ammonium nitrate stored for years at the city's port. (Photo by Daniel Carde/Getty Images)
Reports of live rounds being fired at protestors
Reports and video footage indicating that Beirut police have fired live rounds at protestors as the situation continues to intensify in the Lebanese capital...
Protests continue in Beirut
Protesters calling for the government's resignation have stormed government buildings. At least 100 people have reportedly been wounded due to clashes with police, while one officer has been killed.
Lebanese policeman killed in clashes with demonstrators in Beirut - police
A Lebanese policeman was killed in clashes with demonstrators in central Beirut on Saturday, a police spokesman said.
The protests against the ruling political establishement have also left more than 100 people injured and dozens hospitalised.
U.S. says supports right of Lebanese to peaceful protest, urges political reforms
The U.S. government supports Lebanese demonstrators' right to peaceful protest and urges all involved to refrain from violence, the U.S. Embassy in Beirut said on Saturday. The embassy also said in a tweet that the Lebanese people 'deserved leaders who listen to them and change course to respond to popular demands for transparency and accountability'.
Demonstrations swept central Beirut calling for the downfall of the government and the political establishment in the wake of Tuesday's catastrophic explosion that destroyed parts of the city.
PM Diab to request early elections
Prime Minister Hassan Diab is calling for early parliamentary elections in a bid to mitigate the intensifying politicial crisis as a resulit of the port explosion.
"We cannot get out of this crisis without early parliamentary elections," he said, adding he is not the one to blame for Lebannon's economic and political troubles.
Protesters enter Lebanese foreign ministry, chant against ruling class
(Reuters) Dozens of protesters entered the premises of the Lebanese foreign ministry on Saturday chanting slogans against the government and political establishment, witnesses said.
The demonstrators also burned a portrait of President Michel Aoun.
"We are staying here. We call on the Lebanese people to occupy all the ministries," one demonstrator said on a megaphone.
Shooting heard at scene of demonstrations in central Beirut
Shooting was heard at the scene of the demonstrations in central Beirut against Lebanon's ruling elite and police confirmed to Reuters that bullets were fired.
Live coverage on local television stations showed several people who had were bloodied from rubber bullet shot as police used teargas to disperse protesters trying to break into parliament square.
Beirut port explosion death toll rises to 158 - health ministry
The death toll from Tuesday's catastrophic explosion at the port of Beirut has risen to 158, the Lebanese health ministry media office said on Saturday. The number of people injured exceeds 6,000 and 21 are still reported missing, it said.
Riot police fire tear gas at protesters in Beirut
Lebanese riot police fired tear gas at demonstrators trying to break through a barrier to get to the parliament building in central Beirut, a Reuters journalist reported. Hundreds of protesters took to the streets of Beirut on Saturday afternoon to demonstrate against the government's handling of the 4th August port explosion.
More than 60 people still missing after blast
More than 60 people are still missing in Beirut, four days after a massive explosion at the port left over 150 people dead, a health ministry official said. "The number of dead is 154, including 25 who have not yet been identified," the official told AFP. "In addition, we have more than 60 people still missing."
The health minister said on Friday that at least 120 of the 5,000 people who were injured on Tuesday are in critical condition.
Wife of Dutch ambassador to Lebanon dies from blast injuries
The wife of the Dutch ambassador to Lebanon died on Saturday after being seriously injured in the huge explosion at Beirut's port last week, the Dutch Foreign Ministry confirmed.
Hedwig Waltmans-Molier, 55, was injured by the explosion as she stood next to her husband, ambassador Jan Waltmans, in the living room of their house in Beirut, the ministry said.
Kataeb Party says three MPs to resign from parliament
Lebanon's Kataeb Party, a Christian group which opposes the government backed by the Iran-aligned Hezbollah, announced on Saturday the resignation of its three lawmakers from parliament. The announcement by party leader Samy Gemayel brings to five the number of MPs planning to step down in the wake of the catastrophic explosion at the port of Beirut on Tuesday.
Gemayel made the announcement during the funeral of a leading member of the group who died in the blast, which destroyed parts of the Lebanese capital. "The Kataeb MPs have decided... to move to confrontation for the sake of a free, sovereign, independent Lebanon," he said. "I invite all honourable (lawmakers) to resign so that the people can decide who will govern them, without anybody imposing anything to them."
The two other MPs who announced their resignation are Marwan Hamadeh, a Druze, and Paula Yacoubian, one of Lebanon's six female lawmakers. Hezbollah, the only group that has kept its weapons since Lebanon's 1975-90 civil war, and its allies hold a majority in the current 128-seat parliament, elected in 2018.
Many Lebanese are angry with the government over its handling of the massive explosion, which killed more than 150 people, injured 5,000 and left up to 250,000 without habitable homes.
Michel Aoun and Boris Johnson agree to work on Lebanon's recovery
British Prime Minister Boris Johnson and Lebanese President Michel Aoun on Saturday discussed Lebanon's urgent humanitarian, medical and reconstruction needs following Tuesday's devastating blast at Beirut port.
"President Aoun thanked the UK for the support provided to date, including the release of 5 million pounds ($6.5 million) in emergency funding and deployment of HMS Enterprise," Johnson's office said in a statement. "With Lebanon facing threats from a financial crisis, coronavirus and the effects of this tragic blast, they agreed to work with international partners to ensure the country's long-term recovery and rehabilitation."
Reduced to rubble
A general view showing the damage along a street in Beirut's port area, damaged cars and homes reduced to rubble by Tuesday's huge explosion.
At least 43 Syrians among people killed in Beirut blast
At least 43 Syrian nationals were among those killed in a massive explosion in the port of Beirut on Tuesday that destroyed parts of the Lebanese capital, Al-Mayadeen TV channel said on Saturday, citing the Syrian embassy in Lebanon. Al Mayadeen is a Lebanon-based channel close to the government of Syrian President Bashar al-Assad.
Survivors recall horror
Al Jazeera spoke to 10 residents who survived Tuesday's blast and lived to recount their stories. Food vendor Hasan Homsi was visiting his sister when the house shook, the explosion sending broken glass everywhere. "Immediately and we saw the dead and wounded on the ground. The smell of blood is still in my clothes from helping the wounded. I'm so sad, so sorry for these poor people," he said.
Omar Nasr was thrown 30 metres by the blast. "When I tried to get up I saw projectiles coming at me, glass and rubble, so I hid in the middle of the street," he explained. "I frantically looked for my close friend like a crazy person, under chairs and a table, then I found him and treated him. It was both strange and horrifying".
Greek Orthodox church altar survives blast
Father Youil Nassif St Dimitrios Orthodox Church in Beirut had a miraculous escape from Tuesday's portside explosion. He left the church just 12 minutes before the enormous blast to take his children home. When he returned, he saw that the church had suffered a lot of damage but somehow, the altar was left untouched. "You can call me naive but I felt it was unbelievable. I felt it was a message from God".
Hezbollah leader says group had no weapons at warehouse
Hassan Nasrallah, the leader of Hezbollah, a Shia Islamist political party and militant group based in Lebanon, says the armed group had no weapons stored at the docks in Beirut.
"We have nothing in the port: not an arms depot, nor a missile depot nor missiles nor rifles nor bombs nor bullets nor ammonium nitrate," Nasrallah said in a speech. "Our people are among those injured and killed in the blast."
Nasrallah said the coming investigation will "reveal the truth", and called for accountability.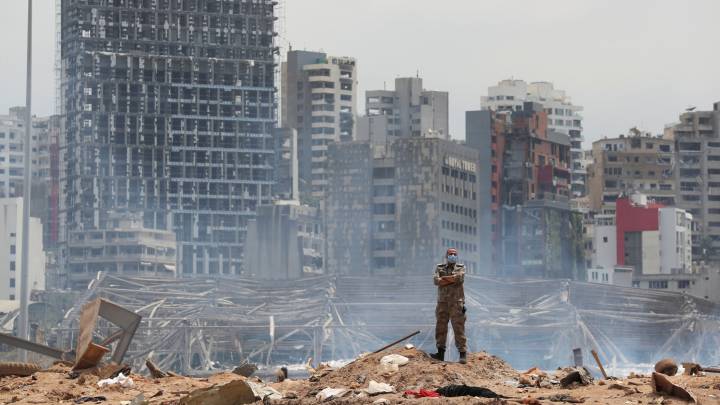 EU pledges to aid Lebanon in wake of Beirut explosion
EU pledges to aid Lebanon in wake of Beirut explosion
European Commission President Ursula von der Leyen says trade benefits aimed at supporting Lebanon are being explored following Tuesday's explosion in Beirut.
Read more here:
Beirut explosion live coverage: welcome
Hello and welcome to our live coverage of the aftermath of Tuesday's blast in Beirut, which saw two huge explosions in the Lebanese capital's port area, caused by the detonation of around 2,750 tonnes of ammonium nitrate. The disaster has left at least 157 people dead, dozens missing and thousands injured and homeless.