Beirut explosion: news summary for 12th August
Beirut explosion: latest news - Wednesday 12 August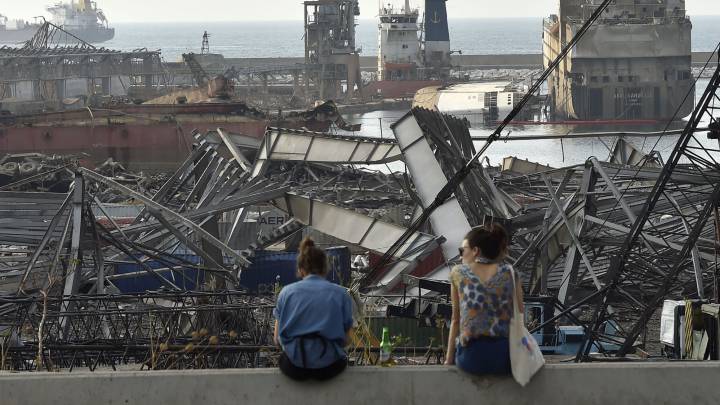 Al Jazeera: Excessive force used on protesters
"Law enforcement agencies are not allowed to use firearms against people "except in self-defence or defence of others against the imminent threat of death or serious injury", or "to prevent the perpetration of a particularly serious crime involving grave threat to life," and related situations.
But open-source evidence shows these criteria were likely not met on Saturday."
Western reconnaissance craft in the skies
The rumours and theories about what caused the blast are going to continue for a very long time. A couple of points: given Beirut's location and current situation it's likely there could be military planes flying overhead at any given moment; then, there are theories that it was a deliberate act to start the fire that led to the ammonium nitrate exploding, but so far there is absolutely no evidence to that effect, as US official confirmed to Asia Times.
What's more, starting a fire near ammonium nitrate is not in any way guaranteed to cause it to explode. Even when unsafely stored it's a fairly stable substance - in the Oppau disaster in Germany in 1921 the workers were using dynamite to chip bits of a huge mound of ammonium nitrate, something they had done some 20,000 times before without the pile exploding. While it's possible a nefarious actor was trying to explode the ammonium nitrate at the port in Beirut by causing a fire nearby and ended up being successful as a plan it was not one that was in any way guaranteed success.
The other thing to note about the situation is that Lebanese current affairs are extremely complex, and it is likely in the interests of many competing groups, factions, militia, political parties and foreign interests to try and lay the blame for the explosion on someone else as a deliberate act.
Equally, given Lebanon's appalling record of institutional negligence, the explanation that the explosion was the simply the result of poor oversight by various authorities that led to a 2,750 tonnes of ammonium nitrate being unsafely stored at the harbour seems entirely plausible. There doesn't appear to be a need to have nefarious actors seeking an explosion for the explosion to have happened.
Victims of the blast
You can see a photo of victims of the blast placed inside their ruined apartment in this photo by AFP's Joseph EId.
WHO seeking $76 mln for Lebanon after Beirut blast, concerned about coronavirus
The World Health Organization (WHO) said on Wednesday it had appealed for $76 million in aid for Lebanon after last week's massive explosion in Beirut destroyed or damaged hospitals, clinics and medical supplies.
Lebanon was already struggling with a financial crisis and a rise in the number of new coronavirus cases before the 4 August explosion in the capital's port area that left at least 171 dead and injured some 6,000. The blast put three hospitals out of operation and has left three others working at partial capacity, reducing the number of beds in public and private hospitals by 500-600, WHO officials told an online press conference.
"A week after the blast, the World Health Organization is still concerned about the health and wellbeing of people who were injured, lost loved ones, or became homeless, and it's expected (that) recovery from the psychological pain from the blast will last much longer," said Rana Hajjeh, WHO's regional programme director.
"In particular, we are concerned about the return of COVID-19 in Lebanon. We have launched an appeal for $76 million, and ask the international community to support the Lebanese people and show solidarity with them in every way possible." (Reporting by Reuters)
Trump to impose sanctions on Lebanses politicians
The Wall Street Journal reporting that US President Donald Trump is planning to hit prominent Lebanese politicians and businessmen with anti-corruption sanctions following last week's port explosion.
The move is an attempt to weaken the position of Hezbollah's allies in Lebannon, says the WSJ.
50% of hospitals out of service
At an unprecendented time when Beirut's healthcare services are under severe pressure due to both the coronavirus crisis and last week's port explosion, Lebanon's MTV News is reporting that 50% of the capital's hospitals are out of service.
Greek military vessel IKARIA L175 is seen docked at the destroyed port of Beirut following a huge explosion that disfigured the Lebanese capital, on August 12, 2020. Survivors of Beirut's August 4 blast are still in shock over a disaster that disfigured their city. The earth-shaking explosion killed 171 people and wounded more than 6,000, a sickening blow to a country already in crisis. (Photo by Joseph EID / AFP)
Beirut port partially reopens
According to reports in local media, the port in Beirut has partially reopened a week after the explosion. Container shipping is vital to Lebanon and vessels are currently having to divert to Tripoli 85 kilometers north of Beirut to deliver supplies.
Firefighters attend the funeral of their colleague Joe Noun (R), who was killed in Beirut's massive blast,at the main fire brigade in the Karantina neighbourhood near the port. Lebanon buried more of its dead a week after a huge explosion at Beirut port that disfigured the city, toppled the government and rattled an agonising economy. A total of 10 firefighters are confirmed to have died in the explosion, while another six are still among the missing, including three members of a same family. (Photo by ANWAR AMRO / AFP)
Change needed in Lebanon after Beirut blast, says German foreign minister
(Reuters) Germany's foreign minister said on Wednesday that Lebanon needed a government that can fight corruption and enact reforms as he toured Beirut port, scene of the devastating explosion that has triggered protests and ledthe government to resign.
Last week's blast at a warehouse storing highly-explosive material for years killed at least 171 people, injured some 6,000 and damaged swathes of the Mediterranean city, compounding a deep economic and financial crisis.
"It is impossible that things go on as before," Foreign Minister Heiko Maas said. "The international community is ready to invest but needs securities for these investments. It is important to have a government that fights the corruption."
"Many in Europe have a lot of interest for this country. They want to know that there are economic reforms and good governance. Whoever takes over responsibility in Lebanon has a lot to do."
Lebanese call for change after Beirut blast
"After blowing us up... officials announced a state of emergency and Beirut was put under military rule. A day later, protesters in central Beirut were met with heavy repression, tear gas and rubber bullets targeting protesters' eyes - yet again"
Opinion from Rima Majed.
German Foreign Minister Heiko Maas holds a 'One Million Euros' cheque for the Lebanese Red Cross 'Beirut Emergency Aid' upon his arrival in Beirut, Lebanon, August 12, 2020. REUTERS/Andreas Rinke
Lebanon economy minister says country has flour to last four months
(Reuters) Lebanon has enough wheat to cover four months of consumption, whether in existing stocks or in shipments expected to reach the country in August, said outgoing economy minister Raoul Nehme.
Lebanon has 30,000 tonnes of wheat in stocks and 110,000 tonnes expected to reach the country in the next two weeks, he told reporters at the presidential palace in Baabda, near Beirut.
The outgoing government, which resigned on Monday, will keep subsidies to basic commodities, he said.
Demonstrators take part in protests that have been ignited by a massive explosion in Beirut, Lebanon August 11, 2020. REUTERS/Thaier al-Sudani TPX IMAGES OF THE DAY
"Unidentified men in civilian clothes" fired at protester - Amnesty
According to an Amnesty International investigation, as well as security forces deploying rubber bullets and tear gas at anti-government protesters in Beirut, "unidentified me in civilian clothes" also fired at the crowds.
Ammonium nitrate "siphoned off for military purposes"
The ammonium nitrate that caused the deadly explosion in Beirut remained at the port for so long "as it was being siphoned off for military purposes by a third party," says a security source.
Death toll now stands at 171
A source within the Health Ministry told agency EFE on Tuesday that the current death toll from the explosion is now 171, with over 6,000 injured. The authorities are not currently updating the official figures.
Israel PM lauds French president
Israel's Prime Minister, Benjamin Netanyahu, was full of praise for French President Emmanuel Macron over his visit to Lebanon last week, when the Macron pledged to lead international relief efforts and organise an aid conference.
Netanyahu and Macron spoke in a call today, with the Israeli leader expressing "Israel's willingness to give humanitarian aid." He also called for Hezbollah to remove missiles and explosive materials from populated areas and said that "if Hezbollah thinks they can solve the crisis in Lebanon by creating a crisis with Israel, this is a big mistake."
Beirut explosion live coverage: welcome
Hello and welcome to our live coverage of the aftermath of last Tuesday's blast in Beirut, which saw two huge explosions in the Lebanese capital's port area, caused by the detonation of around 2,750 tonnes of ammonium nitrate.
The disaster has left at least 171 people dead, dozens missing and thousands injured and homeless.