Pogba and Haaland: Raiola closes door on Real Madrid move for both players
Agent Mino Raiola has confirmed that Paul Pogba and Erling Haaland will not be leaving their respective clubs, Manchester United and Borussia Dortmund.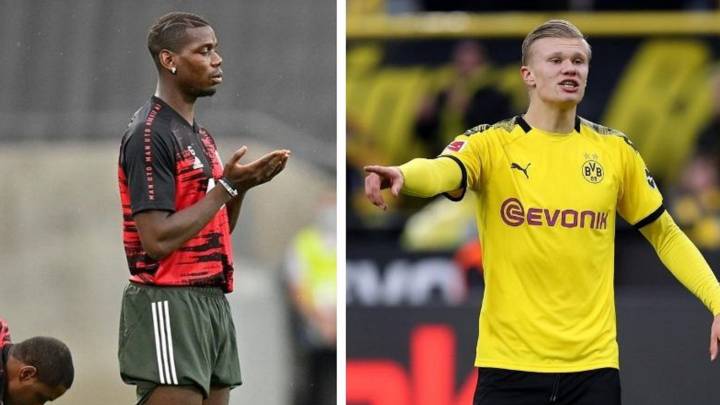 Mino Raiola, agent to Paul Pogba and Erling Haaland, has ruled out a move to Real Madrid for either player.
For months, Raiola had been trying to instigate Pogba's departure from Manchester United, while the player himself had spoken of looking for "a new challenge" last summer. The Italian agent had constantly spoken ill of United, telling La Repubblica that it was "a club out of touch with reality and without a sporting project" back in December 2019.
"I wouldn't take anyone there. They would even ruin [Diego] Maradona, Pele and [Paolo] Maldini. Paul needs a club and a squad, one like Juventus was before," he said.
Raiola: Pogba will stay at Man United
Madrid has long been identified as that new club, where coach Zinedine Zidane hasn't been shy about expressing his desire to see Pogba at the Bernabéu.
But due to United's resurgence over the past few months following the signing of Bruno Fernandes, with whom Pogba has formed a successful partnership in midfield, Raiola has changed his rhetoric somewhat, telling Sky Sports that the Frenchman will now remain at Old Trafford and could even sign a new deal that would see him stay beyond June 2021.
"Paul will stay at Manchester United. He is at the centre of an important project, even in recent years United has never wanted to open talks," said Raiola.
"He is not one to cause controversy, especially at a time like this because you have to remain calm and see how things turn out. We will deal with the contract renewal calmly, without stress. We will continue to discuss it.
Raiola on Erling Haaland's future
Haaland is another figure that has been on the Madrid radar for some time. But following an impressive opening to the season with RB Leipzig, the young Norwegian striker moved to Dortmund in January, where he has continued to shine.
Despite his recent move to Dortmund, for whom he has scored 16 goals in 18 games, the 20-year-old goal machine has continued to be linked with Madrid. However, as with Pogba, Raiola has confirmed that the Norway international will not be leaving his current club any time soon.
"It's a shame for those who did not take him and a dream for those who want to take him. He will not move this year, he is fine at Dortmund. This is not the time to move, we are very aware of the trajectory his career can take," said the player's agent.
Ibrahimovic in talks with AC Milan
Another player on Raiola's books but whose career trajectory is nearing its end, Zlatan Ibrahimovic is currently in discussions to extend his stay at AC Milan, where the 38-year-old striker has been since returning to Europe in January after a two-season spell stateside with LA Galaxy.
"We are discussing [the contract]. We don't have a deal yet. I don't think it is an economic issue, rather one of convictions and style. I don't think [Milan owners] Elliott can turn it into a question of money," Raiola said of Zlatan's situation.
"It takes two to make a marriage. If Ibra didn't want to stay, there wouldn't be any talks. Instead, we are talking."