Messi leaves Koeman with a paradoxical situation
Ronald Koeman's main challenge will be to motivate a Lionel Messi who has made it clear that he has only stayed at Barcelona because the club made it impossible for him to leave.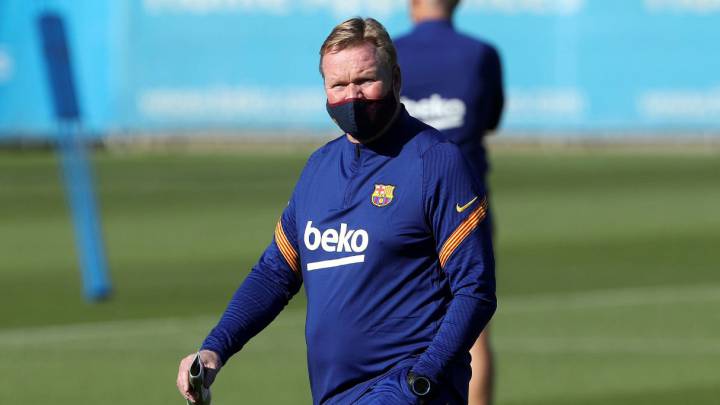 Ronald Koeman has been presented with a greater challenge than what he was expecting when he signed for Barcelona. The Dutch coach came to the club where he made history as a player after an unfortunate year that culminated in the humiliating 8-2 defeat to Bayern Munich in Lisbon, saying he was ready to "make decisions" and change the face of the squad.
For that challenge, Koeman made it very clear from the beginning that he counted Leo Messi as one of the main pillars of his new project. He said so on the day of his presentation, where he also stated: "I don't want anyone who doesn't want to be at Barça."
Messi, then, has left Koeman with a paradoxical situation. Although he wants Messi in his team, his challenge now is to motivate a player who has made it clear that he has only stayed at Barcelona because the club made it impossible for him to leave.
Koeman at least can take some comfort from the fact that Messi is an ultra-competitive athlete who has assured that he will give everything to achieve success after his exit was blocked. But of course the Dutchman did not have to wait for the Goal interview to hear Messi himself say he wanted to go. The player said it to his face directly when they met the day after his presentation as the new coach.
Messi told Koeman he sees himself "more out of the club than in it"
In that meeting Messi already told Koeman that that he saw himself "more out of the club than in it". It was at that point that Koeman began to imagine a first season at Camp Nou without the number 10.
It is no insignificant detail that Messi indicated to Koeman his desire to leave soon after hearing the words that the Dutchman dedicated to him on the day of his presentation.
"I don't know if I have to convince Messi. I don't know if it's yes or no. Messi is the best player in the world and you want to have him in your team, not the other way around," said the Dutch boss.
"For my part, as a coach, I love working with Messi because he wins you games. And if you get the performance he has shown, I'll be very happy if he wants to stay. But he is a Barça player and has a contract. You have to talk to him, of course, he is the captain. He has to make decisions but hopefully Messi stays here for more years."
But then the Argentine captain confessed that he did not want to stay, less than 24 hours after Koeman had said: "I only want to work with people who want to be here…. who want to do their best for Barcelona – and nothing else."
Koeman's challenge amid severed Messi-Bartomeu relationship
Koeman has a task ahead of him on which his success as a Blaugrana coach will largely depend. The figure of Josep Bartomeu as a mediator between the coach and the team's star is ruled out because Messi has made it very clear that his relationship with the president is broken beyond repair. Therefore, the Dutchman will be a key figure as the only interlocutor with the captain.
"There is a new coach and a new idea. That is good," Messi told Goal. "But then you have to see how the team responds." The Dutchman must now show Messi that he is not just another temporary patch for the catastrophic sporting policy that the club followed last year; but that he has a vision for a long-term project and that the he is an important figure in it.