10 facts highlighting sustainable features of Qatar's stadiums
As preparations for the 2022 World Cup in Qatar continue, major efforts are being implemented to host the first World Cup in the Middle East with substantiality being a key objective.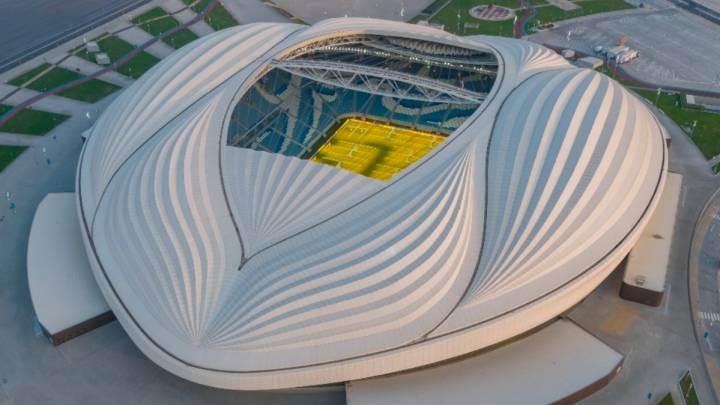 A recent report from The Supreme Committee for Delivery & Legacy (SC) highlighted sustainability aspects in the stadiums which will be used for the 2022 World Cup. The report focused on design aspects and the legacy that will be will remain after the event. The tournament will see matches staged in eight stadiums with three venues already open (Al-Khalifa International, AL-Janoub and Education City), while the work continues in the other five grounds.
Design features means more than 170,000 seats can be donated
The 2022 World Cup demands increased seating capacity compared to Qatar's local needs – and the solution to this challenge is modular stadiums. More than 170,000 stadium seats will be removed from several venues after the tournament, with the SC planning to donate them to countries which lack sporting infrastructure which will see the legacy of Qatar 2022 being felt far and wide. Thanks to the modular design, it will be easy to disassemble facilities, transport them to a new location and reuse them.
The first dis-mountable stadium in World Cup history
Currently being constructed primarily using shipping containers, the Ras Abu Aboud Stadium will be completely disassembled after the World Cup, with its parts being recommissioned to provide sporting facilities after 2022. In addition, the land occupied by the stadium will be transformed into a waterfront development which overlooks the iconic West Bay district of Qatari capital city Doha.
Stadiums set to be used all year-round
Retractable roofs and advanced, energy-efficient cooling technology mean the stadiums can be used year-round. After the tournament, parts of some stadiums will be repurposed into community facilities such as hospitals, schools, retail units and hotels. In addition, some stadium precinct areas will feature running, cycling and horse-riding tracks, among other facilities. Three public parks are already open to the public: Al Janoub Park, Al Bayt Park and Al Ersal Park.
Doha Metro to be used in bringing fans to stadiums
The recently inaugurated Doha Metro is fast, cost-effective and environmentally friendly. A combination of the metro, trams and buses will connect passengers directly to all stadiums. A single journey on the metro, which was used by thousands of fans during the Club World Cup in Qatar last December, costs just QAR 3 (less than a US dollar).
Fifteen per cent of building supplies for the stadiums were sourced from recycled materials
In addition, the construction project has prioritised using local resources wherever possible in order to support Qatar's economy. Indoor spaces are finished with non-toxic paint, while light-coloured exteriors increase reflectiveness, minimising heat retention and reducing the heating of the urban environment.
Excess construction materials reused or recycled
Ninety per cent of waste generated at Al Janoub and Al Rayyan Stadiums during the demolition of the old structures was reused or recycled. All the stadiums are designed for effective waste management during operation. Waste segregation and recycling takes place on-site, while wastewater is recycled from on-site workers' accommodation for dust control and toilet flushing.
850,000 square meters of green space to create a cooling effect
Green landscaping provides a cooling effect as it absorbs much less heat than other built materials such as pavement or asphalt. The Qatar 2022 stadiums and surrounding precincts will house 850,000m² of new green space – equivalent to 121 football pitches.
Less energy consumption
Thirty per cent more energy-efficient than international benchmarks mean Qatar's stadiums are 30 per cent more energy-efficient than minimum requirements mandated by the American Society of Heating, Refrigerating and Air-Conditioning Engineers. Passive energy efficiency features include thick insulation and smart site orientation, with each stadium being strategically located to make the most of the shade available.
Forty per cent less water-usage than international requirements
Water vapour collected from the cooling system will be used for irrigation, while recycled water will be used for dust suppression. Efficient fixtures have been installed for sinks, showers and WCs.
World Cup stadia sustainability certificates
According to the mandatory requirement of FIFA, each Qatar 2022 stadium must achieve a four-star rating under the Global Sustainability Assessment System (GSAS), which is managed by the Gulf Organisation for Research and Development. Education City Stadium and Al Bayt Stadium recently became the first Qatar 2022 tournament venues to achieve a five-star rating.