Tropical Storm Sally: When will it hit the US in the form of a hurricane?
Hurricane warnings have been issued from Grand Isle to New Orleans as Tropical Depression 19 turned into Tropical Storm Sally on Saturday.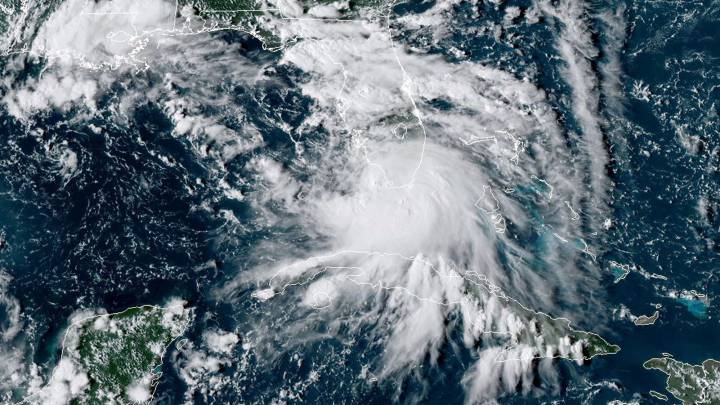 The National Hurricane Center (NHC) has issued Hurricane warnings for residents of the Gulf Coast after Tropical Depression 19 turned into Tropical Storm Sally on Saturday afternoon and continues to gather momentum as it heads across the gulf. Sally, the 18th Named Storm of the 2020 Atlantic hurricane season, formed yesterday about 35 miles southeast of Naples, Florida and has been strengthening through Sunday, with sustained winds reaching 50 mph and moving at 13 mph.
Sally gathering strength
Forecasters expect Sally to strengthen on its path to the north side of the Gulf of Mexico with winds hitting 70 mph. She will turn into a hurricane on Monday afternoon around 13:00 hours and could even be classified as a Category 2 hurricane when she makes landfall on Monday night or early on Tuesday morning. The NHC is tracking Sally's movements and the scale at which it is intensifying and will have a clearer idea about where the hurricane could hit tomorrow morning, with south east Louisiana, south Mississippi, Alabama or Florida Panhandle areas which could be the first to be affected. As for flood warnings, the NHC estimate that Sally's rainfall rate will be between eight to 15 inches along the Gulf Coast and two to four inches when it reaches inland.
SANDBAGS
Sandbags available 8am-12pm Sunday:
-Arthur Monday Center, 1111 Newton St.
-Dryades YMCA, 2220 Oretha Castle Haley Blvd.
-Milne Recreation Center, corner of Franklin and Filmore Avenues
-Former Walmart and Sam's parking lot, 6901 Bundy Rd. pic.twitter.com/cJlDc6LmVl

— NOLA Ready (@nolaready) September 12, 2020
State of emergency declared in Louisiana
The governor of Louisiana John Bel Edwards declared a state of emergency on Saturday and will give a news briefing this afternoon. "While we ultimately don't know where Sally will make landfall, much of Southeast Louisiana is in the storm's cone and the risk of tropical storm force or hurricane strength winds continues to increase. Please stay weather aware for the next several days and heed the directions of your local officials. This storm has the potential to be very serious," Gov. Edwards said. "Barely two weeks ago, Louisiana suffered a devastating blow when Hurricane Laura came ashore as the strongest hurricane ever to make landfall in Louisiana history, leaving a trail of destruction in its path. This, when combined with the COVID-19 pandemic, can make us all weary. I implore Louisianans to take their preparations seriously."
Much of Louisiana is still reeling from the aftermath of Hurricane Laura, the Category 4 hurricane which left a trail of destruction in its wake just over a fortnight ago. Laura caused 21 deaths in the state and left several thousand residents homeless and needing sheltered accommodation.
Sally is projected to be a Category 1 storm by the time it reaches New Orleans on Tuesday. She is one of six active tropical disturbances that the NHC is currently monitoring – including Hurricane Paulette, which is heading towards Bermuda, Tropical Depression Rene and Tropical Depression Twenty.