Neymar faces up to seven-game ban after reaction to alleged racial abuse
Neymar is facing a lengthy suspension for striking Marseille's Álvaro Gonzalez, with the Brazilian claiming he reacted to being racially abused by Álvaro during Sunday's Classique.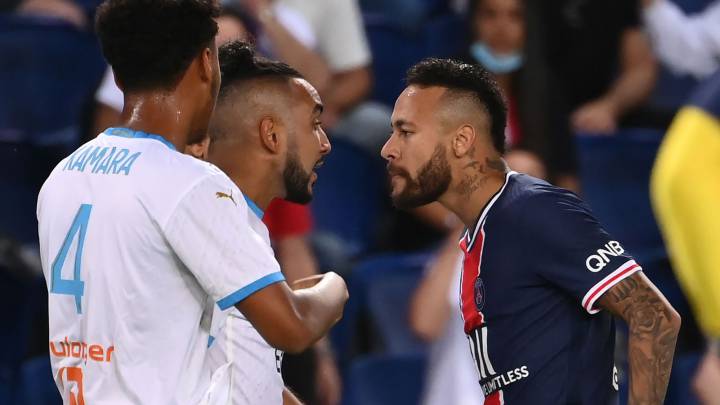 PSG star Neymar is facing a suspension of up to seven games after being sent off for striking Marseille's Álvaro Gonzalez during Sunday's heated Classique on Sunday, which ended with a total of five men being expelled following an altercation involving several players.
As reported by RMC Sport, according to the LFP Disciplinary Committee rules, an off-the-ball act of aggression such as that committed by Neymar could warrant a suspension of up to seven games. If the reason for the red card is deemed an attempted assault, he can be suspended for up to six games.
Tensions were running high throughout the game, with Neymar accusing Álvaro of racially abusing him during the first half. After being sent off for striking Álvaro deep into injury time, Neymar again claimed he was racially abused, addressing the assistant referee as he walked off the pitch. "There was a racist comment there, that's why I did it," he could be heard telling the assistant.
Neymar claims Álvaro called him a "monkey motherfucker"
Later, the Brazil star claimed in a tweet that Álvaro called him a "monkey motherfucker" after previously tweeting: "The only regret I have is not hitting this asshole in the face".
Álvaro, for his part, has denied the claims, taking to Twitter to post a message in which is he said: "There is no place for racism".
VAR pegar a minha "agressão" é mole ... agora eu quero ver pegar a imagem do racista me chamando de "MONO HIJO DE PUTA" (macaco filha da puta)... isso eu quero ver!
E aí? CARRETILHA vc me pune.. CASCUDO sou expulso... e eles? E aí ?

— Neymar Jr (@neymarjr) September 13, 2020
Álvaro could face 10-game ban
The Disciplinary Committee, which meets every Wednesday to review sanctions from the previous weekend's football, is also looking at opening an investigation into the alleged racist incident involving Álvaro and Neymar.
If Álvaro is found to have racially insulted Neymar, he could face a sanction of up to ten games.
Due the magnitude of the incident, the Disciplinary Committee will likely delay its decision by a week, but what is certain is that Neymar will be ruled out of PSG's game against Metz next weekend.