Real Madrid: I don't have anything against Jovic, says Zidane
Zinedine Zidane bemoaned Real Madrid's goal-shy performance in Sunday's 0-0 draw with Real Sociedad, but said he was happy with his side overall.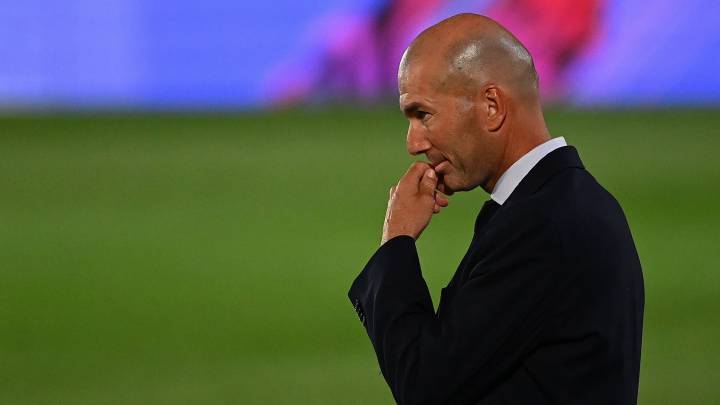 Real Madrid head coach Zinedine Zidane spoke to the media after Los Blancos began their LaLiga title defence with a goalless draw at Real Sociedad on Sunday.
Assessment of the match:
"We're happy with the game we played. In general, we performed well. We needed to be a bit more clinical in front of goal, particularly in the first half, when we created chances. We played well in the first 40 minutes or so and then in the second half we struggled to create opportunities, but overall we should be happy with the way we performed."
Goalless draw:
"In defence, we barely gave away any chances. What we need to do is keep on working hard. We know we need to improve in front of goal, but we know that this wasn't an easy ground to come to. Having said that, we always go after the three points, so from that point of view it's two points dropped. "
Physical struggles?
"We were in good nick physically. We lacked something else. We have to put in more work in front of goal. We need to find solutions, find that little bit of space up top."
Martin Odegaard:
"He played well, like everyone else. We're happy he's here with us. We've only had three weeks and it's the first game. Bit by bit, we're getting into our stride."
Borja Mayoral or Luka Jovic both unused substitutes:
"We didn't change our formation. It's tricky, because if you throw on another centre-forward, you have to change the formation and I didn't want to. We needed to bring on players on the wings, and that's what we did."
Do you have anything against Jovic?
"No, we have a squad of players, I have to choose and I opted to choose the players I did. I don't have anything against any player. I just didn't want to change the formation; Karim [Benzema] was playing well."
Raphaël Varane:
"[Varane's mistakes against Manchester City] are things that can happen in football. We know the quality of player we have and today everyone [in defence] - Rapha, Sergio [Ramos], Ferland [Mendy], Dani [Carvajal] - did well. I think we hardly gave up any chances, just one shot on target. That's down to everyone's hard work. Everyone defends well. Now we're going to focus on improving in attack."